Why Are Porsches So Expensive?
Thomas Kienzle/Getty Images
Porsches are a brand indelibly connected with luxury, and the price points of their cars reflect that, regardless of whether they're vintage or fresh off the lot. But how did they get to such an elevated status? Celebrity endorsement? Nifty features? Turns out, Porsche has a long history of quality production. They're no conjurers of cheap tricks.
Porsche is pronounced "Portia", like the name first name of Ellen's longtime spouse, though most people boil it down to one syllable. It began as an automotive design consulting firm in 1931, and according to Porsche's official website, its founder Ferdinand Porsche had no intention of even manufacturing his own cars. He wanted to work on technical designs for other carmakers and charge licensing fees. Per Autoweek, Porsche soon got his chance when the German government contracted him to help design the Volkswagen Beetle. But it wasn't until Porsche decided to make its own cars and began participating in motor races that the brand became popular. 
Porsche first began manufacturing its own cars after World War II. Its Gmünd Roadster became very popular in post-war Germany, where it would have been perfect for zipping up and down the Autobahn. Based upon its success, the company renamed the roadster the Porsche 356 and marketed the car heavily in other countries, including the United States — all of which helped to begin building its name among racing enthusiasts.
Porsche cars are racing legends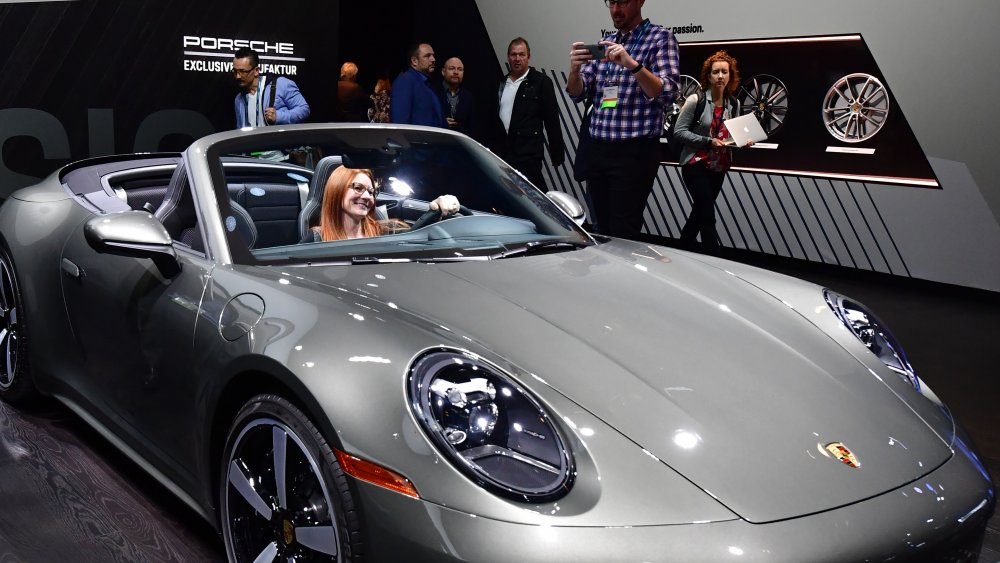 Frederic J. Brown/Getty Images
Noting the hype, the company officially entering its cars in races beginning in 1951. As of 2017, Autoweek reports that Porsche holds 19 wins at 24 Hours of Le Mans, an iconic endurance race, and it would be in racing that Porsche cemented its glory. The company branded itself as a luxury sports car maker and modeled many of its vehicles after its race cars, gaining a reputation for technical performance and handling.
One of its most popular racing models is the Porsche 911. According to the New York Times, the 911 came in fifth in a vote for the Car of the Century. The 911, a highly customizable car that begins at $97,400 brand new, is also sold to non-racers so they too can dream of racing glory. Even second-hand versions sell for hundreds of thousands of dollars, per Jalopnik.
The company also runs a design firm that sells luxury accessories like watches, sunglasses and even furniture to capitalize on the Porsche cars' reputation. These days, the brand is so synonymous with opulence that the Luxury Institute of New York voted Porsche "most prestigious automotive brand in the world" in 2009, according to Automobile magazine. So there you have it — a longstanding reputation of quality, luxury products that perform when put to the test allows Porsche to justify the price tag.