The Real Reason Kurt Cobain Hated Pearl Jam
Gareth Cattermole/Getty Images
You'd be hard-pressed to find someone who thinks that history hasn't placed Nirvana as the top dogs of the grunge years, thanks to their genre-defining sound and the inimitable vocals and charisma of Kurt Cobain. In fact, with hits like "Smells Like Teen Spirit," "In Bloom," "Heart Shaped Box" and "Come As You Are," they were arguably one of the biggest bands of the entire nineties. 
That's a slobber-knocker of a legacy, but that's not to say Nirvana didn't have competition. Take Pearl Jam, another grunge great, and one that's still happily active. Their 1991 debut album, Ten, exploded on the scene with a very different. classic rock-tinged take on grunge, and included instant classics like "Jeremy" and "Alive." You'd think that the two ambassadors of the Seattle sound would have gotten along quite well, but as it turns out, Cobain had a massive chip on his shoulder when it came to his Eddie Vedder-fronted grunge compatriots. What was the real reason Kurt Cobain hated Pearl Jam?
Pearl Jam beat Nirvana to the cover of Time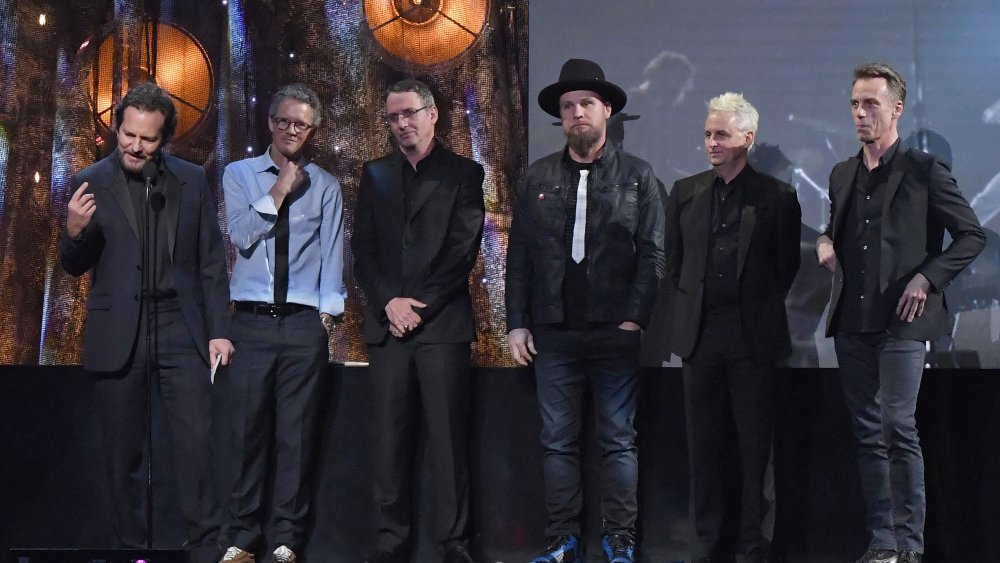 Mike Coppola/Getty Images
The race to the top is a long and hard one, and it appears that it didn't inspire much camaraderie in Kurt Cobain. In an interview with National Geographic, now online via NME, Cobain's widow, Courtney Love, told us that the grunge circles weren't the cozy love-in that fans would perhaps prefer to imagine them as. In fact, she says that there was definitely some professional bad blood between Cobain, Pearl Jam's Eddie Vedder, Soundgarden's Chris Cornell, and Mark Arm of Greenriver and Mudhoney fame. "There was a rivalry to have your voice be heard, and be successful," is how she described the situation. 
It appears that Pearl Jam, in particular, provoked Cobain's ire in this quest for success. Love singles out a specific time when he was particularly angry with his perceived competitors: "I remember when Pearl Jam beat Nirvana onto the cover of Time, and that pissed Kurt off, let me tell you." It's easy to think that "getting on the cover of Time" is one of those things only people who wear business attire on a daily basis would get worked up about, but it looks like even legendary rock stars can feel that particular itch.
Voices of a generation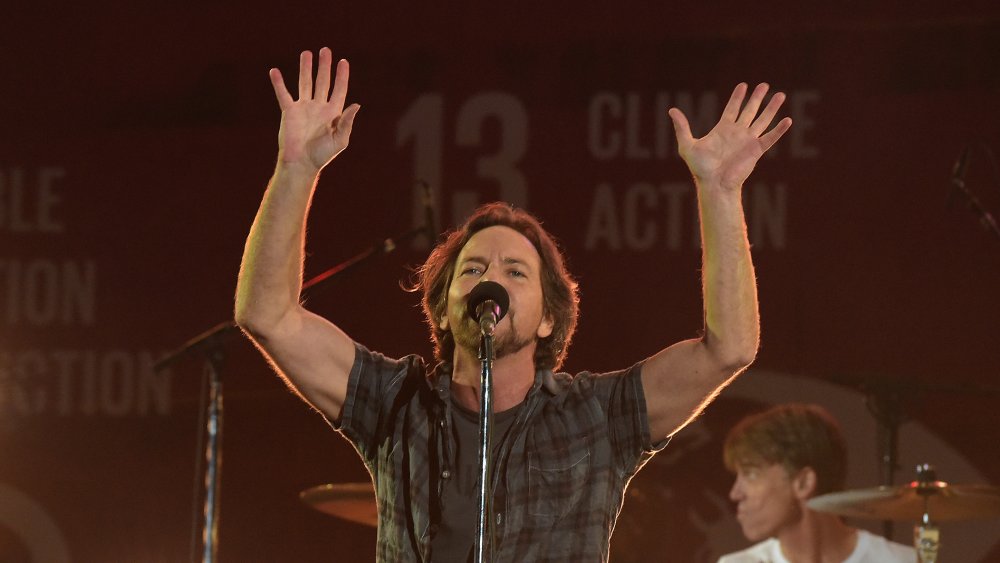 Theo Wargo/Getty Images
Beneath the plaid and combat boots, Nirvana and Pearl Jam were two of the leading voices for a generation who felt voiceless. Or as the LA Times puts it — a "generation of young people, aged 15 to 25, who feel they have been shortchanged by the American Dream." Despite certain stylistic differences in their music, Cobain and Vedder were very much peers in terms of values and appeal, and were naturally subject to comparison. 
Nirvana saw more critical acclaim, but Pearl Jam sold millions more records at the time, which may have also bothered Cobain, who felt that Pearl Jam was a commercial rock band using the grunge style to sell records. Despite those feelings, Cobain came to respect Vedder personally, putting an end to his personal put-downs. "I'm not going to do that anymore," he said in a 1992 interview. "It hurts Eddie and he's a good guy."
As for Vedder, he clearly respected his contemporary. Eight days after Cobain's passing, Vedder told the LA Times: "When I first found out, I was in a hotel room in Washington, D.C., and I just tore the place to shreds. Then I just kind of sat in the rubble, which somehow felt right . . . (it felt) like my world at the moment.