The Untold Truth Of Pearl Jam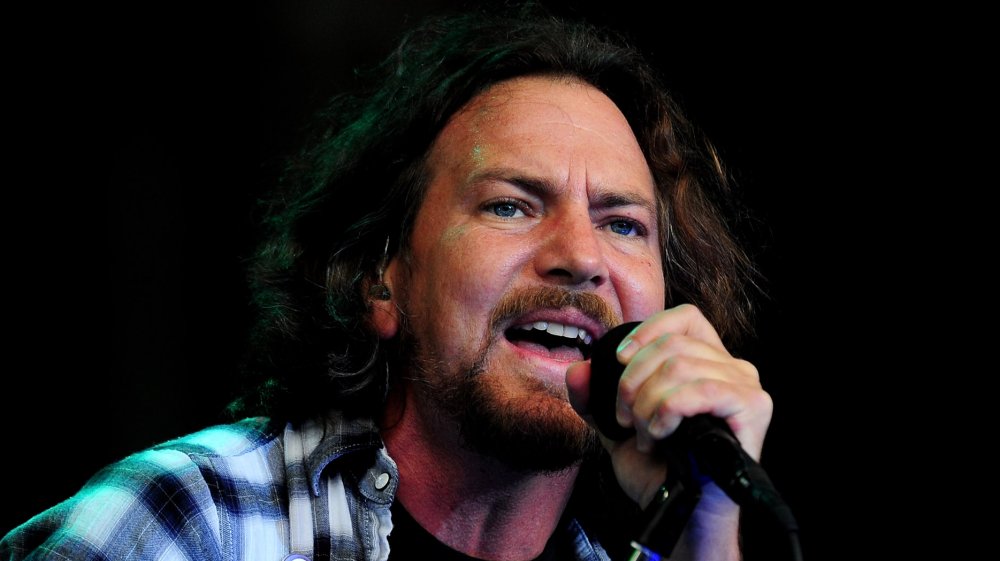 Gareth Cattermole/Getty Images
Pearl Jam — with its distinctive primal growl of vocalist Eddie Vedder and relentless guitar shredding from Mike McCready, among other delights — first emerged as part of the Seattle grunge scene that upended and reshaped mainstream music in the early 1990s. And after 30 years together, Pearl Jam is still one of the world's biggest rock bands, with nearly a dozen studio albums and countless legendary concerts to its credit.
More straight-ahead than other grunge bands of the time (like Nirvana, Soundgarden, or Alice in Chains), Pearl Jam has proven its populist appeal again and again, and they've played everything from classic bangers ("State of Love and Trust," "Even Flow, "Do the Evolution") to anthemic ballads ("Alive," "Better Man"). Putting the music first but standing up for their rights when necessary, Pearl Jam has raged both inside and outside of the machine for three decades, and Vedder, McCready, Jeff Ament, Stone Gossard, and the rest have a lot of stories to tell. Here's a look into the legendary and untold truth of Pearl Jam.
Pearl Jam formed because Mother Love Bone ended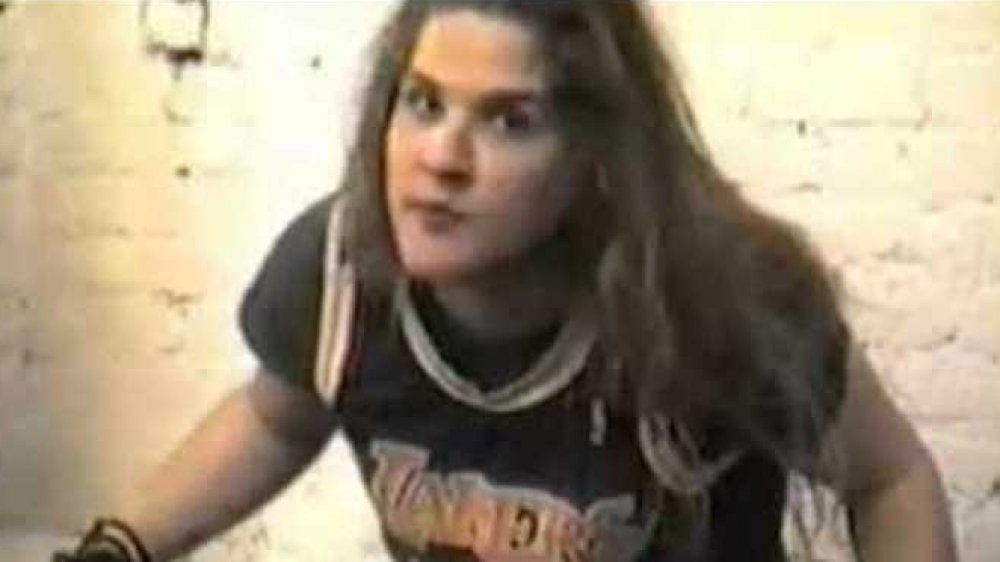 The core of Pearl Jam, the instrumental duo that gives the band its sound and soul, is the one-two punch of guitarist Stone Gossard and bassist Jeff Ament. Before they formed one of the biggest groups the world had ever seen, they'd already been playing together for years, first in the proto-grunge Seattle band Green River and then in Mother Love Bone with charismatic lead singer Andrew Wood. 
Mother Love Bone might've been one of the biggest bands of the '90s if not for Wood's death from a heroin overdose just months before the release of the group's first album. However, Ament and Gossard didn't want to quit making music with each other, so they laid down some demo tracks for a new band. They needed a drummer for the project, and they sent their tape to their friend Jack Irons, who'd recently left his gig behind the kit for the Red Hot Chili Peppers. Irons wasn't interested in drumming for the Seattle combo (at least not right away), but he passed the tape along to a guy he played basketball with, an aspiring singer named Eddie Vedder. Not only did Irons set up Vedder with the rest of who would comprise the bulk of Pearl Jam, but he also gave the band one of its biggest breaks, successfully asking the Chili Peppers to let this new group open for the band on its 1991 concert tour.
The members of Pearl Jam simultaneously formed another band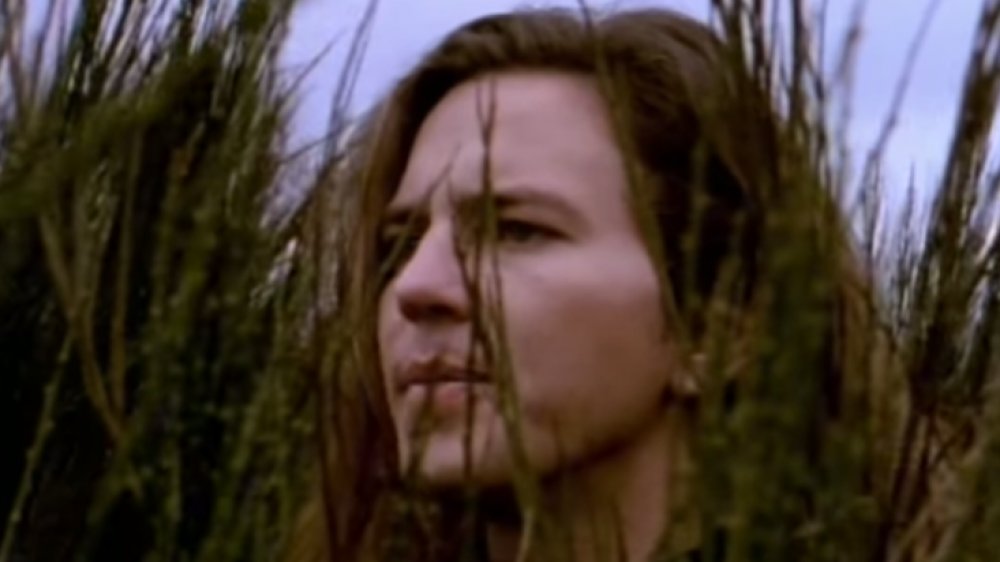 The year 1990 was a pivotal one for Seattle rock, soon to be the epicenter of grunge. And the death of Andrew Wood of Mother Love Bone sent band members Jeff Ament and Stone Gossard to work creating what would become Pearl Jam. Matt Cameron played drums on demos, moonlighting from his regular job with Soundgarden, which was of course fronted by Chris Cornell, a friend and roommate of Wood. Cornell had written some songs for Wood, and after the latter's death, he got together with Ament, Gossard, Cameron — and new recruits, singer Eddie Vedder and guitarist Mike McCready — to ultimately record an entire album as a one-off Wood tribute group called Temple of the Dog.
That record, also called Temple of the Dog, hit record stores in spring 1991 and spawned the hit "Hunger Strike." It sold 70,000 copies or so in its initial weeks and pre-dated the August 1991 release of Pearl Jam's debut Ten. Label A&M Records really wanted to capitalize on the tragic demise of Mother Love Bone to promote the album, but Ament had other ideas. "We said, 'Can you put Pearl Jam on the sticker because it'll be a good thing for us?' We didn't want it to say Mother Love Bone, and they refused,'" Ament told Guitar World. However, that wouldn't be the last time Pearl Jam would stand up to their corporate rock overlords.
How Mookie Blaylock became Pearl Jam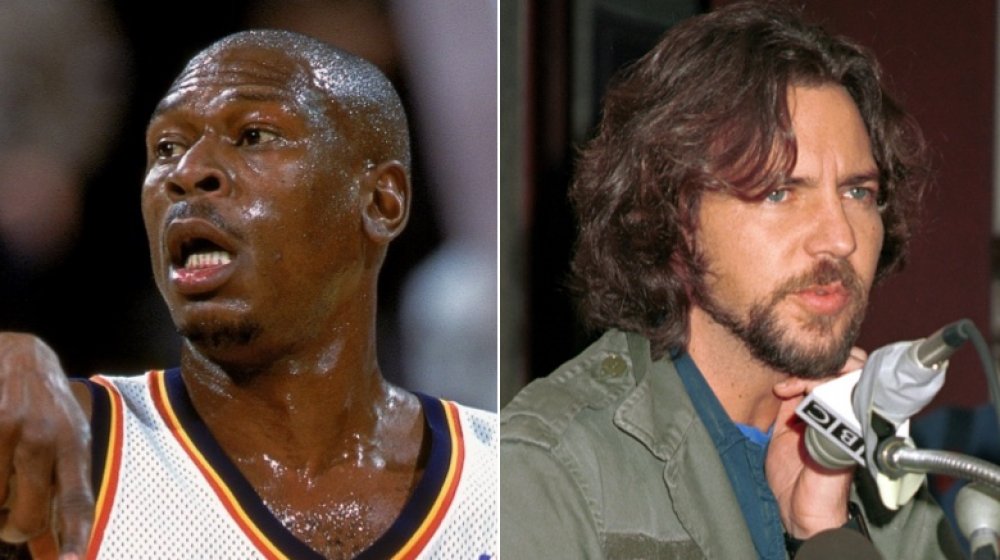 Tom Hauck, George De Sota/Getty Images
Succinct, melodious, suggestive of hard but crisp rock that just flows over a crowd — "Pearl Jam" is simply one of the best names in rock history. But this legendary band once had a pretty terrible name. The group used to call itself Mookie Blaylock, after an NBA defensive legend who joined the league in 1989 about the time that Eddie Vedder and company joined forces. But then the band decided on its forever moniker of Pearl Jam, and the story of its origin is colorful and a little bit scandalous. In 1991, Vedder told Rolling Stone that his great-grandpa was "totally into hallucinogenics and peyote," which his great-grandmother, Pearl, "used to make this hallucinogenic preserve." It's a short leap from "Pearl's preserve" to "Pearl Jam."
The story was repeated and taken as fact for 15 years ... until 2006, when Vedder admitted to Rolling Stone that the story was "total bulls***." Well, he did have a great-grandmother named Pearl, that much is true. But the band really got their name in two doses. While trying to come up with a name better than Mookie Blaylock while sitting around a Seattle restaurant, bassist Jeff Ament thought something with "pearl" in it would sound nice. The second half came after Vedder, Ament, and guitarist Stone Gossard saw a three-hour Neil Young concert. "Every song was like a 15- or 20-minute jam," Ament said. "So that's how 'jam' got added to the name."
Everyone has been the band's drummer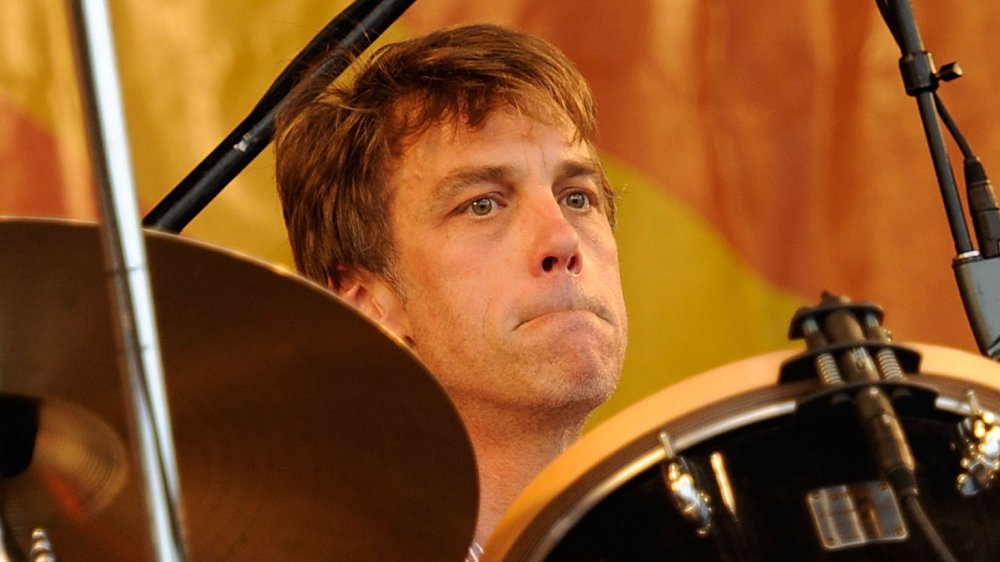 Rick Diamond/Getty Images
There's a joke in This is Spinal Tap about the titular band's inability to keep a drummer for long. In the film, they go through 18 of them, nearly all of whom die in bizarre accidents. Pearl Jam is the real-life equivalent of Spinal Tap in that it's had a hard time keeping a drummer. The first musician to leave the band was Matt Cameron, who played on the group's original demos, but as he was already committed to Soundgarden, Pearl Jam auditioned drummers and hired Seattle musician Dave Krusen. He played on Ten, then left the band soon after its 1991 release to enter rehab for an alcohol addiction. Matt Chamberlain took up the sticks for Pearl Jam's first tour, then bailed in late 1991 to join the Saturday Night Live band. He directed his bandmates to his replacement, Dave Abbruzzese, who played on Vs., then left. Jack Irons — formerly of the Red Hot Chili Peppers and who Jeff Ament and Stone Gossard had recruited at the band's inception — joined Pearl Jam from 1994 to 1998. When he moved on, Matt Cameron returned to bring it all full circle.
A couple of other famous drummers nearly found themselves in Pearl Jam. After Krusen departed in 1991, Rage Against the Machine's Brad Wilk unsuccessfully auditioned. And in 1994, before Irons came on board, the band reached out to Nirvana's Dave Grohl, who was without a project after the death of Kurt Cobain. Grohl told The Guardian that during that time, he "didn't wanna play music."
$25,000 for Ten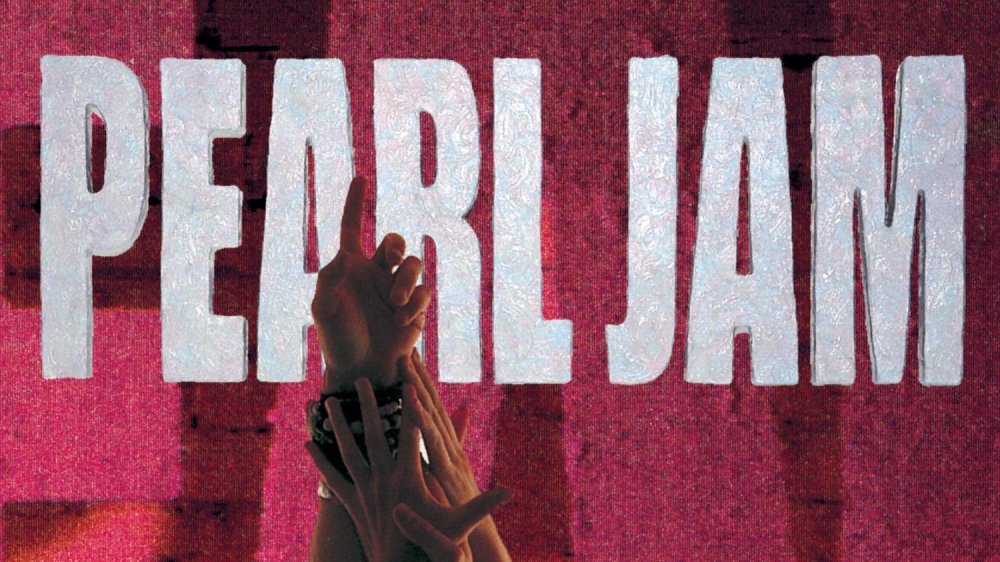 The Seattle grunge scene — with its punk-inspired, DIY ethos — was in many ways the opposite of the excessive, bloated, hair metal-oriented music world that preceded it. But it was that very industry culture that noticed Mother Love Bone, Jeff Ament and Stone Gossard's pre-Pearl Jam band. "We had about 15 labels come to see us in Seattle," Ament told Classic Rock in 2016. "By the end of the process, we were being offered $400,000," including a $250,000 recording budget, a steep increase from the $2,000 Ament said his pre-MLB band, Green River, spent making its record. 
But with Pearl Jam, Ament wanted to avoid the "all kinds of producers in expensive studios" that had complicated his sessions with Mother Love Bone. "I think we spent about $25,000 making the record and about three times that mixing it," or rather a fraction of what Mother Love Bone's Apple cost. The result was Ten, and while it's a straightforward rock record (that went platinum 13 times over), that doesn't mean it was easy to record. The band had such a hard time re-creating its demo version of "Alive" in a nice recording studio that the members just decided to use the original demo, adding in only a new guitar solo from Mike McCready. As for "Even Flow," McCready estimates that the band recorded the song as many as 70 times. "We played that thing over and over until we hated each other," he told the Daily Record.
They didn't want video to kill the radio star
Pearl Jam hit big in 1991, a time in which MTV exposure could still make a band huge. Music videos were an integral part of marketing an act, and Pearl Jam dutifully played along, recording videos for songs off of its debut album Ten, including "Alive," "Even Flow," "Oceans," and most notably, "Jeremy," a haunting short film about a troubled teenager whose life ends in tragedy. The "Jeremy" clip won the band four trophies at the 1993 MTV Video Music Awards, including Best Group Video, Best Metal/Hard Rock Video, and Video of the Year. 
But then Pearl Jam decided to buck music industry conventions and stop making promotional videos altogether for years. The reason? A prominent colleague told Pearl Jam that, contrary to what VMA voters thought, he didn't think the "Jeremy" video was any good. In 1993, Pearl Jam's Jeff Ament and Mike McCready hung out with the alternative rock band American Music Club in 1993, and singer Mark Eitzel had words about "Jeremy." "I liked your hit," Ament says Eitzel told him (per Rolling Stone), "but the video sucked. It ruined my vision of the song." It shocked Ament, who explained that, "Ten years from now, I don't want to people to remember our songs as videos."
Pearl Jam's third album set records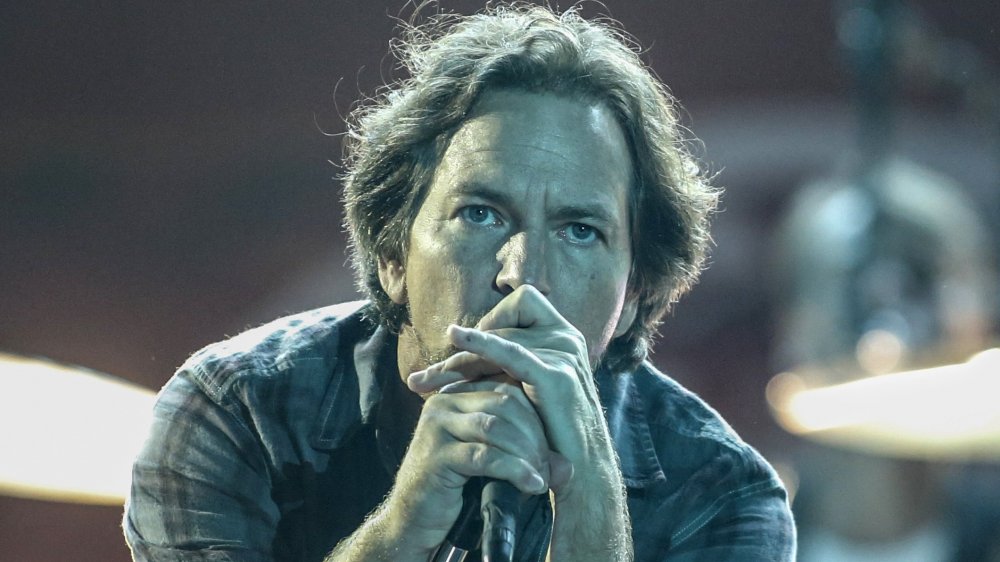 Kena Betancur/Getty Images
By the time it was ready to release its third studio album in 1994, Pearl Jam was one of the most powerful bands on the planet, because it was one of the most popular and unit-moving bands in existence. Its previous records, Ten and Vs., had sold tens of millions each and generated numerous radio hits, so when it came time for Vitalogy, Pearl Jam had the freedom to do whatever weird thing they wanted to do. And one of those whims was to use the album to celebrate vinyl. 
While LPs sold big through the '80s and experienced a nostalgic resurgence past 2000, the format was essentially obsolete in 1994 thanks to the CD. However, the first single from Vitalogy, "Spin the Black Circle," is obviously about playing records. Then Pearl Jam ensured that the vinyl version of Vitalogy was available in stores a full two weeks before it came out on CD and cassette. Remarkably, the LP-only Vitalogy made it to a relatively high #55 on Billboard's album chart.
Interestingly, compact disc copies of Vitalogy came with a free prize inside — a thick booklet full of old, creepy medical textbook excerpts. These liner notes were so long and dense that according to bassist Jeff Ament in Spin (via Five Horizons), Epic Records had to pay an extra 50 cents per album in manufacturing costs (which came out of the band's cut).
A very big 'Kiss'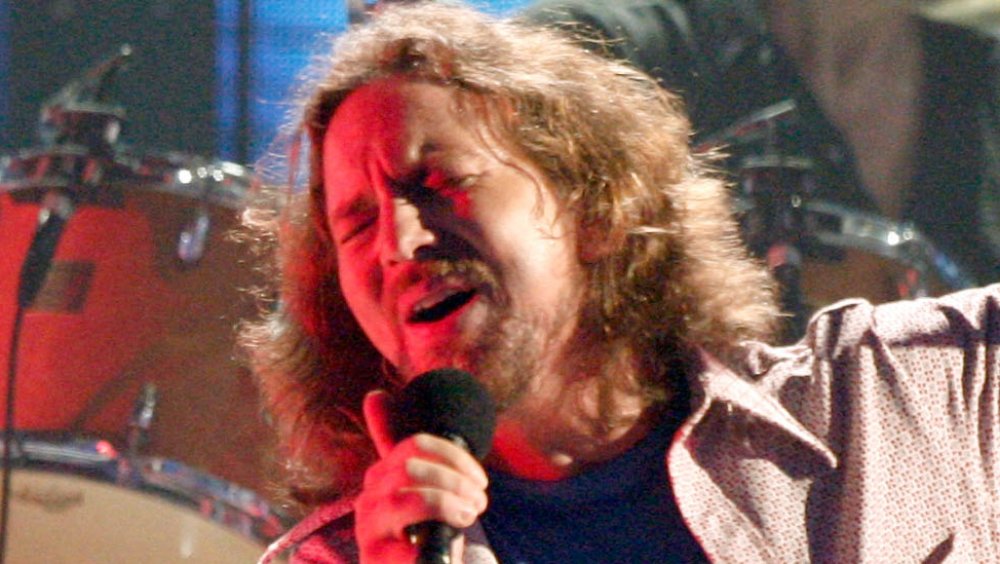 Kevin Winter/Getty Images
Pop quiz. What's Pearl Jam's biggest hit? "Alive"? "Jeremy"? "Better Man"? 
Well, while those are some of the band's most memorable songs, its most successful is "Last Kiss." It's the only Pearl Jam song to ever reach the top five of the Billboard Hot 100 pop chart, peaking at #2 in 1999. It's a bit of an outlier for Pearl Jam, as it's a slightly tongue-in-cheek cover of a song made popular in 1964 by J. Frank Wilson and the Cavaliers, a tune similar to "Leader of the Pack," "Tell Laura I Love Her," or other representatives of the 1960s subgenre of melodramatic pop songs about teenagers dying in accidents.
Eddie Vedder later told Spin (via Five Horizons) that he had found a copy of the Cavaliers' version one day, memorized it, then sang it for a small Seattle club audience just hours later. Not long after, the whole band played it at a sound check, recorded it, spent $1,500 mixing it, and then released it as a fan-club only single for Christmas 1998. Not initially intended for commercial release, "Last Kiss" leaked to radio, and by the summer of 1999, it was as inescapable as Santana's "Smooth." When the band's label wanted to release it as a physical single, Pearl Jam agreed, on the condition that the proceeds go to charity. "Last Kiss" wound up on the track list of the 1999 benefit disc No Boundaries: A Benefit for the Kosovar Refugees.
Pearl Jam stood up to Ticketmaster ... and kind of lost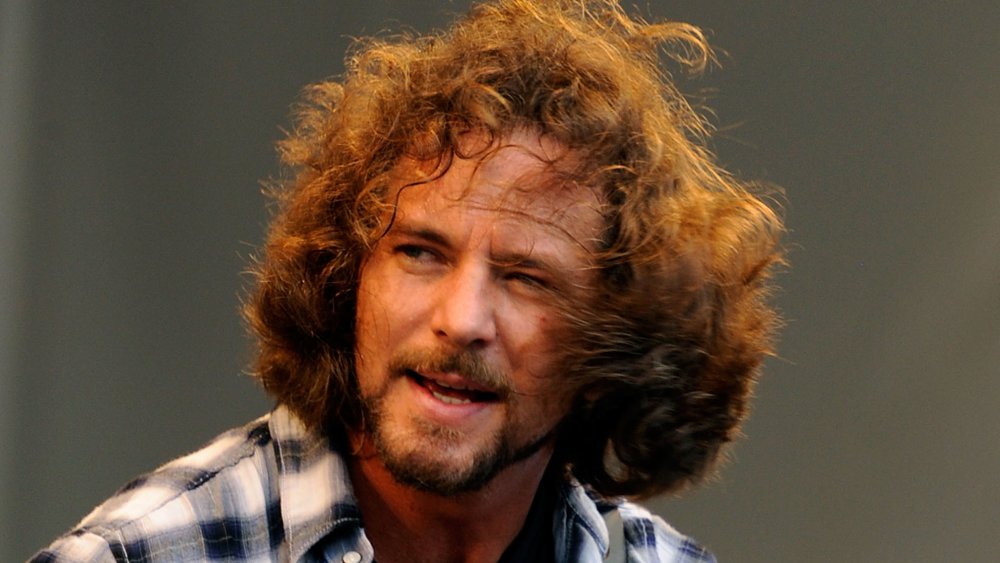 Rick Diamond/Getty Images
In the early '90s, Pearl Jam toured far and wide. To get access to the biggest and best venues, it had to work with Ticketmaster, which controlled the ticketing for 70 percent of the country's arenas and halls.
Pearl Jam wanted as many of their acolytes to see them live as possible, and according to Rolling Stone, it capped ticket prices in 1994 at $18, plus a service fee of no more than $1.80. That went against Ticketmaster's policy of tacking on fees of double or triple that amount, and it ultimately wouldn't acquiesce to Pearl Jam's low-cost demands. The band canceled its upcoming tour, and with an urging from the U.S. Department of Justice, filed an antitrust complaint, triggering a federal investigation into if Ticketmaster held an illegal monopoly. Pearl Jam alleged that the ticketing company bought out competitors and then signed exclusivity deals with major concert venues, leaving both bands and fans with no choice but to use Ticketmaster and pay whatever price the company demanded.
After a year-long investigation, the Department of Justice didn't take any action, simply closing the case. Ticketmaster took that as a victory, with a spokesman telling Rolling Stone, "Luckily the facts were on our side, and we prevailed." Thus, Pearl Jam didn't really win its case, and its 1995 tour consisted of just a few shows held in the few venues not controlled by Ticketmaster.
Pearl Jam criticized the president, but nobody heard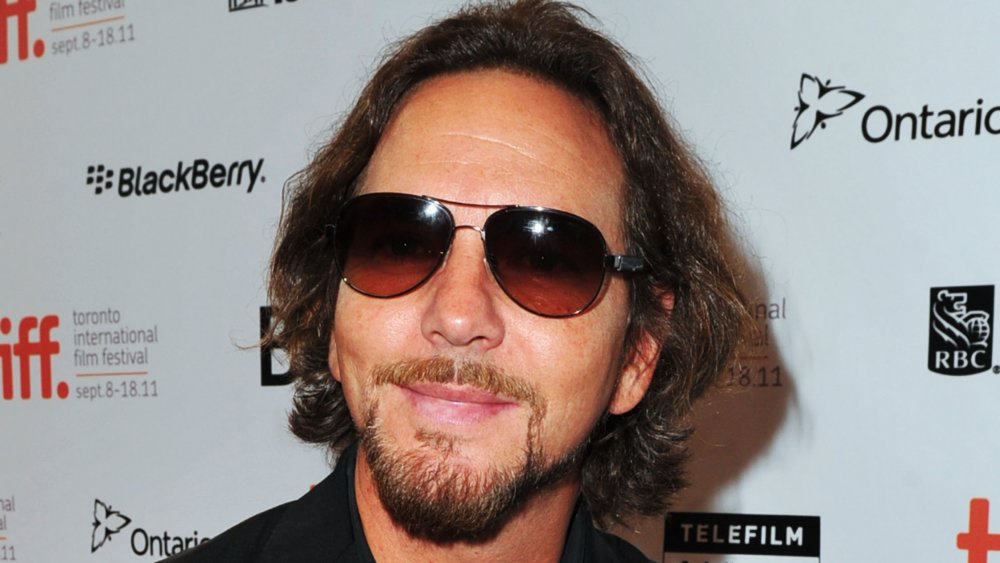 Alberto E. Rodriguez/Getty Images
As evidenced by its fights with record companies and Ticketmaster, Pearl Jam doesn't like to be told what it can or can't do. Even long after establishing itself as a legacy act with a ton of clout, it still had to stand up for itself over a perceived slight. In August 2007, Pearl Jam headlined the Lollapalooza festival in Chicago, and the set was streamed on Blue Room, AT&T's online service. According to the Associated Press (via NBC News), AT&T didn't broadcast entirely live, as AT&T instituted a delay of a few seconds in case it needed to muffle any egregious profanity. However, the content monitors hired (through a vendor) got a little trigger-happy with the bleep button.
During a bit in which Eddie Vedder interpolated a part of Pink Floyd's "Another Brick in the Wall" and sang "George Bush leave this world alone," the monitors censored the line. It was cut out of the webcast, as was the lyric, "George Bush find yourself another home." Pearl Jam later took to their website to say, "If a company that is controlling a webcast is cutting out bits of our performance — not based on laws but on their own preferences and interpretations — fans have little choice but to watch the censored version." AT&T spokesman Michael Coe apologized on behalf of the company and said that the censorship was made in error.
From Green River to as green as possible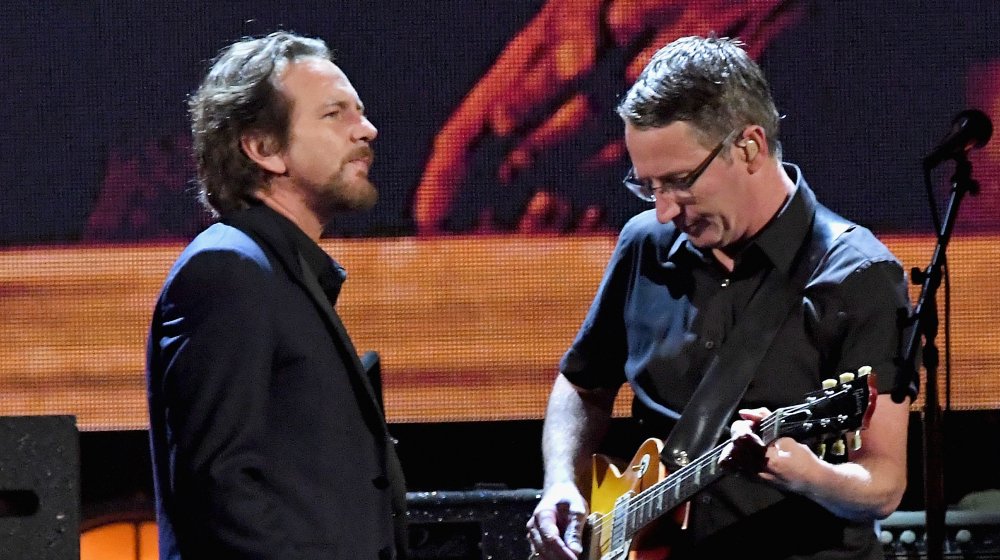 Mike Coppola/Getty Images
The members of Pearl Jam certainly try to be socially conscious, and they're globally conscious, too. Touring around the world to play concerts for fans for years on end is a big operation that consumes a lot of natural resources, and all those flights and bus trips generate a lot of air pollution. It all adds up, and so since 2003, Pearl Jam has aimed to make itself a carbon neutral rock band. Every tour, the band figures out how much carbon dioxide it's responsible for, with getting the band, crew, and equipment to each destination. Based on that number, Pearl Jam then takes a portion of its profits from those concerts and donates it to environmental causes, which according to the band's website, "offset or mitigate carbon dioxide that was released into the atmosphere on tours." A sizable donation from Pearl Jam from 2018 went to a project that aimed to conserve the forest-dense Afognak Island in Alaska.