Why Everyone Hates Touring With Aerosmith
Kevin Winter/Getty Images
"Hate" is such a strong word, isn't it? Lots of people probably resent Aerosmith's success, are jealous of Steve Tyler and Joe Perry's combined levels of irresponsible personal debauchery, or are aghast at the tales of rampant self-indulgence involving incalculable sums devoted to drug binges and damages and damages caused during drug binges. Depending on the job, co-workers who show up high are irresponsible and often a source of annoyance, even safety hazards. But hate?
Well, yeah, maybe. The UK's New Musical Express (NME) tells some tales that might spark anger, if not hatred, of the band known as Aerosmith. According to bassist Tom Hamilton, "I remember one show where we got three songs in and Steven lost consciousness for one reason or another" and couldn't continue the show, which probably pleased very few ticketholders. Said Tyler, "We just got high back then, it was a way of life. I might" (Editor's note: Might?) "have done a bit more than others, but I have a problem with that. I'm powerless over the drugs that I love because I'm addicted to music, and music is the strongest drug of all." Which is one way of looking at it. Or justifying it. As NME said, Aerosmith is "one of the most debauched, demented, drugged-up and downright brilliant rock bands on the planet."
"I'm addicted to music, and music is the strongest drug of all"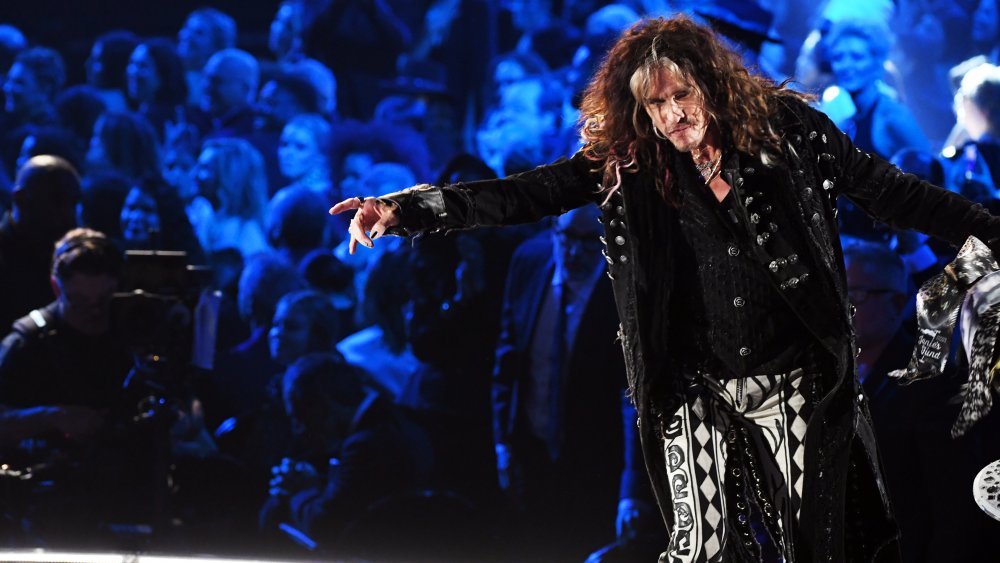 Kevin Winter/Getty Images
In a 2002 interview posted by Louder Sound, Tyler denied that the band was occasionally so whacked out that they'd perform the same song twice in a row. "Oh, no," said Tyler. "That would make us blithering idiots. We were just drug addicts." (In the same interview, Perry refers to himself as "a very fastidious junkie.")
Tyler and Perry both deny having a dealer on the band payroll, which would have been interesting on the tax returns. They do say that their 1988 tour with Guns 'N' Roses was "one of the most fun tours that we had." Both Tyler and Perry said they'd cleaned up by then.
Something must have been right. Factinate claims that Aerosmith has sold more than 150 million albums worldwide — think "Walk This Way" and other rock anthems over the years. The 1990s were particularly good, with four Grammy wins. In 2004 Tyler told Billboard he'd been clean and sober for two decades, just as he revealed he'd completed aggressive treatment for Hepatitis C. Don't forget that Tyler spent two seasons as a judge on American Idol, which Joe Perry referred to as "one step above Ninja Turtles," as quoted by Ranker. Maybe it was a way to give back?