How Dave Bautista Dealt With His Asthma While Wrestling
Rich Polk/Getty Images
"I'll do you one better: why is Gamora?"
Yeah, Dave Bautista is pretty cool, as this ad-libbed line from Avengers: Infinity War attests. The former WWE champion "Batiste" has more than made a name for himself in and out of the ring. The once-bodybuilder and mixed martial artist has, since breaking into the movie business in a big way in 2014's Guardians of the Galaxy, done a fantastic job of standing out as a "real actor" (his words, per a 2019 GQ interview). His portrayal of Drax is among the most memorable in the Marvel franchise, and since then, Bautista has racked up movie credentials as a gentle but brutish replicant in 2017's Blade Runner 2049, a cop in a buddy comedy in 2019's Stuber, and playing a former US Special Forces officer plagued by a 9-year old in 2020's My Spy. And he's done it while having some of the most widely-admired traps in Hollywood.
But before all this cinematic fame and success, Dave Bautista had other concerns: namely, how to not have an asthma attack and die while in the middle of a wrestling match. As reported by The Sun, Bautista hasn't been shy about talking about his asthma, taking to Twitter to say things like, "The cold venues were my nightmare." It might be strange to imagine such a nigh impervious-looking six-time WWE champion taken down by a respiratory ailment, but such are the dangers of asthma, and the silent suffering that Bautista endured during his career.
Like Bruce Willis's water weakness in Unbreakable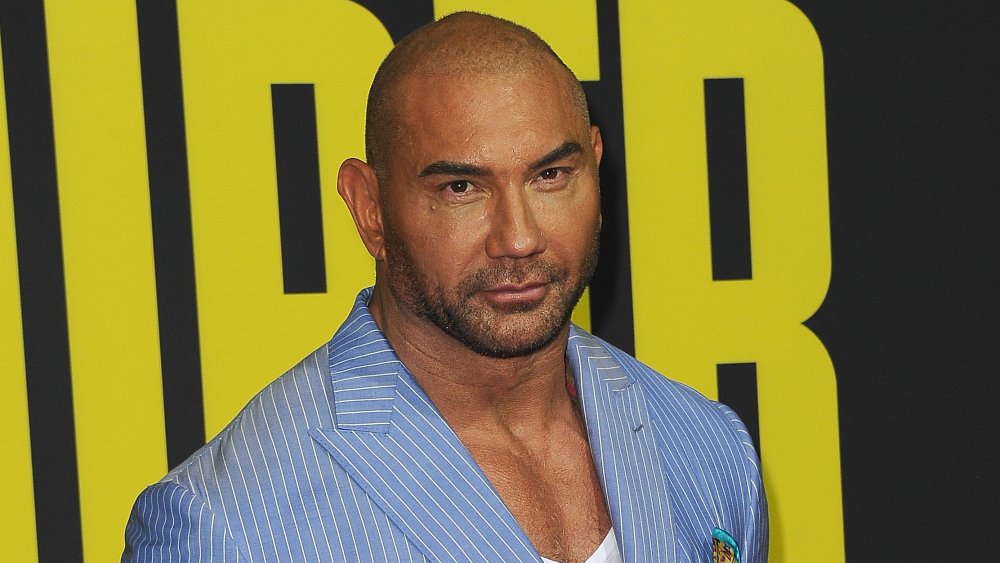 Albert L. Ortega/Getty Images
Bautista's asthma is, by all accounts, pretty severe. He's said that matches lasting over half an hour were a challenge to him. The 6' 4", 260-pound brick of muscle managed to not only conduct of all his matches safely, but did the training necessary over decades to get into physical shape for his career, as depicted in a body transformation video, also posted at The Sun. While wrestling, he used a very simple trick to stay on top of his medical condition: He hid multiple inhalers under the wrestling ring, and also passed some out to workers alongside the ring, as Wrestling News relates. He's stated this directly on Twitter, and also had multiple conversations with fans about the topic, including concerns about whether or not his children will inherit his condition. 
Bautista hasn't let his ailment slow him down in the slightest, however. In addition to besting his asthma, Bautista has faced a surprising uphill battle in his career, having to contend with WWE-based biases that prevented him from being taken seriously as an actor. According to the GQ interview, Bautista believes that the final frontier of his future involves musical theater and being a lead in a romantic comedy. While musical theater might be a challenge, at least as far as breath control is concerned, let's not count Bautista short. After all, he wants his peers to say, "Dave can do anything."