How Old Are Joe Biden's Dogs, Champ And Major?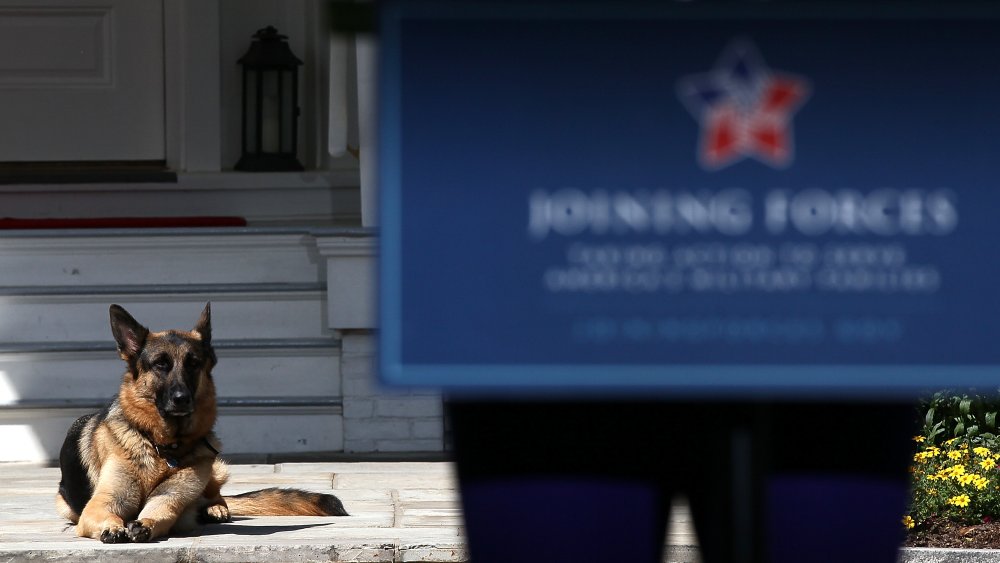 Win Mcnamee/Getty Images
After years of campaigning and five days of waiting for the votes to be tallied, Americans can finally rest easy knowing that soon the long-standing tradition of having dogs in the White House will be restored. As NPR reported after major media outlets called the election for former Vice President Joe Biden and running mate Kamala Harris, his inauguration will mark the first time canines have crossed the threshold of the official residence of the president in four years. For some reason, almost half the voting public thought it would be a good idea to put a non-dog person in the White House four years ago. That will change on January 20, 2021, when Joe and Jill Biden's pair of German shepherds become the First Pets of the United States.
The Bidens' dogs are named Champ and Major. Champ, shown above, is about 12 years old now, and according to E!, there's actually a fun presidential story behind how he joined their family. Joe had promised Jill back in 2008 that he would buy her a puppy if he and Barack Obama won the election. Champ was just 3 months old when Joe came through on his promise. The president-elect's granddaughters named the little guy, but the name also reminds Biden of his father, who would call him "champ" when giving him pep talks. Champ's younger brother, Major, joined the family 10 years later.
Joe Biden has a long history with German shepherds
In November 2018, the Bidens added a new pup to the family, and this one was a rescue dog. They got Major from the Delaware Humane Association, which posted the adoption on Facebook. "Today is Major's lucky day!" wrote DHA. "The Bidens have gotten to know Major while fostering him and are now ready to make the adoption official. Best of luck and thank you for being one of our Friends for life!" Major's exact age hasn't been made public, but according to this post, he should be around 3 years old by now. He'll be the first rescue dog to ever live in the White House.
According to ABC News, Biden grew up with German shepherds and has a deep love for the breed. "I've had German shepherds my — from the time I was a kid," he told interviewer George Stephanopoulos back when they got Champ. "And I've actually trained them and shown them in the past, my past life. So I wanted a German shepherd, and we're going to get a pound dog that my wife wants," he added, foreshadowing Major's arrival 10 years later. As Washingtonian noted, Champ has already lived the life of a political top dog and will have to "show his younger brother the ropes." Of course, back then Champ lived at the vice presidential residence on the United States Naval Observatory in northwestern Washington, D.C. Now the two will have the whole White House to run around.
The time-honored tradition of presidential pets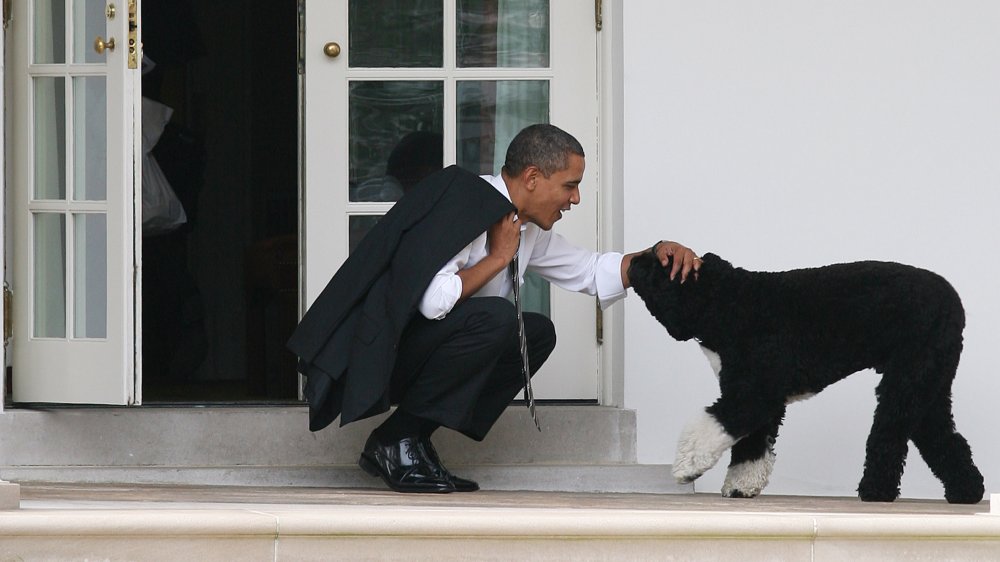 Pool/Getty Images
As the New York Times reported, Donald Trump was the first president to live without a pet in the White House in over 100 years. A Florida woman offered to give him a goldendoodle named Patton — after the famous World War II general for whom Trump has expressed admiration — in 2016, but he did not accept the dog. But pretty much every other president has had some kind of pet. Theodore Roosevelt had a whole zoo of animals, from snakes to roosters to pigs, rats, and horses. Calvin Coolidge had a pet raccoon. According to Bark Post, George Washington owned over 50 dogs and is known as the creator of the American Foxhound. In the same way that Biden gave his wife Champ after the 2008 elections, President Obama's dog Bo was a gift he'd promised to his daughters if he won.
Two days before the election, Biden tweeted a clip of now lame-duck Donald Trump trying to convince an arena of screaming fans in El Paso, Texas, in 2019 that the presidency is no place for pups. "How would I look walking a dog on the White House lawn?" he asked his supporters. The arena erupted into cheers. Despite what sounded like enthusiastic support, Trump trudged on with a doubtful look on his face. "Sort of. Not for. I don't know. Doesn't ... I don't feel good."