Everything We Know About Dr. Dre's Brain Aneurysm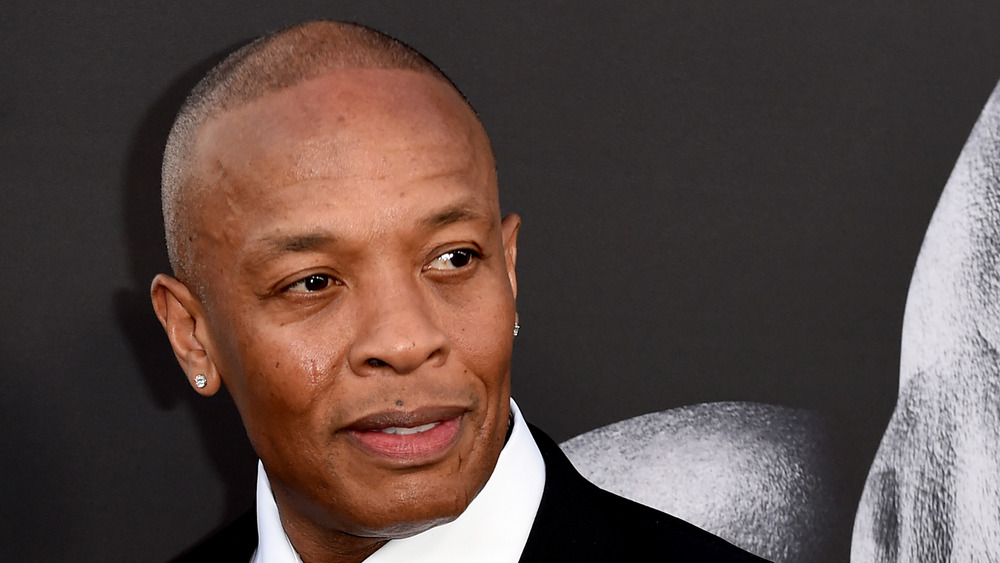 Kevin Winter/Getty Images
At 5:01 p.m. on January 5, TMZ was the first to report that Andre Romelle Young, known to the world as legendary producer, entrepreneur, and hip-hop artist Dr. Dre, was admitted to Cedars-Sinai Medical Center in Los Angeles after suffering a brain aneurysm. Doctors call Dre "stable and lucid," although there's still no information regarding what symptoms precipitated Dre being admitted to the hospital, nor any details regarding the severity or location of the aneurysm itself. Aneurysms, as WebMD states, are bulges in the blood vessels of the brain that can cause headaches, drowsiness, and even seizures. If a vessel ruptures, blood can soak into the surrounding tissue and lead to a stroke.
At present, Dre has taken to Instagram to assure people that he's alive and well, stating, "Thanks to my family, friends and fans for their interest and well wishes. I'm doing great and getting excellent care from my medical team. I will be out of the hospital and back home soon. Shout out to all the great medical professionals at Cedars. One Love!!"
In wake of this news, as USA Today reports, various celebrities and fellow artists spoke up online. "Prayers up for Dr. Dre and his family for healing & Strength over his mind & body," Missy Elliot stated on Twitter, while Ice Cube wrote, "Send your love and prayers to the homie Dr. Dre." LL Cool J jumped on board, writing, "Dre is recovering nicely," and 50 Cent chimed in, "Get well Dre, stress kills relax."
Dr. Dre rose to become one of the most influential figures in hip-hop history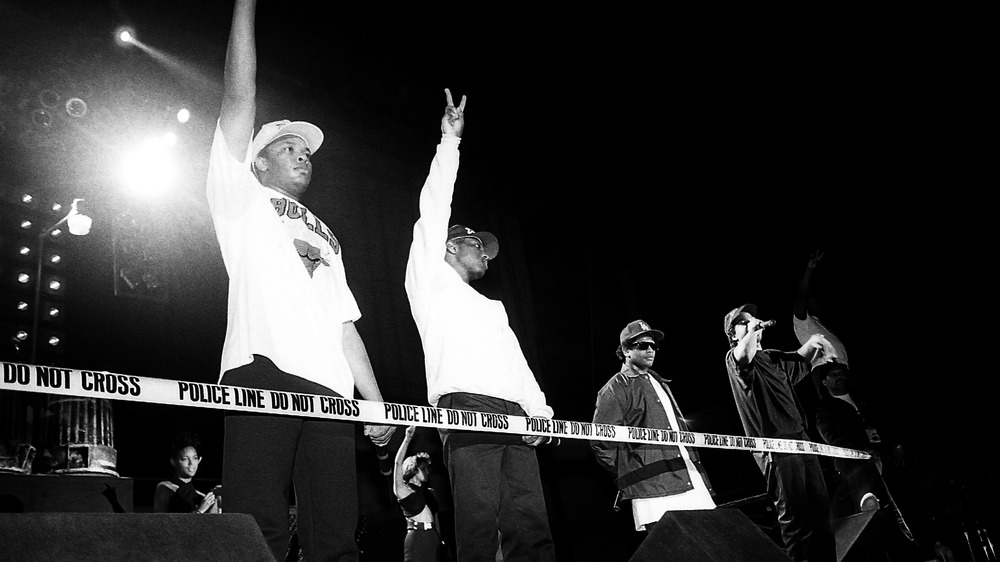 Raymond Boyd/Getty Images
It's no understatement to say that Dr. Dre is one of the most influential figures in hip-hop history, and that announcement of his ill health is major news, indeed. As one of the founding members of N.W.A., Dre helped crafted a path for West Coast g-funk rap in the late '80s and '90s with a Compton, Los Angeles-centered realness of everyday violence, drug use, and gang conflicts. Dre formed a solid solo career with groundbreaking albums like 1992's The Chronic, before leaving Death Row Records in 1996 to form Aftermath Entertainment. Dre's the one who signed Eminem and 50 Cent, as well as acted as a mentor for Kendrick Lamar (as NME reports). He has been a producer and collaborator for numerous albums, per the The Guardian. As Ignitia Office reports, Dr. Dre sold Beats Electronics to Apple for $3 billion in 2014, and currently, as Celebrity Net Worth reports, he himself is worth over $800 million. 
At present, Dre is in the middle of a couple of serious personal milestones that may have impacted his health and led to the aneurysm. As Billboard tells us, he and his wife Nicole Young, who have two grown children, are getting divorced after 24 years, citing irreconcilable differences. Per NME, he is also planning to release a new album later this year.
The hashtag "prayfordre" has started circulating on Instagram and Twitter. With so much love going around, Dre has no reason to worry: We could never forget about you.