Details You Didn't Know About Rose Dunn
Like pretty much every one remembered from the Wild West, much of what has been written and told about Rose Dunn, aka The Rose of Cimarron, is questionable. The line between fact and fiction, truth and tall tale, is difficult to distinguish. Sources like Legends of America tell of a young woman (though that site leaves out just how young) who fell in love with an outlaw named George "Bitter Creek" Newcomb after being introduced to him by her outlaw brothers. Other sources, like the blog Dark Hearted Women, mention her age — she was just under 15 years old when she met Newcomb, 11 years her senior — and like Legends traffic in the myths about her life, but do little to clarify them (but at least say "allegedly").
What Rose allegedly did was help her paramour Newcomb when he and his fellow outlaws from the Doolin-Dalton Gang got into a gunfight with U.S. Marshals in Ingalls, Oklahoma, on September 1, 1893. The legend — of which there are several variations — has it that when she saw Newcomb wounded during the battle, she grabbed a rifle and ran through the crossfire to deliver it to Newcomb and help him escape. Other, more sensational versions, have her actually firing upon U.S. Marshals, some say killing three, in her daring feat. But what is true and what was sensationalized to sell books and movies about outlaws? Here are some details you didn't know about Rose Dunn.
Who really was Rose Dunn, the Rose of Cimarron?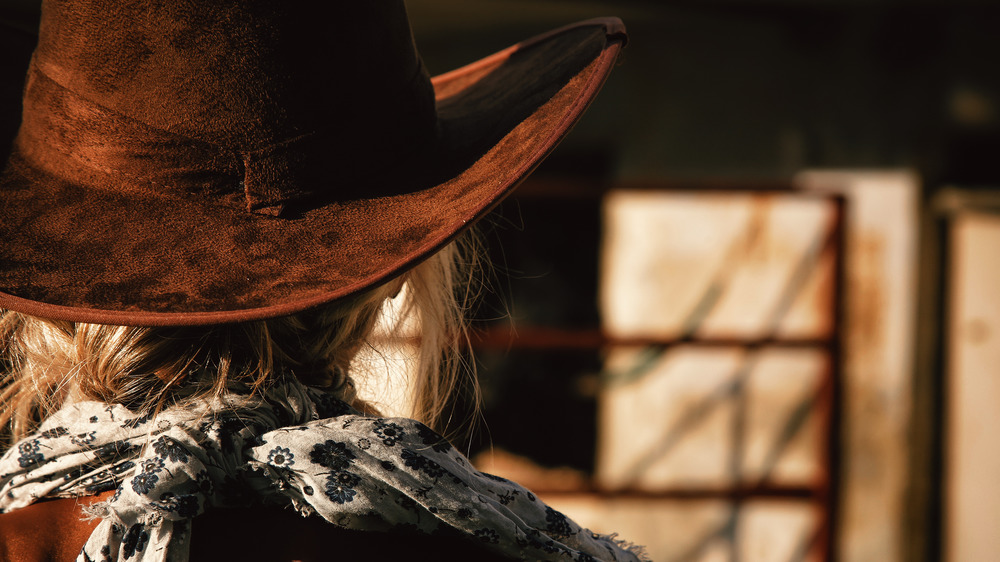 Shutterstock
According to True West magazine, there has been much doubt about the sensational account of Rose Dunn as a young, female outlaw. The tale was first told in the 1915 book Oklahoma Outlaws, and told and told again for the next four decades, but no one knew who the "Rose of Cimarron" really was until James D. Horan published his book Desperate Women in 1952. However, a book published the following year, Glenn Shirley's Toughest of Them All, would claim that a 14-year-old Rose Dunn was never involved in the Ingalls gunfight. Dunn's second husband, who outlived her after she died in 1955, said that she had been "a true friend of the outlaws... but she was never the sweetheart of any." True West magazine came to the conclusion that despite all the differing accounts of Dunn's life, all those writers and filmmakers wouldn't have wanted to tell such a story "if there was not some basis of fact."
One thing we do know for sure, however, is that the photo that people believed for years was of Rose Dunn (the one at the head of this article) isn't actually of Rose Dunn. Author Michael Rutter revealed in his 2008 book Bedside Book of Bad Girls: Outlaw Women of the American West that the woman in that photo was actually a prisoner who had been asked to pose for the photo in exchange for a reduced sentence.