The Moment In Mick Jagger's Career When He Went Too Far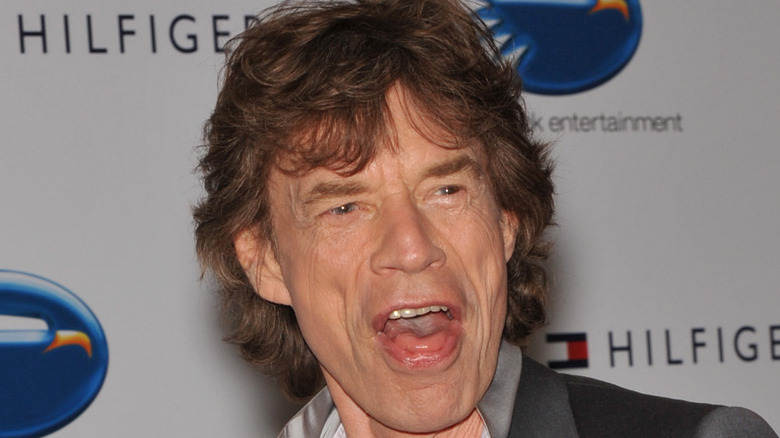 Shutterstock
The Rolling Stones' Mick Jagger is one of the ultimate rock stars of all time; per his AllMusic biography, he invented the role of rock and roll frontman. Someone with that much star power, charisma, money, and privilege is going to get away with a whole lot of questionable behavior over the course of a career, and well into his 70s, Jagger shows little interest in retiring or even slowing down now. Still, when you spend so many decades doing one outrageous thing after the next, people are going to notice and judge. In a poll of 673 people around the United States, Grunge asked, "What moment in Mick Jagger's career do you think he went too far?" 
The fourth most popular Jagger shenanigan with 18.87% of the vote is a sort of collection of instances of bad behavior — "his entire arrest record." As reported by Ultimate Classic Rock, among the more notable of Jagger's brushes with the law is his arrest in 1967 along with Keith Richards when they were busted throwing a drug-fueled party, his 1968 arrest with then-girlfriend Marianne Faithfull for marijuana possession, and of course the time in 1972 he and Richards were sprung from a Rhode Island prison by the mayor of Boston after a brawl with photographers so the Stones could play the Boston Garden that night.
Mick Jagger called the queen what?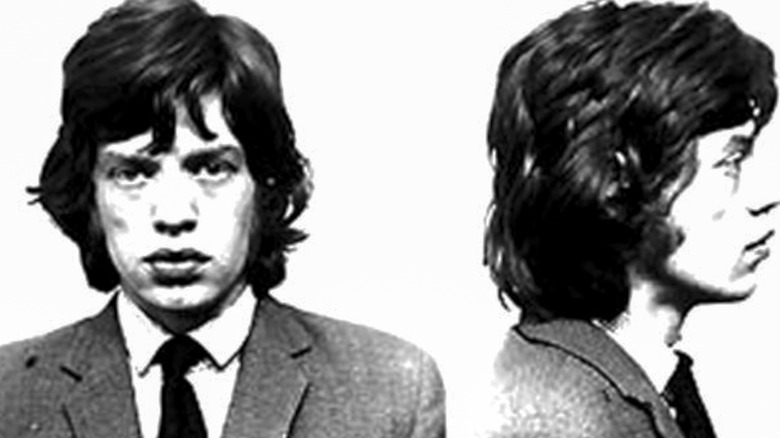 Kypros/Getty Images
Just over 20.5% of respondents selected "Calling the queen the 'chief witch'" as the time Mick Jagger went too far. Per the Daily Mail, Jagger and Queen Elizabeth II had an ongoing contentious relationship, perhaps stemming from the alleged affair between him and her sister, Princess Margaret. Not only did he reportedly call her "chief witch," he once proclaimed that "anarchy is the only slight glimmer of hope." It's no wonder that when Jagger received his knighthood in 2003, the queen scheduled a knee operation and left Prince Charles to bestow the honors.
For 27.19% of those polled, "cheating scandal/ruining his marriage to Jerry Hall" was Jagger's most unforgivable act. Per InStyle, Jagger and Hall started dating in 1976 while he was still married to actress Bianca Jagger and she was engaged to singer Bryan Ferry of Roxy Music. They had a long, rocky relationship, managing to have three children and marry in 1990 amid countless infidelities and scandals over the years. The final straw came in 1999 when a tabloid rumor that model Luciana Morad was pregnant with Jagger's child turned out to be true. Hall filed for divorce, but it came to light that their Hindu marriage ceremony wasn't legally binding and they were never technically married at all!  
Mick and Keith and Anita and Marianne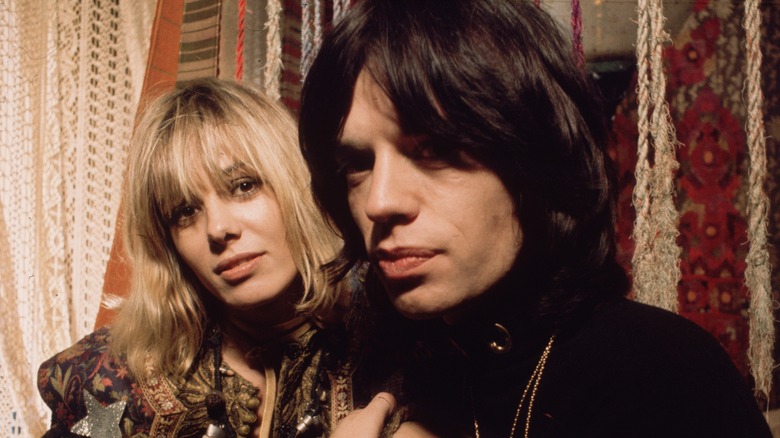 Andrew Maclear/Getty Images
The moment in Mick Jagger's career that an entire 33.43% of respondents chose as the most out of bounds is "sleeping with Keith Richards' girlfriend Anita Pallenberg." Richards and Pallenberg started dating in 1967; per Express, Pallenberg "defected" to Richards from her then-boyfriend Rolling Stones guitarist Brian Jones during a band trip to Morocco. In 1968, Mick Jagger and Anita Pallenberg were cast as lovers in the movie "Performance." Richards reportedly offered to pay Pallenberg not to do the film, but she refused. The movie contained lots of explicit sex scenes and eventually, life supposedly imitated art, and Jagger and Pallenberg were caught "rehearsing"  off-camera. Pallenberg always denied the rumors, saying, "I was a one-man girl at the time and Keith was the man for me." 
Keith and Anita went on to have three children together and were in a relationship until 1981, although they never married. To add to the drama of it all, Richards was so obsessed with the idea of his bandmate and his girlfriend having an affair that he instigated a one-night stand with Jagger's then-girlfriend, singer Marianne Faithfull. In a 2014 interview with the Daily Mail, Faithfull called the experience the best night of her life, saying, "Even now, it stands out. I think it was so great and memorable because it was just one night. That was it. And we're still great friends."