Who Has The Most Wimbledon Titles In Men's Singles History?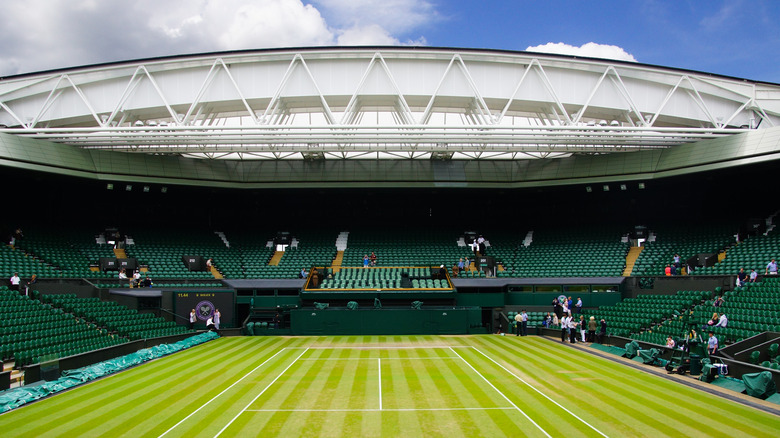 Shutterstock
As the oldest and most prestigious tennis tournament in the world, the Championships at Wimbledon are a storied event stuffed to the gills with traditions and records, some of which have stood, literally, for generations. One such example is the record for most men's singles championships, which went unbroken all the way from 1889 to 2017, when the record originally set by Brit William Renshaw was finally smashed by living tennis legend Roger Federer. It's a heck of a story, so strap on your Rolex and your white short-shorts, grab some strawberries and cream and barley water, and we'll give you the lowdown.
While Renshaw's long-standing record of seven championships may seem impressive — along with his record six consecutive championships, which still stands — it might not be quite as impressive as it seems. In Renshaw's day, the previous year's champion didn't actually have to compete in the tournament, only having to defend his title against the would-be champion in the final match. If that order of things seems strange, know that it was how things were done all the way up until 1922 (via Last Word on Sports).
Still, after the rule change, it took 78 years for a competitor to tie it, which American player Pete Sampras finally did, in 2000 (via Tennis Buzz). When he got close to breaking it, though, in 2003, he was stopped dead in his tracks by Swiss contender Roger Federer.
How Roger Federer smashed the Wimbledon record
Julian Finney/Getty Images
Wimbledon 2003 represented Federer's fifth appearance in the tournament and only the second time he managed to make it past the first round. Still, Federer, 22 at the time, made this one stick, and ended up defeating his childhood hero Sampras in the championship. He called it the "most important match in my life" (via Olympics.com).
After his 2003 victory, Federer won another four championships in a row, including back-to-back victories over American Andy Roddick in 2004 and 2005, followed by back-to-back wins over Spaniard Rafael Nadal in 2006 and 2007. Nadal, however, had his revenge in 2008, finally triumphing over both Federer and Wimbledon, in a match still regarded by many as one of Wimbledon's finest (via The Guardian). The following year, however, Nadal withdrew from Wimbledon due to tendinitis, and Federer again faced Roddick in the championship, defeating him once more.
After 2009, Federer entered a bit of a slump, and was prevented twice from winning the tournament by the younger Serbian player Novak Djokovic. In 2012, however, Federer managed to defeat Djokovic in the semifinals and go on to win the championship match against Brit Andy Murray. Having tied Sampras' record, Federer could have easily retired respectably, but he came back from a couple of nasty injuries to win Wimbledon once more in 2017, this time against Croatian Marin Cilic (via BBC).
According to Eurosport, Federer, at age 39, currently has no plans to retire and will compete at the Tokyo Olympics. This year's Wimbledon competition is scheduled for June 28-July 11.