A Look At Roger Federer And Rafael Nadal's Rivalry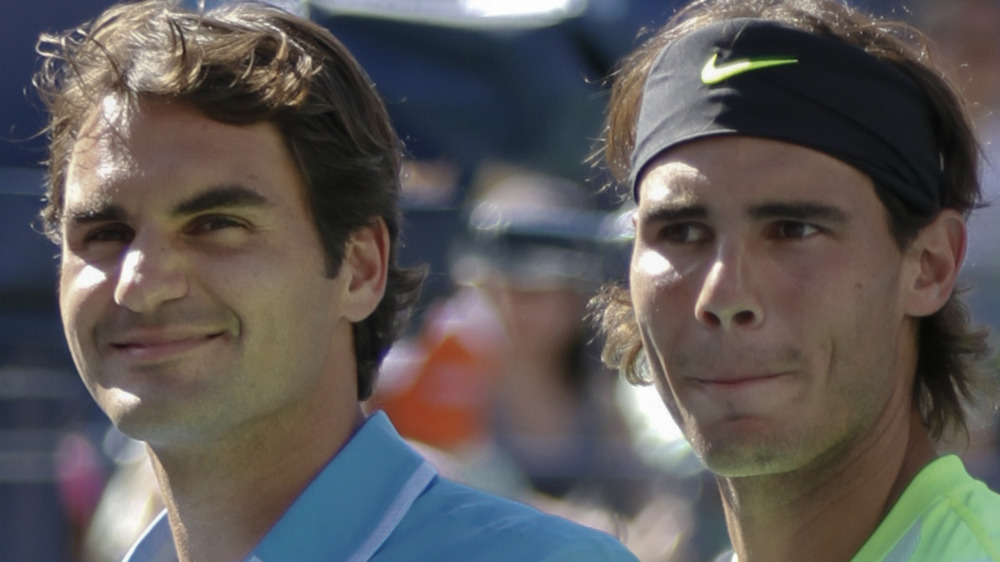 Shutterstock
Roger Federer and Rafael Nadal are both widely regarded as two of the greatest tennis players of all time, so it's little surprise that their rivalry will go down in sports history. The two tennis stars first played against each other at the Miami Open in 2004. At the time, Federer was ranked number one in the world, while Nadal was a newcomer who was just 17 years old. Despite his youth, Nadal ended up besting Federer in two sets after playing a nearly flawless tennis match.
Since then, Federer and Nadal have played against each other 40 times in total. Nadal has the lead in wins, at 24 to 16. However, Federer won their last meet-up at the 2019 Wimbledon semifinals — though Federer ended up losing in the final to Serbian star Novak Djokovic, who is the third member of the lauded "big three" of tennis.
The most famous match between the two men is arguably the 2008 Wimbledon final. The event has been called (per The Telegraph) the best match ever played by both sports commentators and former pros such as John McEnroe and Bjorn Borg. It lasted nearly five hours, making it (according to ATP Tour) the longest final in Wimbledon history. Nadal finally triumphed, winning with nine sets to Federer's seven.
Federer is known to prefer court surfaces such as grass and outdoor hard courts. Nadal, meanwhile, reigns supreme on clay and also appears to have the advantage on indoor hard courts. Both men can boast an astounding 20 career Grand Slam titles.
The rivalry has been good for both themselves and tennis as a whole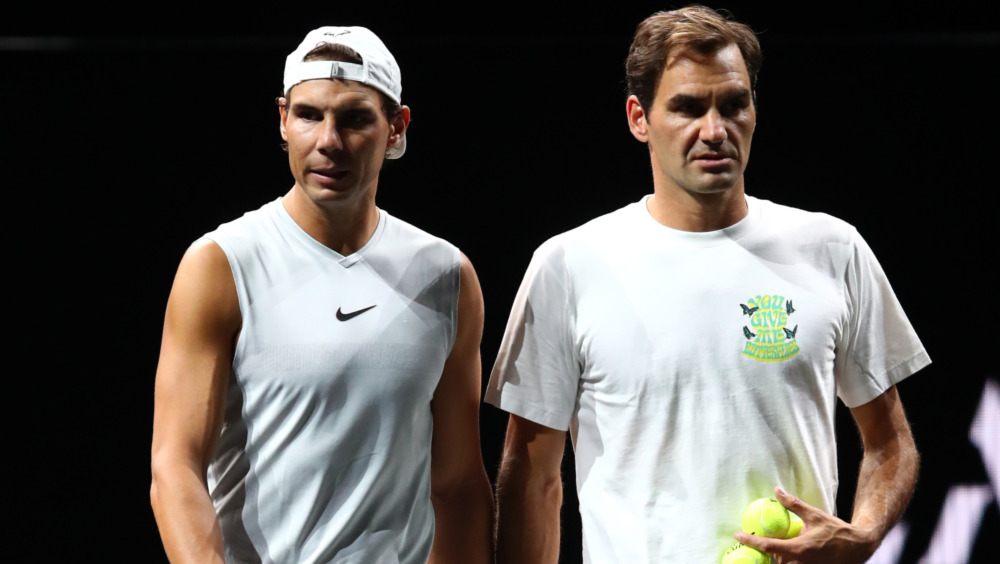 Julian Finney/Getty Images
Despite the intense competition between the two men, both Federer and Nadal have kept their personal relationship incredibly positive and only expressed admiration for each other's skill.
"We have a great relationship all the time. Our relationship didn't change a lot since the beginning because it was always very respectful. The only way the relationship has improved is getting closer, we spend more time together, always being in the [ATP Player] Council, being on court, playing exhibitions together. I don't think it's a rivalry. All these important moments in tennis make you appreciate it more," Nadal said of his Swiss opponent (quoted on ATP Tour).
Federer expressed similar admiration for Nadal: "I think we are very different personalities or maybe also player types. The way we go about it is very different, but yet we both find a way to excel ... I think it all adds to the cool rivalry that we had ... it's been quite a journey with Rafa side by side."