You Won't Be Able To Guess Barbie's Full Name
Shutterstock
Despite the fact that were she a real woman, she would have to move on all fours due to her 39"/18"/33" measurements on a six-feet-tall (some say 5'9") frame (per the Huffington Post), Barbie has had an impressive number of careers in her traditional doll form. As reported by History, since her debut in 1959, Barbie has been portrayed as having had over 200 careers, including doctor, paleontologist, rock star, and astronaut, even going to the moon in 1965, four years before Neil Armstrong and 18 years before Sally Ride became the first American woman in space in 1983. 
Barbie dolls were the brainchild of Ruth Handler, who founded the Mattel, Inc. toy company in 1945 with her husband Elliot. Fourteen years later, Handler was inspired by her daughter playing with paper dolls of adult women and realized there was a niche to be filled in creating a three-dimensional adult doll for children. She based the original design off a German doll called the Bild Lilli that was originally sold in tobacco shops and intended as a racy gag gift for adults. Mattel bought the rights to Lilli and Handler designed her own version, which premiered at the American Toy Fair on March 9, 1959 in a black-and-white striped swimsuit with both blonde and brunette versions available for purchase. Within its first year on the market, people bought over 300,000 Barbie dolls and an American icon was born. Today, as reported by Barbie Media, over 100 Barbies are sold every minute.
Barbie has a middle and last name — and so does Ken!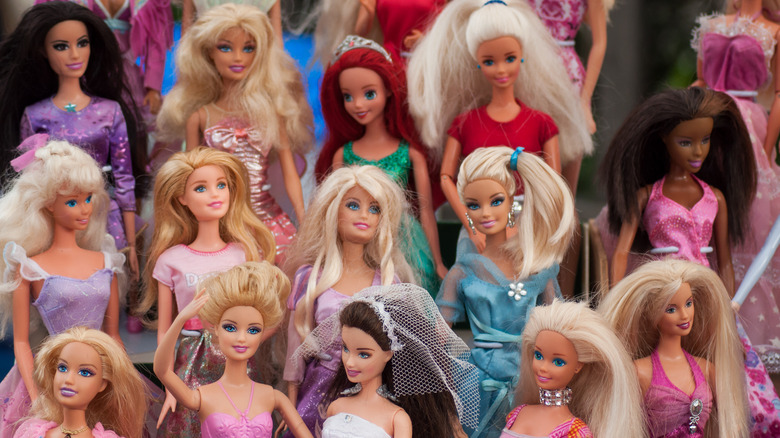 Shutterstock
Barbie is named for Ruth Handler's daughter, Barbara, but they two only share a first name; the doll's full name is Barbara Millicent Roberts. Per Thought Co, Barbie got an entire backstory in a series of novels published in the 1960s. In the books, Barbie hails from a fictional town in Wisconsin and has parents named George and Margaret Roberts, as well as a boyfriend, named Ken Sean Carson. Ken dolls were introduced to the market by Mattel in 1961 after little girls asked for a boyfriend doll for their Barbies. Like Barbie, Ken was named for one of Ruth Handler's children, son Kenneth Handler. 
As reported by Throwbacks, Barbie has had a large number of friends and family members over the years. Her younger sister Skipper Roberts was introduced in 1964. Less well known are twin siblings Tutti and Todd Roberts, introduced as children in 1965 and discontinued in 1971. Other younger Barbie siblings include Anastasia or "Stacie," Kelly, Chelsea, and Krissy. Early friends included the third doll introduced by Mattel after Barbie and Ken, Midge Hadley, released in 1963; "Barbie's Modern cousin" Francie Fairchild, marketed in 1966 with a groovy mod wardrobe and long rooted eyelashes; Midge's boyfriend and eventual husband Allan Sherwood; Christie, introduced in 1968 as part of a line of talking Barbie dolls and significant for being the first Black Barbie; and (per Man Behind the Doll) Brad, the first Black male Barbie doll, introduced in 1970 as Ken's friend and Christie's boyfriend.