The Truth About Carrie Fisher And Harrison Ford's Affair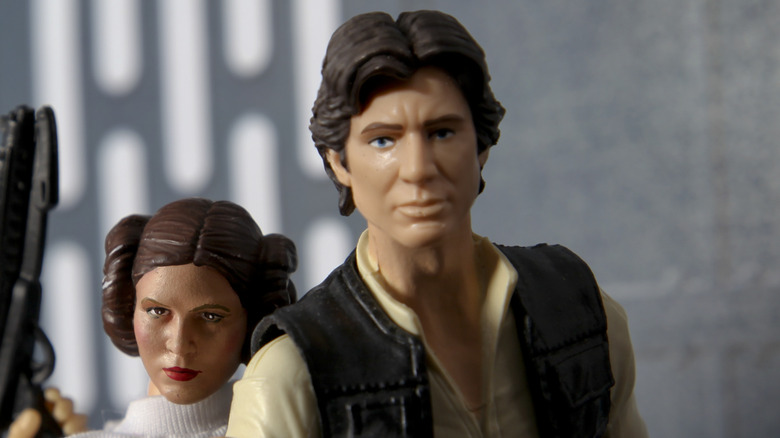 Shutterstock
The love story between Star Wars' Princess Leia and Han Solo is an all-time favorite cinematic pairing; the chemistry crackling between the two characters is palpable as they exchange the infamous lines—"I love you," "I know"— just before Leia watches Han frozen into a block of carbonite, possibly never to be freed. (He is freed, of course, but, at that point no one knew what was going to happen.) Forty years after the fact, Carrie Fisher wrote a tell-all autobiography, "The Princess Diarist," published in 2016 and revealed that the on-screen love affair had made its way off-screen as well, despite the facts that Ford was married with two children at the time of filming and was a full 14 years older than Fisher. 
Per People magazine, Fisher described the three-month-long affair as "so intense" and told the reporter "It was Han and Leia during the week, and Carrie and Harrison during the weekend." Fisher used excerpts from the diaries she kept as a 19-year-old actress during the filming of "Star Wars" within "The Princess Diarist," including one written shortly after she and Ford's first night together, about which she wrote, "How could you ask such a shining specimen of a man to be satisfied with the likes of me?"
In an interview with NPR's Fresh Air, when asked why she had decided to reveal the truth about their relationships after so long, Fisher joked "Thank you for asking me that. When was I going to — I should've waited until he died."
Disturbing details about the short "Star Wars" affair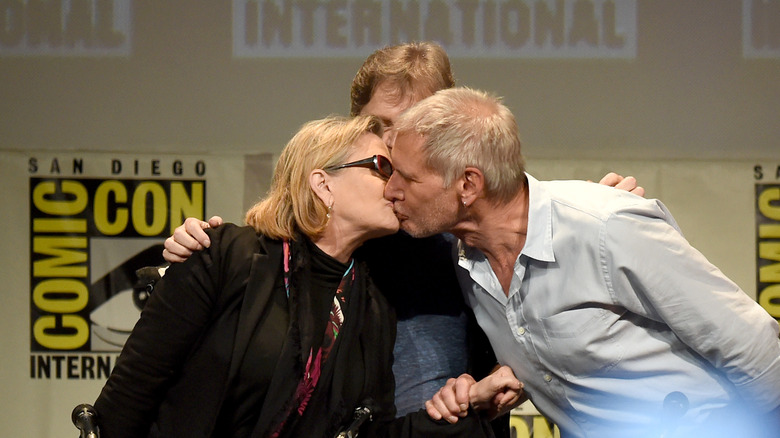 Kevin Winter/Getty Images
In an article from early 2017, The Verge pointed out that the details of Carrie Fisher and Harrison Ford's affair were actually more sad and sketchy than romantic. They first hooked up after Ford supposedly "rescued" Fisher from a "Star Wars" cast party at which she'd been encouraged to drink by her male coworkers who suddenly surrounded her and tried to take her "to wherever movie crews take young actresses when they want to establish that the actress belongs to them." 
Ford stepped in, gallantly proclaiming "Pardon me, but the lady doesn't seem to be very aware of what she wants." He put her in a car, where they kissed and began an affair — a pretty shocking development just after Ford had told a group of people that Fisher didn't seem aware of what she wanted. At one point, Fisher wrote about the joy of making Ford laugh: "If I'd never succeeded in coaxing this coveted laughter of his out into the waiting world, I would never have known what I was missing — just that I was missing something, besides his not being single or accessible or, for the most part, warm." Yikes. 
Carrie Fisher died on December 27, 2016; her mother, actress Debbie Reynolds, died one day later. Per Vanity Fair, Fisher's brother Todd wrote in his 2018 book "My Girls: A Lifetime with Carrie and Debbie" that Reynolds had been shocked by Fisher's admission of the affair and Fisher later said to her "You're right. I shouldn't have told that story."