What Lifetime's Cellmate Secrets Revealed About Chris Watts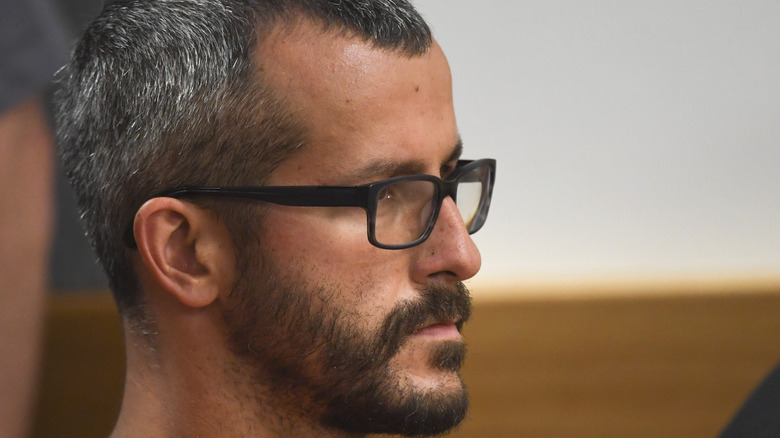 Pool/Getty Images
In August 2018, Chris Watts made national headlines when he was arrested for the murder of his young daughters and pregnant wife. The Colorado father of two had just been interviewed by a local news station, pleading for the return of his missing family just two days before his arrest (posted on YouTube). He was charged with three counts of first-degree murder, among other charges (via NBC). His wife Shannan, who was 15-weeks pregnant at the time of her death, was found in a grave at the site of Watts' former employer (via Mercury News). Their daughters, four-year-old Bella and three-year-old Celeste, were discovered inside a tank nearby. Watts later admitted his role and confessed to the unsettling details in which he took their lives. The disturbing murders shocked the nation. Subsequently, he was sentenced to three consecutive life sentences in 2019 (via Coloradoan). The story and timeline of Shannan and Watts' behavior in the days leading up to her death, was highlighted in a Netflix documentary last year. But a new documentary special is shedding light on some new details about the convicted murderer.
The Lifetime network's new docuseries "Cellmate Secrets," recently aired an episode featuring Chris Watts' story from the point of view of an author who began interviewing him a year after his sentence. As the name of the show suggests, through interviews with people close to a cellmate in a well-known case, viewers will learn previously unknown information. 
A major revelation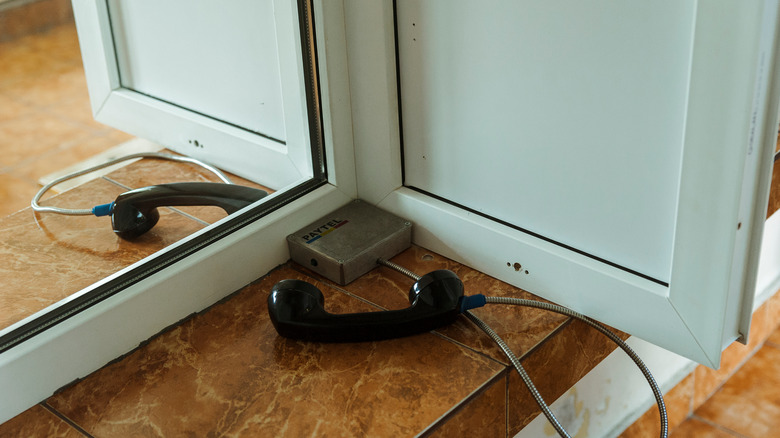 Shutterstock
In an extended video from the episode (also posted on YouTube), author Cheryln Cadle talks about the frequent meetings she had with Watts. Of course, the evil of the case horrified many people. And despite the disturbing nature of it all, according to Cadle, Watts didn't take kindly to being called a monster or a murderer. "He did not like those two titles. He didn't wanna be called a monster but he is," she said.
She also revealed that although he never requested snacks during their in-person meetings at the Wisconsin prison he is in, but Watts always took whatever he was given. Some of that included hamburgers, chips, and Mountain Dew soda.
A major revelation unknown before is what Watts attempted to do before the August 2018 murders. He admitted to Cadle that he tried poisoning Shannan with oxycodone. And not to initially kill her, but to intentionally cause her to miscarry their unborn child. His motive for it all; his desire to leave his family for his mistress. This failed attempt led to Watts reexamining his new plot to kill his wife.
The haunting details of Watts' murdering his family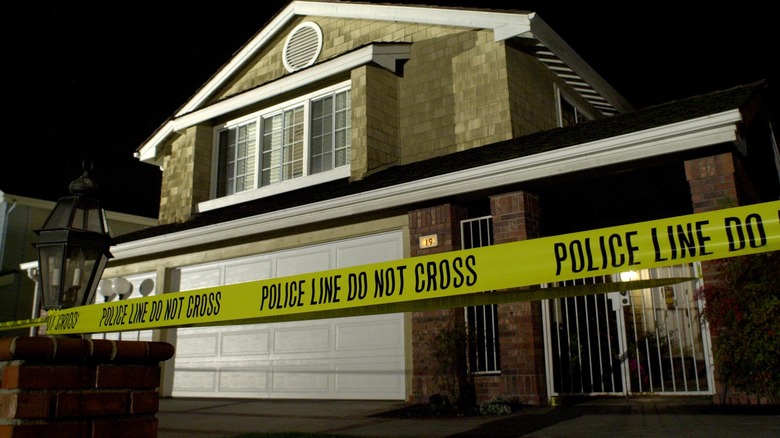 David Mcnew/Getty Images
Even though Shannan had just come back from a trip, Watts allegedly decided to set his plan in motion upon her return. In a letter to Cadle, she says he admitted to her that he suffocated his daughters first, out of so-called respect for not letting them hear their mother die (via this Cellmate Secrets clip). Afterward, he tells her that he went back to his bedroom and argued with Shannan before killing her. Watts also told Cadle that he knew the exact points of the jugular veins in the neck that would cause her instant death. Which is what he did to kill her, according to her Lifetime interview. 
Additionally, the episode reveals that Watts' daughters were still alive after he killed Shannan, and it took him by surprise. But it wasn't enough to make him spare the young toddlers. After leaving the children alone in the house to get rid of his wife's body, he goes back home and puts his daughters in his truck — their last ride. He initially told authorities that Shannan smothered the girls and he killed her in retaliation. But it was Watts who did it all, smothering them both while they were in the back seat of his vehicle, per Biography.