Was Joan Of Arc Ever Married?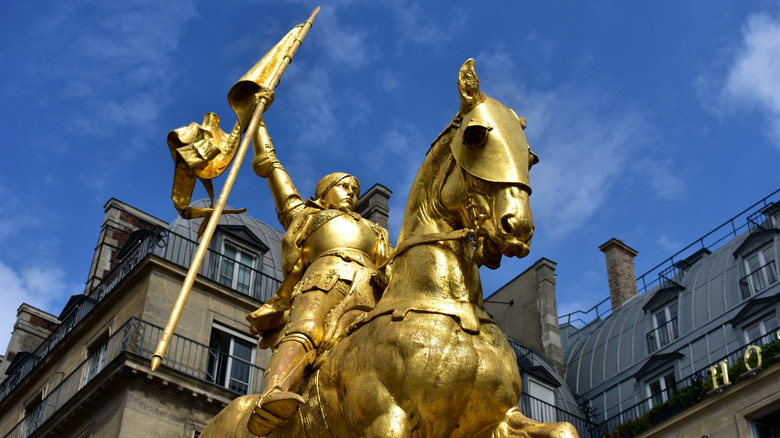 jmbf/Shutterstock
Joan of Arc is hailed as France's national heroine as she led the country's army during the Hundred Years' War and ended up victorious against the English. When Joan of Arc was born on January 6, 1412, the Hundred Years' War was already ongoing and the English had taken over the majority of France. Joan was born into a poor family and spent her early years learning domestic work from her mother. In her teens, per History, Joan claimed to have visions from saints and God telling her to save her country and drive out the English from France. After predicting the results of a battle, a French commander agreed to take Joan to the Dauphin.
Throughout the years, stories about Joan of Arc engaging in battle have been told, but in reality, she, at 17 years old, did not engage in combat in the battlefields, per Discover Walks. However, she had a crucial role as she came up with strategies, provided solutions, and led the army. She was present during the battles with her bob haircut and men's clothing, and was even seriously injured — a crossbow to the thigh and an arrow to the shoulder — but she was there holding her country's banner up instead of wielding a weapon.
Joan of Arc's vow of chastity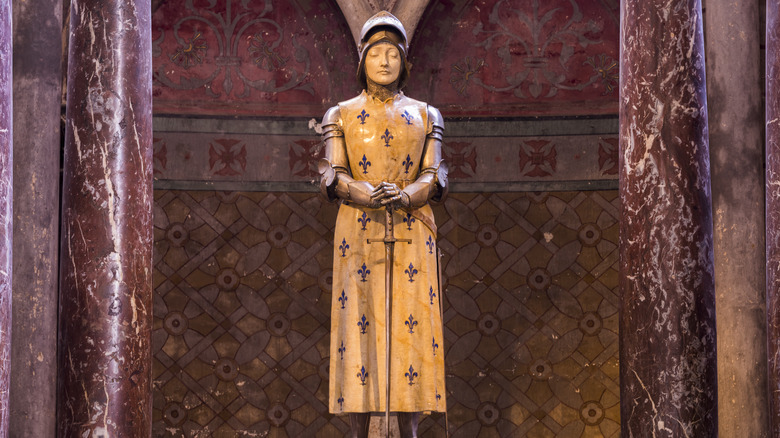 Daan Kloeg/Shutterstock
In the late Middle Ages in France, girls and women were typically involved in domestic service, and the small percentage of those officially employed were paid significantly less than men. Work consisted of needlework, weaving, and other crafts, and some offered their services as maids or wet nurses, per Medievalists. Joan of Arc grew up on a farm and was illiterate. Because of her visions, she took a vow of chastity at 16 years old, as she was convinced that her calling was to serve God (via History 101).
At that time, it was common for girls to wed as young as in their early teens. When she was 16 years old, Joan's father arranged for her to be married, but she didn't agree to the arrangement because of her belief that it was her mission to save her country and not to be a wife. According to The Travel, Joan of Arc even went to a local court and persuaded them that she should not be married against her wishes, and she succeeded.
During a siege in 1430, Joan was captured and was accused of many crimes including theft, heresy, and dressing up as a man, among others. She was held captive and was burned at the stake in 1931 when she was just 19 years old.