Whatever Happened To Freddie Mercury's Famous Yellow Jacket?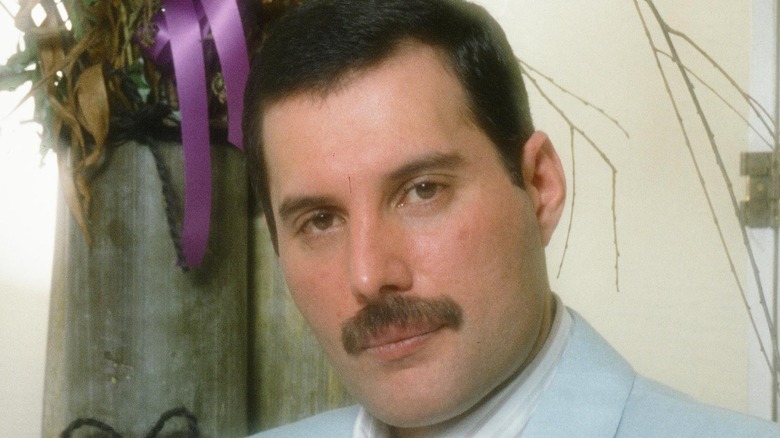 Koh Hasebe/shinko Music/Getty Images
Queen frontman Freddie Mercury had some iconic looks during his career. Aside from his powerhouse vocals, he is also known for his impeccable style and stayed true to himself when it came to his sartorial choices. Queen's live performances were especially spectacular with Mercury donning a variety of clothes and accessories, such as a sequined jumpsuit, pleated cape, and even a crown. Perhaps one of his most iconic fashion choices was a yellow military jacket.
In 1986, Queen embarked on a European tour entitled "Magic," wherein they performed 26 concerts. It was in one of those concerts where Mercury wore the vibrant yellow, military-style cropped jacket that was created by costume designer Diana Moseley. The singer paired the jacket with stark white pants that had red stripes running down the sides, according to CNN Style. The famous jacket was also used in Queen's music video for their song titled "The Miracle." "Magic" was Queen's biggest tour ever, and it was also Mercury's last set of live performances with his band before he died of AIDS-related complications in 1991.
Freddie Mercury's yellow jacket sold at an auction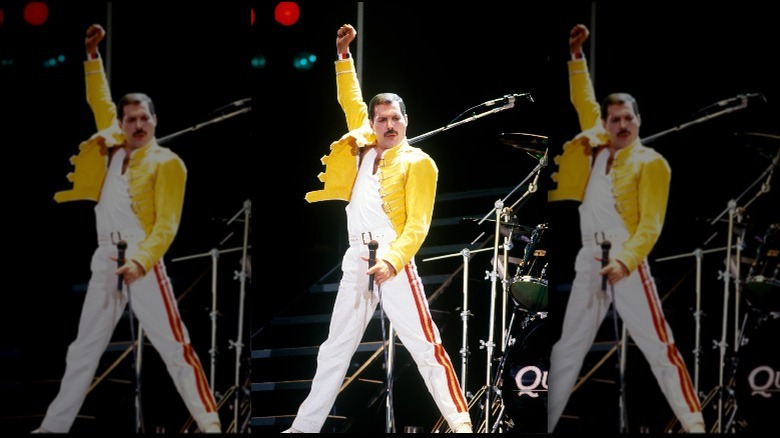 Fg/bauer-griffin
After Freddie Mercury's death, most of his belongings were destroyed. Mercury's family practiced Zoroastrianism, an ancient religion that is still practiced to this day, mostly in India and Iran (via History). Fire and water are meaningful symbols in the religion, and most of Mercury's possessions were burned, which is the reason why authentic Mercury memorabilia are extremely rare and valuable. One of the items that survived is Mercury's stamp collection, which was given to him by his father when he was a boy, and he slowly added to it over the years, per Express.
Mercury's yellow jacket also survived, as it was reported that he gave the outfit to Jim Hutton — his longtime partner — before his death. In 2004, the yellow jacket went up for auction at Bonhams, and it was sold for a little more than $36,000 (via Bonhams). The pair of trousers he wore with it, on the other hand, sold for roughly $27,000. There are no public records about who purchased the items or whether they were bought by the same buyer.