How Paul Walker May Have Predicted His Death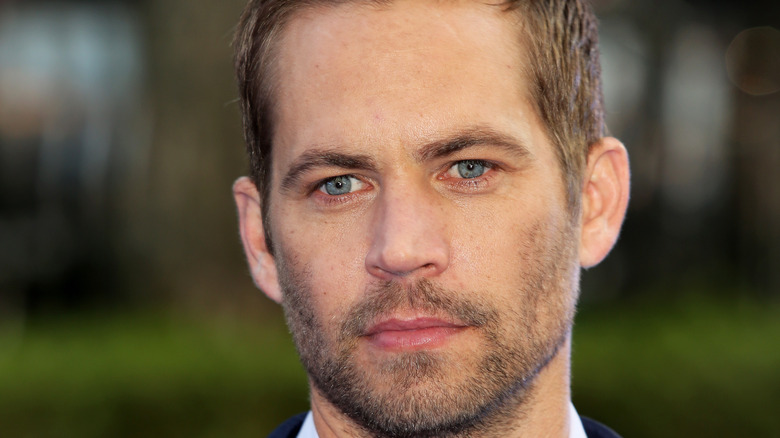 Tim P. Whitby/Getty Images
Actor Paul Walker, star of the "Fast & Furious" film franchise, met an untimely death when he was just 40 years old. He lost his life in a senseless car crash in November of 2013 that in some ways mirrored the death-defying, high-speed driving stunts that have made the "Fast & Furious" movies famous. Walker went for a ride with his friend Roger Rodas in the businessman's 2005 Porsche Carrera GT while attending a charity event in Santa Clarita, California, for victims of a Philippines typhoon. Walker was in the passenger seat when Rodas lost control of the car and crashed into a light pole at a speed of up to 94 mph, killing both men (via The Guardian). 
The Los Angeles County Sheriff's Department ruled that speed was the cause of the crash. "Investigators determined the cause of the fatal solo-vehicle collision was unsafe speed for the roadway conditions," the sheriff's department said in March 2014 (via CNN). The speed limit on the stretch of suburban road near the event was just 45 mph.
Furious 7 foreshadows Paul Walker's funeral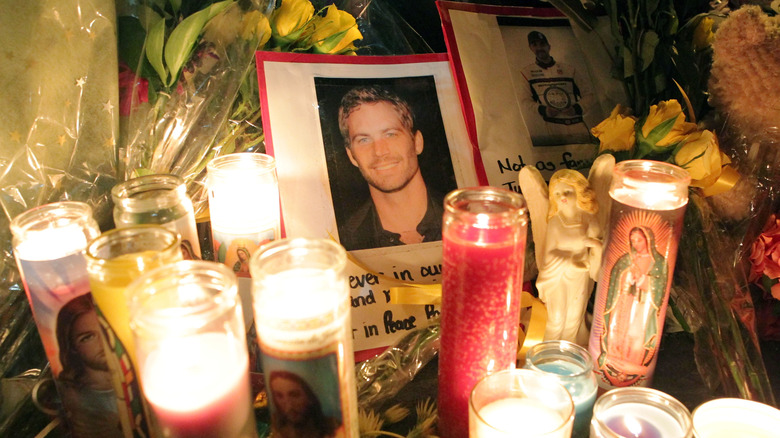 David Buchan/Getty Images
At the time of his death, Paul Walker was working on "Furious 7" and was on a Thanksgiving break from filming. An eerie foreshadowing of his death occurs in one of the scenes from the movie that was oddly leaked just days before the fiery crash that claimed his life. In the scene, the film's main stars — Walker, Vin Diesel, and Tyrese Gibson — are at a funeral for another character in the film. At one point, Gibson says to Walker's character, "Promise me, Brian, no more funerals." Walker responds, "Just one more," vowing vengeance against the villain in the movie (via National Post). But fans have taken that line, "Just one more," as a premonition of the actor's impending demise.
Another possible premonition happened on the actual day of Walker's death. He reportedly asked his mother to quit her nursing job and take care of his 15-year-old daughter full-time because he was having a hard time finding the help he needed and was often away for work (via the New York Daily News). His mother, Cheryl Walker, did get custody of his daughter, Meadow Rain, after his death, and " Furious 7" was finished with the help of Walker's two brothers. It was released in 2015 and went on to gross $1.7 billion internationally (via Biography).