How Much Money Did The Families Of The Charleston Massacre Settle For?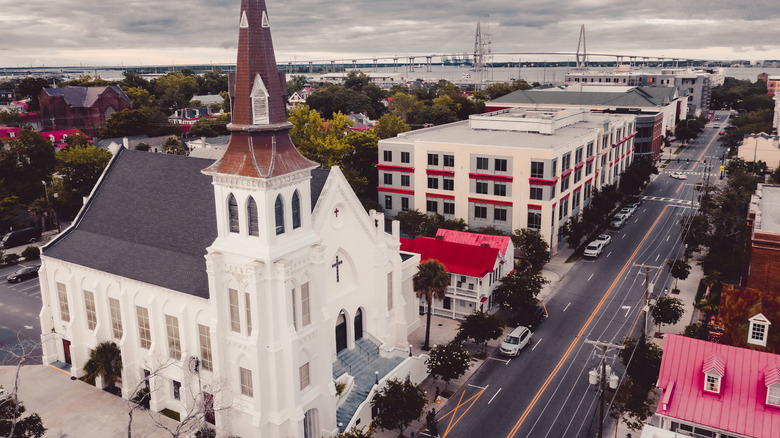 Andrew Nordine/Shutterstock
On June 15, 2017, nine African Americans in Charleston, South Carolina, lost their lives at the hands of a 21-year-old white supremacist (via History). According to NPR, the massacre occurred at the historic Emanuel African Methodist Episcopal Church (seen above) during a Bible study. The perpetrator, Dylann Roof, joined the worshipers in prayer before he took out a gun and began to shoot. CNN reports that those killed ranged from 26 to 87 years old. Only three survived. Roof fled the church but was captured the next day at a traffic light (per Black Past). He confessed to the murders and stated that he hoped his actions would incite a race war.
Per CBS, Roof was convicted of federal hate crimes and was sentenced to death. Despite this, Roof later wrote that he thought his actions were "worth it" (per The Washington Post). In 2016, The Guardian states that survivors of the massacre and the families of the victims filed a lawsuit against the Department of Justice. They claimed that federal negligence allowed Roof to be able to purchase the gun that would ultimately take the lives of the nine worshipers on that fateful June night.
Victims of the Charleston Massacre are getting millions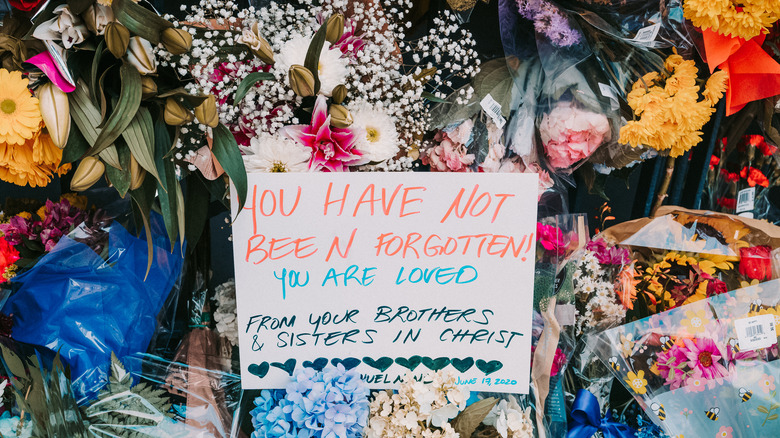 Andrew Nordine/Shutterstock
According to The Guardian, Dylann Roof was arrested in 2015 on drug charges. A jail clerk entered incorrect information about his arrest into the state's database. This mistake allowed him to purchase the gun used in the massacre two months later. NPR reports that survivors and the families of the victims reached an $88 million settlement. This number is symbolic as CNN states that the number "88" represents hate and was written on Roof's shoes when he committed the massacre.
For those killed, their settlements range from $6 million to $7.5 million per claim. Survivors will get $5 million. An attorney representing the group later said that although the funds will help the families survive, it would not take away from their grief. However, one of the victim's daughters added that it was monumental that the government was acknowledging that gun violence and racism still exist in the U.S. As for Roof, he appealed his death sentence in 2020 (via USA Today). An appeals court upheld it and as of 2021, he is on death row in an Indiana Prison (per BBC).