Here's Who Inherited Chester Bennington's Money After He Died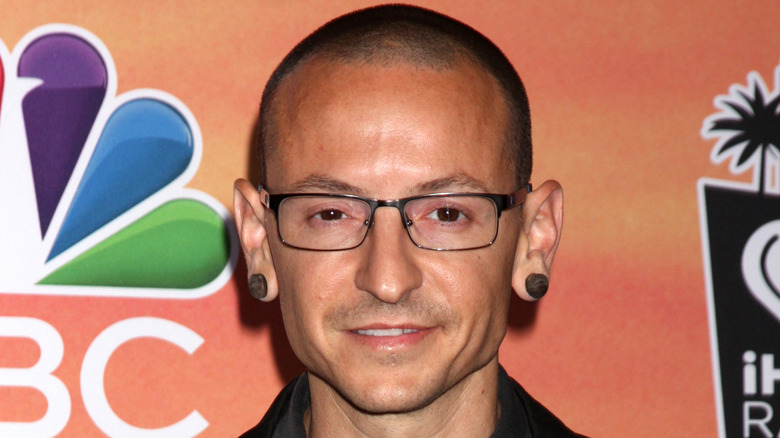 Kathy Hutchins/Shutterstock
On July 20, 2017, Chester Bennington, best known to music fans as the lead singer of rock heavyweights Linkin Park, died by suicide at just 41 years old. His death came just four months after another iconic frontman, Soundgarden's Chris Cornell, also died after apparently taking his own life by the same method, and most accounts suggest that Bennington was greatly affected by the passing of Cornell, whom he considered a close friend. Beyond any unnecessary speculation, however, it was well-documented that the Linkin Park singer had long suffered from depression, and that he was having a difficult time maintaining his hard-won sobriety at the time of his death (via Rolling Stone).
With his passing, Bennington left behind a legacy as one of the most dynamic rock frontmen of the 21st century, as evidenced through many a Linkin Park song, including "One Step Closer," "In the End," "Somewhere I Belong," and "Numb." Per Celebrity Net Worth, he also had a net worth of approximately $30 million at the time of his death. But who ended up inheriting his fortune, and what did his loved ones receive per the terms of his will and other documents?
If you or anyone you know is having suicidal thoughts, please call the National Suicide Prevention Lifeline​ at​ 1-800-273-TALK (8255)​.

Bennington's will left his assets to his second wife and his six kids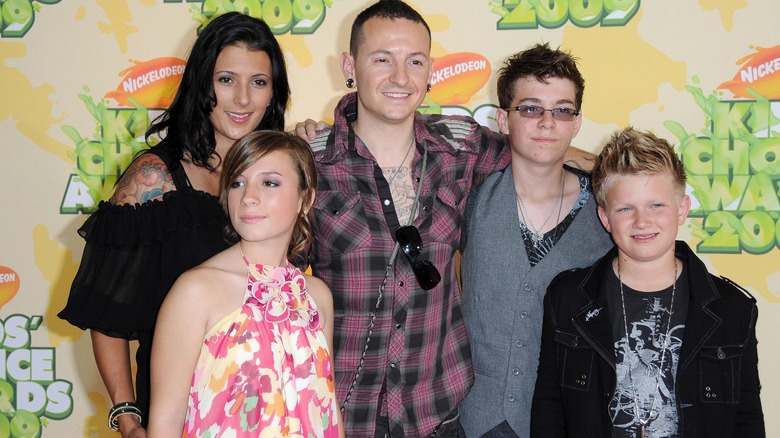 s_bukley/Shutterstock
As reported in October 2017 by TMZ, Chester Bennington's will left his assets to his second wife, Talinda, and his six children, all of whom were listed as beneficiaries. While his retirement account, among other assets, went directly to Talinda, the Linkin Park singer's remaining assets went into the Chester and Talinda Bennington Family Trust, which was set up in 2007 and amended two years later. The will also named Talinda as the executor of his estate, giving her the authority over her late husband's musical rights and interests.
In addition to making sure his widow and children remained financially secure, Chester Bennington's will also stated that he wanted his kids to remain close to each other after his death. "I request that my children's mothers or Guardians encourage and allow my children to visit with one another and with my extended family and the extended family of my Spouse on a regular and ongoing basis, so that my children know that they have a large and loving family," Bennington said through his will. All travel expenses for these visits, he noted, would be duly covered.
Aside from his three children with Talinda (son Tyler Lee and twin daughters Lily and Lila) and his son (Draven Sebastian) with his first wife, Samantha Olit, Bennington had a son named Jamie with ex-girlfriend Elka Brand. He also adopted Brand's son Isaiah in 2006, according to Heavy.
His first wife eventually got 50% of Linkin Park's royalties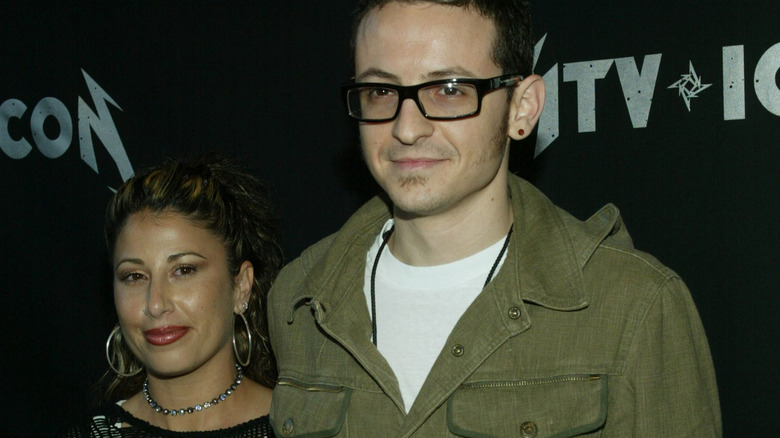 Frederick M. Brown/Getty Images
Not long after it was reported that Chester Bennington left all of his assets to his second wife and all his children, his first wife filed a claim demanding a substantial chunk of his inheritance. According to TMZ, Samantha Olit's claim stated that she should receive the child support payments her ex-husband supposedly failed to make between 2012 and his death in 2017; this was estimated to be worth more than $502,500 plus interest. In addition, she requested a share of his royalty income from various sources.
Almost exactly two years later, in December 2019, Olit got her own share of the royalties, though it wasn't what she had originally asked for. Talinda Bennington, who, as noted above, is the executor of her husband's estate, set aside 50% of the estate's royalties for Olit, which meant she received a percentage of Linkin Park's non-touring merchandise, publishing rights, and the rights to the band's master recordings. She did not, however, receive any money for child support, as she reportedly withdrew that part of the claim in June of that year.