Disturbing Details Found In Jackie Keith Whitley's Autopsy Report
Jackie Keith Whitley was a country musician who rose to fame in the '80s. However, his career was cut short when he died at only 33 years old. Whitley was born in Kentucky, and he won a talent contest at just 4 years old. He honed his craft, learned to play the guitar, and already had a band at 13 years old. In the late 1960s, Whitley joined a bluegrass group, the Clinch Mountain Boys, and recorded seven studio albums with them, per All Music. However, he decided to leave the group in 1973, and from there, he worked with various acts and bands before embarking on a solo career in 1982.
Whitley released his first solo album titled "Hard Act to Follow" in 1984 but didn't have much success. That didn't stop the singer from releasing a second album the next year. "L.A. to Miami" did much better on the music charts, and Whitley had three top 10 hit songs. He made a name for himself in the country music scene and recorded a third album, "Don't Close Your Eyes," which was released in 1988. Three singles from the album were No. 1 hits, and it seemed like his music career was right on track. That all stopped, however, when he died on May 9, 1989, as reported by AP News. His death came as a shock to the music world, especially when his cause of death was finally revealed to the public.
Jackie Keith Whitley's death
Behind his success in music, Jackie Keith Whitley was struggling with his alcoholism. He admitted his problem in an interview, wherein he said, "It was a matter of life and death. If I hadn't stopped drinking, I don't think I'd be alive today. I did so many crazy things while drinking" (via AP News). Whitley said that he stopped drinking in 1987 after he got married to singer Lorrie Morgan. However, it seemed that he wasn't able to remain sober, as he died from alcohol poisoning. According to reports, he was found dead after a weekend of drinking, per Taste of Country. On that day, he was scheduled to play golf with his brother-in-law, Lane Palmer, and it was he who found Whitley dead on his bed.
According to the autopsy performed on Whitley, he had an alcohol level of 0.47 in his bloodstream. Healthline states that having an alcohol concentration of 0.40 or higher may cause coma or death. The level Whitley had in his system was five times the intoxication limit in Tennessee at that time. The medical examiner said in his findings that Whitley died as a result of "drinking too much ethyl alcohol in too short a period of time." In addition to alcohol, his urine test also came out positive for cocaine and benzodiazepines, which may have contributed to his death. However, it was the alcohol consumption that caused his demise. His official cause of death was listed as acute ethanolism, according to Autopsy Files.
Jackie Keith Whitley influenced many country stars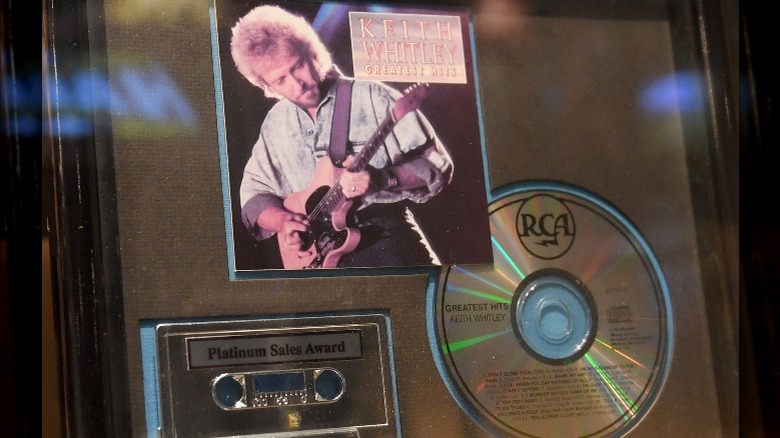 Jason Kempin/Getty Images
Just before he died, Jackie Keith Whitley had recorded his fourth solo album titled "I Wonder Do You Think of Me." The album was released posthumously, and the title song reached the No. 1 spot on record charts. The music world mourned the loss of Whitley, and his wife Lorrie Morgan coped with the loss by recording an album as a tribute to her husband, per Country Music Alley. She also kept his memory alive by releasing music that Whitley was able to record before his death.
In 2019, Whitley's legacy to country music was celebrated on the 30th anniversary of his death. Country music stars including Garth Brooks and Trisha Yearwood, among others, performed Whitley's songs to a packed audience at the CMA Theater in Nashville, Tennessee. There was also an exhibit that displayed instruments, clothes, and other memorabilia that Whitley owned. Regardless of his short life, Whitley is still remembered as a great country singer who became an influence to other country music stars, such as Tim McGraw, Chris Young, and Alan Jackson (via the Tennessean). 
Jesse Keith Whitley, Morgan and Jackie Keith Whitley's son, followed in his parents' footsteps and is a singer-songwriter. Despite his genre of choice being Southern rock, he feels that his father would approve of his music. "I think at this point in my life, my dad would say I'm heading down the right path," he told Taste of Country. He pays tribute to his father by singing some of his songs during performances.