The Biggest Gerald Cotten Theories: What Really Happened?
In January 2019, QuadrigaCX, Canada's largest cryptocurrency exchange, dramatically collapsed in bizarre circumstances that have left many former users outraged and investigators scratching their heads.
According to Al Jazeera, the collapse of the exchange was precipitated by the death of Gerald Cotten, the 30-year-old CEO of Quadriga Fintech Solutions, QuadrigaCX's owner and operator. Only announced officially weeks after his passing, it was revealed via an official announcement that Cotten was reportedly the only person who knew the password to QuadrigaCX's cold wallets — encrypted storage devices for digital assets that are not connected directly to the internet and are therefore invulnerable to cyberattacks. With Cotten dead, an estimated $215 million CAD ($163 million USD) in digital assets such as Bitcoin were effectively inaccessible, locking QuadrigaCX users out from their savings.
The Times of India reports that Cotten died while on honeymoon with his wife, Jennifer Robertson, in Jaipur, India. He was admitted to the hospital after complaining of illness, where he was diagnosed with septic shock, peritonitis, perforation, and intestinal obstruction. Cotten, who had Crohn's disease, suffered a cardiac arrest from which he never recovered. And as users began to panic that their money was gone for good, suspicion ran rampant.
"For someone [Cotten's] age, a relatively young guy, to suddenly drop dead, you know, holding the keys to tens of millions of dollars, I think is a shock to most people," said an internet user going by the username QCX-INT, who was searching the blockchain for clues to where the missing funds might have been directed. "I smelled a rat. Many people did." (via CBC News)
Why was Gerald Cotten's death suspicious?
The delayed revelation of Gerald Cotten's death — he had died December 9, 2018, while the news reached his customers only a month later, in the final days of January 2019 — was soon followed by several strange details that deepened the mystery surrounding the collapse of QuadrigaCX and hundreds of millions in missing assets.
CBC News reports that doctors had refused to embalm Cotten's body, as the request had not come from a medical examiner but rather from a member of staff at the hotel at which Mr. and Mrs. Cotten were honeymooning. His body was apparently transported elsewhere for embalming, although no details of how the body was moved were forthcoming.
Most mind-blowing to those following the latest developments in the case, however, was the revelation that Cotten's will had been filed a mere 12 days before his death, leaving to his wife a sprawling personal empire which included multiple properties, a luxury yacht, and a private plane (via Bloomberg). And it was Jennifer Robertson who was left to describe the shocking circumstances after an estimated 76,000 QuadrigaCX users had been stripped of access to millions of dollars worth of their own assets. Explaining that her husband had been "conscious about security," Robertson admitted she had no way of knowing her late husband's password for the encrypted laptop he used to conduct Quadriga's business and had found no clue anywhere in their belongings despite numerous searches (via Forbes).
Did Gerald Cotten fake his own death?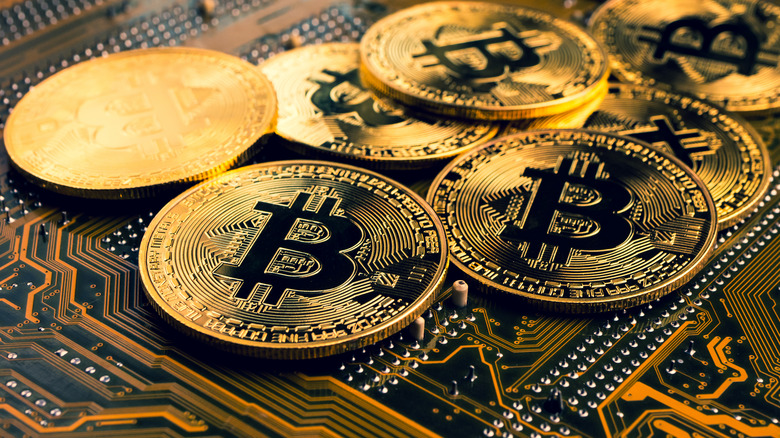 Momentum Fotograh/Shutterstock
A conspiracy theory quickly emerged: Cotten had faked his own death and absconded with his customers' money. And as Cotten's business partner, Michael Patryn, was revealed to be a fraudster who had twice changed his name, online sleuths uncovered a history of financial misdeeds in Cotten's seemingly squeaky-clean past, according to CBC News. Official investigations proved that the blockchain advocate had fraudulently siphoned his customers' assets into his own funds, with his wife Jennifer Robertson — who was not implicated — retaining just $90,000 of almost $10 million she inherited at the time of Cotten's death. "What happened at Quadriga was an old-fashioned fraud wrapped in modern technology," stated a report by the Ontario Securities Commission.
With such details coming to light, many of Cotten's alleged victims now call for the exhumation of his body to validate the truth of his death — a request which Robertson has said left her "heartbroken" (via CBC News). It has yet to be granted, meaning that rumors of Cotten faking his death continue to abound. Still, Cotten's friends have repudiated the emerging image of him as a fraudster. "He was a very kind person. He wasn't showy or flashy. But he did like fine things. ... Considering the number of dirtbags in crypto especially, he was a gem," said his former business partner in Vancouver, Frederick Heartline (via CBC News).