This Is Why Elton John And Billy Joel Stopped Touring Together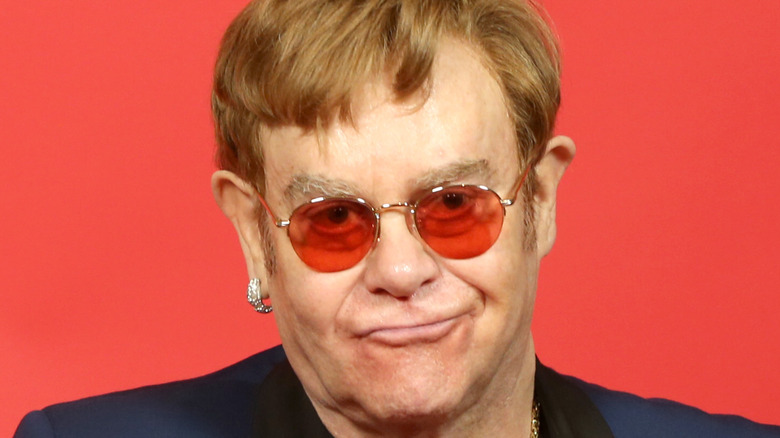 Phillip Faraone/Getty Images
Elton John and Billy Joel, two of rock's greatest piano men, spent 16 years touring together. This dynamic duo proved to be a winning combination for the fans, and these joint concerts were pretty lucrative for them. According to Touring Data, the pair brought in more than $21 million in ticket sales for only 12 concerts on their 2010 "Face to Face" tour. So what led to the end of this creative collaboration?
All the drama seems to have started in 2010 when Joel reportedly canceled a summer tour. And John's comment to the press that "Billy just wants to take a year off" only added fuel to the cancellation rumor (via Rolling Stone). This led to speculation that the pair were on the outs. But according to Joel, there was no backstage conflict, nor was there ever any tour planned. "The truth is, there's nothing going on. I had made up my mind a long time ago that I wasn't going to work this year," he said.
Elton John started a war of words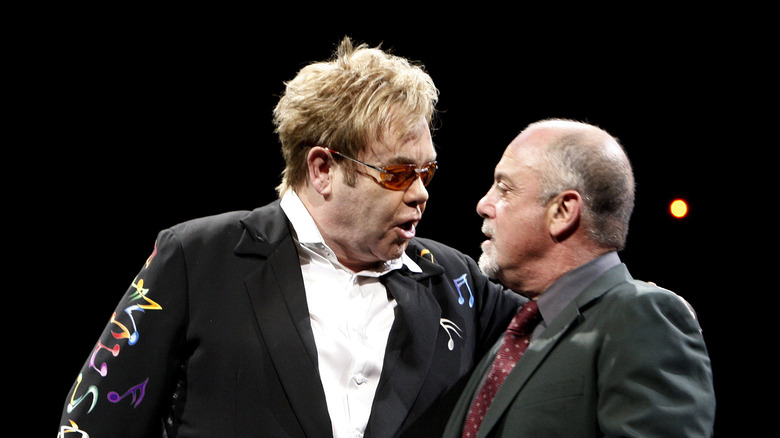 Kevin Winter/Getty Images
Things between Billy Joel and Elton John may have been fine after the summer tour issues, but their relationship must have taken a hit the following year. John gave an interview to Rolling Stone magazine in 2011, in which he called out Joel for his drinking and criticized his music career. He said that Joel was "coasting" by not writing new music and complained that "we've had so many canceled tours because of illnesses and various other things, alcoholism." John believed that he was dishing out some "tough love" and rebuked Joel for the types of treatment facilities he went to, calling them "rehab light." He encouraged Joel "to do something better than what you're doing now."
While the press made a big deal of the Elton John interview and his comments about Joel, Joel himself seemed to take these comments in stride. He said that "I've worked with Elton for such a long time, and I've enjoyed our relationship too much to let something as random as these comments change my affection for him" (via Rolling Stone). As Joel later explained to Entertainment Weekly, John "runs off at the mouth and regrets it later." 
Elton John and Billy Joel still friends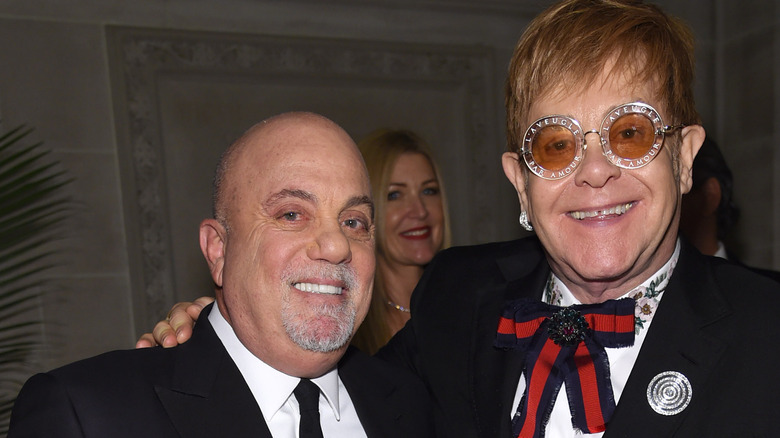 Jamie Mccarthy/Getty Images
Behind the scenes, Billy Joel was wrestling with some health issues that were more pressing than Elton John's off-the-cuff comments. He told the Daily Mail, "The last few gigs I did with Elton I could barely walk. ... canes on stage is not good." Joel ended up having his hips replaced to improve his mobility. But even when he got better, Joel wasn't interested in reuniting with John. After 16 years of performing together, Joel explained, "I got tired of doing the same show over and over again." So, at least according to Joel, boredom caused the breakup of this musical team. Elton, however, squarely attributed their parting of ways to Joel's personal issues, especially his battle with alcoholism. In his memoir, "Me," John wrote, "I just couldn't stand to watch a nice guy doing that to himself any longer" (via Variety).
Apparently, there's no lingering animosity between the two musical legends. Joel told Entertainment Weekly that he and John had mended their friendship years ago. "We sat down, and I was like, 'Don't throw your friends under the bus.'" John launched his Farewell Yellow Brick Road in 2018, and Joel hasn't ruled out making a guest appearance on stage with him. He told Rolling Stone that he would sing with John "if he asked me to." Joel, who has a residency at New York's Madison Square Garden, has no intentions of following in John's footsteps to retirement.