Whatever Happened To The 1988 Jamaican Bobsled Team?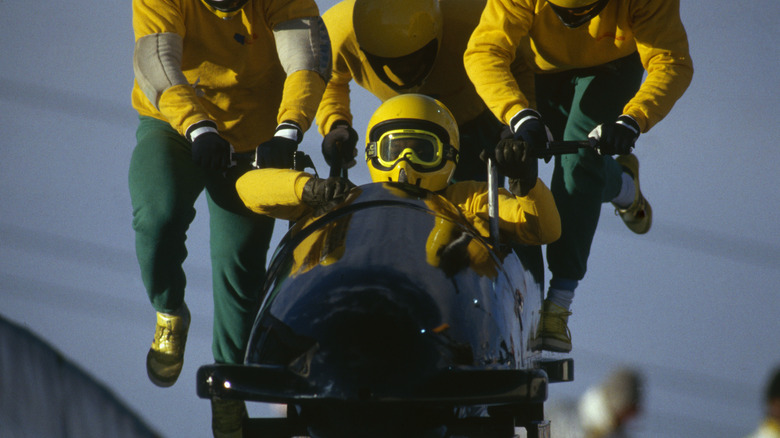 Getty Images/Getty Images
With the Beijing 2022 Winter Olympic Games on the horizon, it makes sense to take a look back at some of the great winter Olympic performers of the past. From champion ice skaters like Michelle Kwan to snowboarding legend Shaun White, there are many athletes over the years who have given spectacular and memorable performances. In addition to these individual athletic feats come the team competitions in sports such as ice hockey, luge, and bobsledding. During one winter games, bobsledding became the focus of the world for a short time, as the sport had a rather unusual team that qualified. This team hailed from one of the last places you would expect — an island in the Caribbean Sea.
A four-man bobsled team from Jamaica qualified for the Winter Olympic Games in Calgary in 1988, according to Jamaica Experiences. The team consisted of Devon Harris, Dudley Stokes, Michael White, and Nelson Stokes, none of whom had ever bobsledded before (via Jamaicans). While Jamaica is known for producing world-class athletes (Usain Bolt anyone?), before 1988, bobsledders were not something they were known for. Despite the odds being largely stacked against them, the team made their way to Canada, where they became the underdog story that took the world by storm.
Their Olympic debut inspired a movie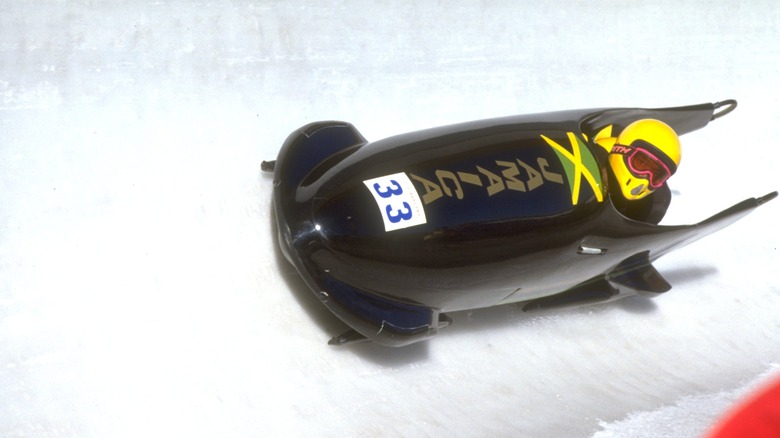 Mike Powell/Getty Images
Though they had the support of many, their journey to the Olympic medal stand did not go as they had hoped. According to Today, on the team's third run, Dudley Stokes, who was driving the sled, lost control of the sled, which caused the sled to crash, while they were going 85 mph. While thankfully no one was killed, it did end the Jamaican's dreams of a medal, due to disqualification. Despite knowing that, they climbed out of their sled and walked across the finish line anyway, finishing the race to the cheers of the crowd.
By completing the race and refusing to give in, the 1988 Jamaican bobsled team created one of the most iconic moments in sports history. The team did compete in future Olympic Games before retiring from the sport. According to Olympics, Dudley Stokes and Devon Harris became public speakers, while Nelson "Chris" Stokes is now president of the Jamaican Bobsleigh Team Federation and Michael White has kept a relatively low profile. In 1993, Disney released "Cool Runnings," a movie inspired by the 1988 Jamaican bobsled team.