Whatever Happened To Ink Master Season 3 Winner, Joey Hamilton?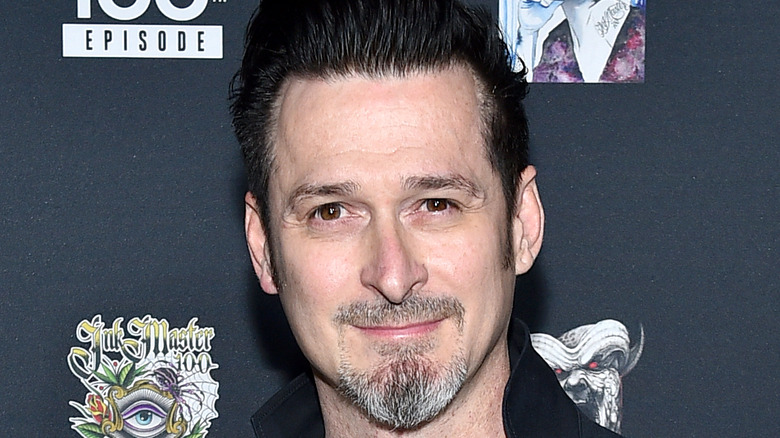 Mike Windle/Getty Images
Joey Hamilton is a tattoo artist who won the third season of the reality show competition "Ink Master." The show features tattoo artists who compete against each other in a number of elimination challenges until one artist is named the Ink Master and goes home with a prize of $100,000. Hamilton served in the U.S. Air Force for a decade, and it was near the end of his service when started looking into being a tattoo artist. He shared how he got into the industry with Bicycle Cards. "A friend of mine suggested I look into tattooing. Luckily she knew a tattoo artist who was also in the military. Rodney Folsom showed me the ropes, and I was off and running," Hamilton said. Doing tattoos wasn't that difficult for Hamilton since he was already an artist.
Hamilton applied to be on the third season of "Ink Master," and during the interview process, he had to impress those in charge in just four minutes to be qualified. He was chosen to be a contestant in Season 3, which aired in 2013. At that time, Hamilton had 17 years of tattooing experience. He was in the finale together with Jime Litwalk and Katherine "Tatu Baby" Flores, but in the end, it was Hamilton's leg tattoo of a mermaid that won the judges' votes.
Where is Joey Hamilton today?
Since winning "Ink Master," Hamilton's career as a tattoo artist skyrocketed. He has been featured in the TV series "Inked" and "Ink Master Redemption." In addition, he is recognized worldwide and has more than a hundred tattoo awards under his name (via Ink Match). Today, Hamilton still works as a tattoo artist at a shop — which he co-owns with fellow "Ink Master" contestant Walter "Sausage" Frank — called Revolt Tattoos. It was established in 2014 in Las Vegas' Fashion Show Mall and has become so successful that they have opened more locations. Their second location is in Meadows Mall, and they also have shops in Lake Tahoe and Salt Lake. Hamilton is an expert when it comes to realistic tattoos, but he also likes to dabble in other styles. He often shares his clients' tattoos on his Instagram.
Hamilton is married to Liana Hamilton, and they have a son together. Aside from posting his work, Hamilton also often posts photos of his wife and son on Instagram.