What Martha Stewart's Life In Prison Was Really Like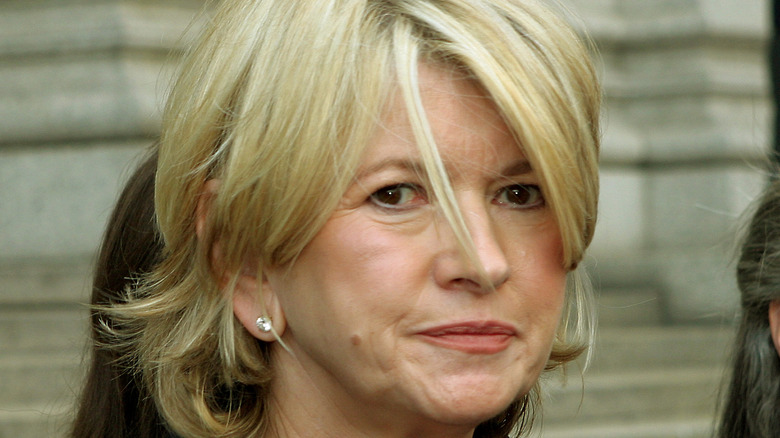 Everett Collection/Shutterstock
There was only one regret Martha Stewart had about going to prison; She missed seeing Amy Poehler and Tina Fey on the "Saturday Night Live" stage.
"My only big regret that I can talk about is that 'Saturday Night Live' asked me to host. My probation officer wouldn't give me the time," She told Harpers Bazaar, according to Newsweek. "That really pissed me off, because I would have loved to have hosted 'Saturday Night Live.' I'd like that on my resume."
Now 80, the then-64-year-old went to prison on charges related to insider trading in 2004. The conviction stemmed from Stewart selling ImClone Systems shares in 2001. For five months, Stewart was living at the Alderson Prison in Alderson, West Virginia.
Known as "Camp Cupcake," according to The Things, the minimum-security prison is made for white-collar criminals. Unlike most other inmates, Stewart had access to swimming pools, tennis courts, and a stage. She also had email, access to a TV room, and a common area. According to Insider, Stewart also got the opportunity to create her own nativity pottery set while she was in prison. She was able to mold, glaze, and paint the set, before putting the set through the firing process. 17 years later, Stewart is making money by selling replicas of the nativity set to the public, which she released before Christmas — reminding people her set could be the perfect present to place underneath the Christmas tree.
Daily prison routine at the so-called Camp Cupcake
MemoryMan/Shutterstock
Regardless of what others believe, Stewart does not think her stay at the prison was a piece of cake. During an interview with Katie Couric (via The Things), Stewart related that "It was horrifying, and no one – no one – should have to go through that kind of indignity, really, except for murderers...It's a very, very awful thing."
During her stay, she recalled cleaning toilets. (16 years later, Stewart published the "The Ultimate Guide to Cleaning a Toilet,"  on her website, Martha Stewart, but the piece makes no mention of the publisher's toilet-cleaning days. She also abhorred the lack of privacy and felt people were kicking her while she was down due to her being the butt of the numerous jokes.
Another woman, Evie Litwok, who was incarcerated at the same prison in 2010 shared Stewart's sentiments, that the prison was no "Camp Cupcake." According to Talk Poverty, Litwok, then 60, wrote at one point that her job was to sweep the streets at the camp. "At an age where working a physically demanding job for seven- and eight-hour days was grueling, I served as the Sisyphus of Alderson, sweeping rocks off the street only to see my work undone by passing vehicles." She also stated that after work, between lunch and dinner, they could not return to their units. She wrote, "We were not allowed to read, do crossword puzzles, knit, play cards, or sleep. Instead, everyone had to spend long hours in plastic seats attached to the table."
Time to say goodbye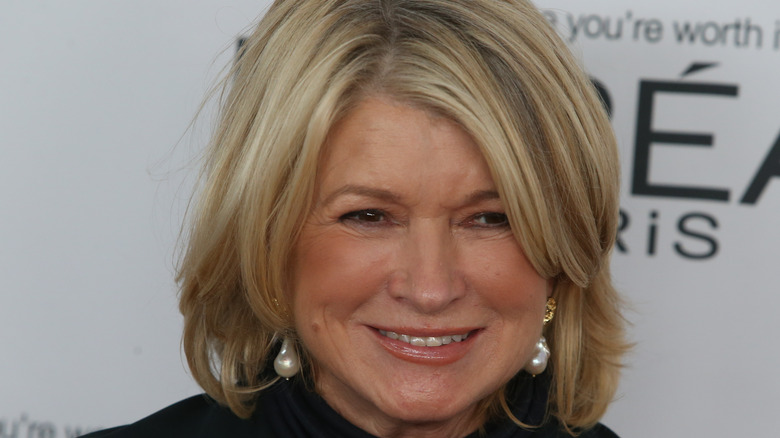 a katz/Shutterstock
Litwok also mentioned that prison rules mandated all prisoners to work in the kitchen during their first 90 days. The only one who did not was Stewart. Litwok wrote (via Talk Poverty), "I suspect she was refused because this chore might have given her an inkling of pleasure within the miserable prison environment."
Stewart does attribute her time in prison time to the reason she formed a bond with the rapper Snoop Dogg (via Newsweek). Snoop Dogg had served prison time during the 1990s for drug charges. "And in Snoop's world, it (prison) gave me the street cred I was lacking."
In March of 2005, according to The Things, Stewart left prison. Instead of a car, she had a private jet pick her up as she bid adieu to the facility.
However, while Christmas has passed, fans still can order replicas of Stewart's nativity set. According to NBC News, the set includes figures of Baby Jesus, Mary, and Joseph, and it sells for $119.20.