The Surprising Way Michael Schumacher Made His Formula 1 Debut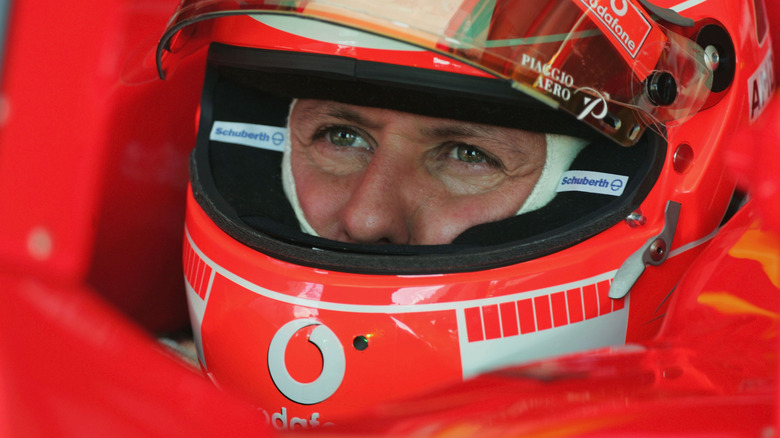 Clive Rose/Getty Images
In Formula 1, if one of a team's regular drivers is unable to race, they find someone to take their place. These days most teams have a reserve driver on the books for this reason, so that in the event of an injury — or, especially in the era of COVID-19, illness — they can quickly get another driver in the car.
According to Motorsport, there have been many instances of this happening over the years. In 2021, Alfa Romeo reserve driver Robert Kubica stepped in for 2007 World Champion Kimi Räikkönen after he came down with COVID and had to miss the Dutch Grand Prix at Zandvoort (via Tampa Bay Times).
Coincidentally, Kubica himself had to be replaced after a horrific accident at the 2008 Canadian Grand Prix while driving for BMW Sauber (which in another coincidence is technically the same team as Alfa Romeo). Replacing him and making his Formula 1 debut was a 19-year-old named Sebastian Vettel, per F1, who went on to win four consecutive world championships while driving for Red Bull.
However, no story of a driver hopping in the cockpit as a replacement driver is as unusual as the story of what led to Formula 1 legend, and 7-time world champion Michael Schumacher's debut.
Bertrand Gachot lands behind bars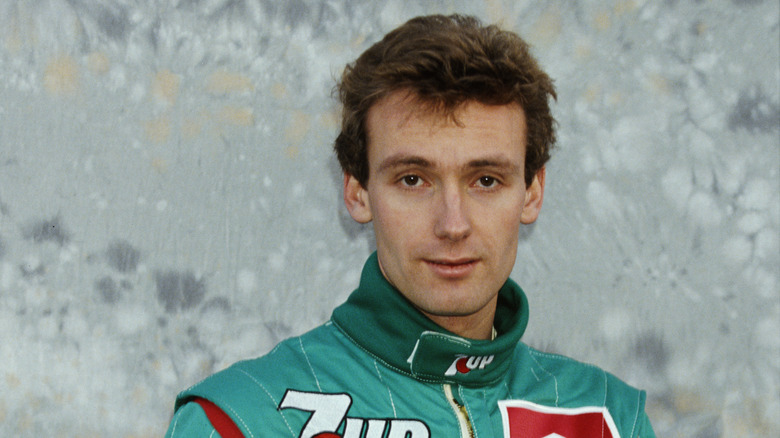 Pascal Rondeau/Getty Images
According to Motorsport Stats, Bertrand Gachot was born in Luxembourg, but he raced with a French license. In 1991 he was driving for Jordan Grand Prix. It was the team's first season in Formula 1, and given that, the team was having a good year (via Formula 1).
However, that great season was in jeopardy when Gachot found himself in jail. "December 1990, I was in London and I was driving my girlfriend's car, it was a French car, and basically I had tear gas because in France tear gas is considered the perfect means of defense, it doesn't escalate," Gachot said, according to GP Fans Gachot wound up using that tear gas on a taxi driver after the two got in an altercation, and he was thrown in jail.
This meant that Jordan would be without one of their drivers for the 1991 Belgium Grand Prix at The Circuit de Spa-Francorchamps (commonly referred to as "Spa"), a fan favorite circuit on the F1 calendar. Founder and team principal Eddie Jordan decided to give Michael Schumacher a chance behind the wheel of the now legendary Jordan 191. At the time, Schumacher was driving sports cars for Mercedes, but his debut at Spa would be the first step in cementing his legacy as one of Formula 1's all-time greats (via RaceFans).
Schumacher impresses at Spa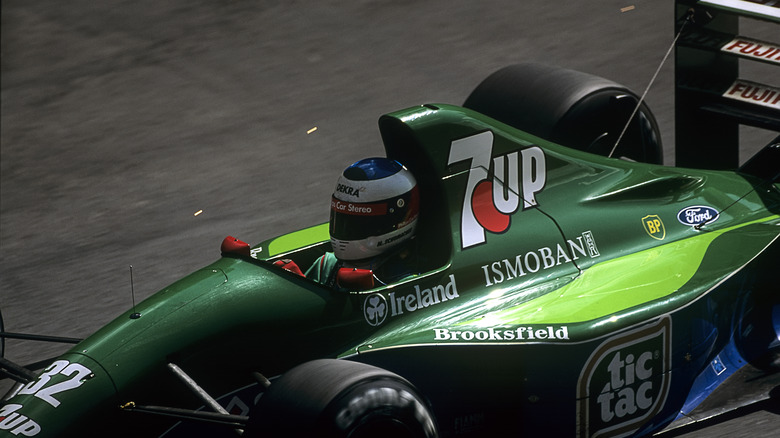 Paul-henri Cahier/Getty Images
From the second he jumped into the cockpit of the green Jordan 191 with a 7 Up logo on the engine cover, he impressed everyone. The 22-year-old German put up a blistering qualifying lap, traversing the lengthy Spa circuit in 1 minute and 51.212 seconds, good enough for seventh on the grid (via F1).
However, things wouldn't go nearly as well during the Belgian Grand Prix, and Schumacher had to retire without completing a lap with a clutch issue (via Racing Reference). Regardless, his performance over the weekend was enough to prompt French team Benetton into signing Schumacher to finish the 1991 season. This led to a legal battle between Jordan and Benetton, per Motorsport. Benetton held on to Schumacher and went on to win a pair of championships with the team, before moving to Ferrari where he won five consecutive World Drivers' Championships (via Racing Statistics).
While Schumacher was on track in Belgium, Gachot was still in jail. According to GP Fans, he said in 2021, that he had no clue who Schumacher was before that weekend, and that he only found out from a guard.
"The first time somebody spoke to me about Michael Schumacher, I won't forget, was one of the guards in jail," Gachot said. "They said 'the new guy they have hired is so good, they don't need you anymore so you can stay here'. The guard would come to me, every time he would open the door he would make the noise of a Formula 1. I swear."