The Sad Reason You Rarely See Michael Schumacher Anymore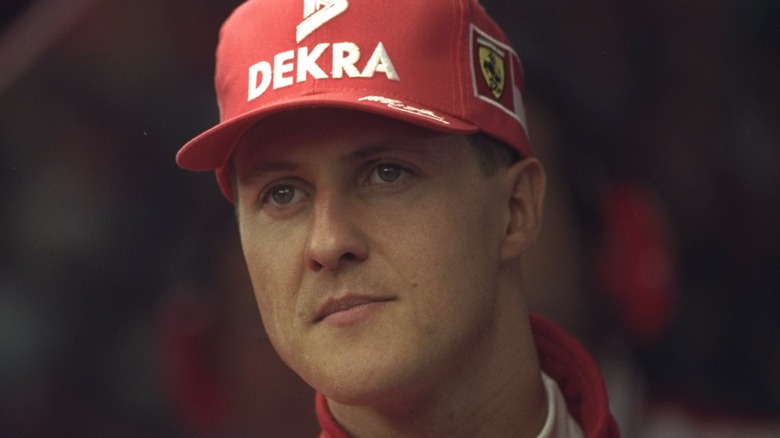 Mark Thompson/Getty Images
If basketball has Michael Jordan, Formula 1 has its own Michael whom many consider the greatest of all time. With seven world championships to his name, Schumacher was unmatched for well over a decade as the driver with the most F1 titles — until Lewis Hamilton tied his record last year (via People). But even with that in mind, many fans will still argue that "Schumi" remains unmatched in terms of raw talent. As noted by Auto Racing, he was instrumental in turning Ferrari's flagging fortunes around when he joined the team in 1996. And much like that other Michael we mentioned above, Schumacher was a clutch performer — he had the ability to register fast lap times when it mattered the most.
On September 15, the documentary "Schumacher" will be dropping on Netflix, and as shown on the film's IMDb page, viewers can expect an "intimate portrait" of the Formula 1 icon through archival footage, as well as interviews with his family members and F1 contemporaries. As such, the documentary should offer a thorough look at Schumacher's racing career and keep his fans up to date on how he's been doing since the skiing accident that has left him bedridden for nearly eight whole years. That, on the surface, explains why people haven't seen much of Schumacher since he retired from F1 at the end of the 2012 season (via BBC). However, there are more specific reasons why he has yet to reemerge in the public eye.
Schumacher is still dealing with the 'consequences' of his skiing accident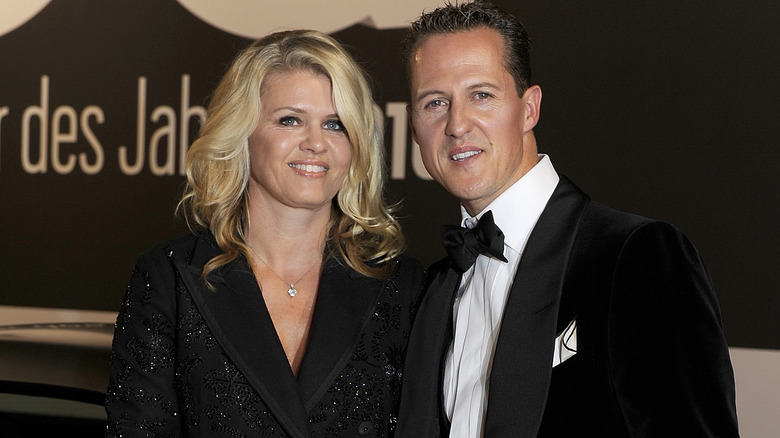 Toni Passig/Getty Images
In the years since Michael Schumacher suffered a near-fatal brain injury while skiing in the French Alps, the former Formula 1 champion's health has been a closely guarded secret. Precious few updates on Schumacher's condition have come out in recent years, and it's safe to say that most fans are aware that he still has a long way to go in terms of his recovery. One of the more recent updates came from former Ferrari Formula 1 team principal Jean Todt, who spoke to German publication Sport Bild in August (via News.com.au) and revealed that his onetime No. 1 driver was only able to survive his accident through the care of his wife, Corinna, and the doctors who have treated him through the years.
"I've spent a lot of time with Corinna since Michael had his serious skiing accident on December 29, 2013. She is a great woman and runs the family," Todt said. "She hadn't expected that. It happened suddenly and she had no choice. But she does it very well. I trust her, she trusts me." The ex-Ferrari executive went on to explain that Schumacher is still "fighting the consequences" of his unfortunate accident and that he remains hopeful that his longtime friend's condition will improve.
A stem cell operation for Schumacher's nervous system was canceled in 2020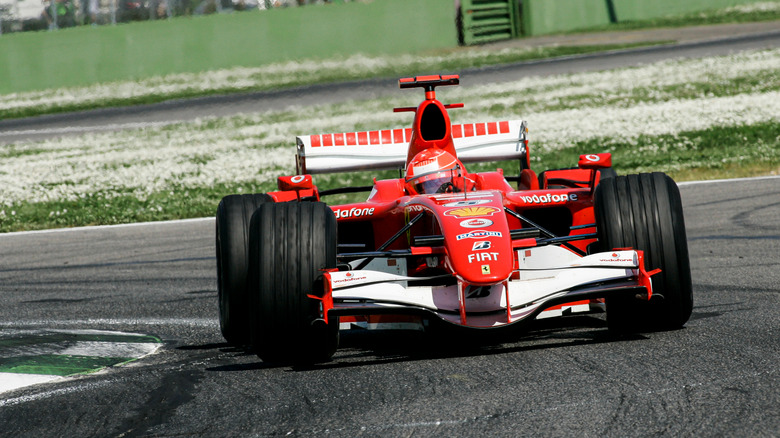 cristiano barni/Shutterstock
Prior to Jean Todt's interview with Sport Bild, there were a few notable updates on Michael Schumacher's condition, including one from his family on his 50th birthday in 2019 (via News.com.au), where they stressed that they are doing "everything humanly possible" to keep the F1 legend alive and that he was the one who insisted that his health be kept as private a matter as possible. One year later, neurosurgeon Erich Riederer revealed that Schumacher was in a "vegetative state" before adding that he can "probably sit up and take baby steps" but not do anything beyond that.
As of 2020, there was hope that a stem cell operation would be able to "regenerate" Schumacher's nervous system, given how he was suffering from osteoporosis and muscle atrophy due to his lack of movement, as explained by another neurosurgeon, Nicola Acciari. However, this procedure was ultimately canceled due to the COVID-19 pandemic. 
When interviewed last year regarding Schumacher's condition, Acciari, who had yet to treat the seven-time Formula 1 champion at the time, cautioned that even if he recovers successfully from his accident, it would be impossible for fans to recognize him. "We must imagine a person very different from the one we remember on the track, with a very altered and deteriorated organic, muscular, and skeletal structure," the doctor pointed out.