What Was Doris Day's Favorite Role?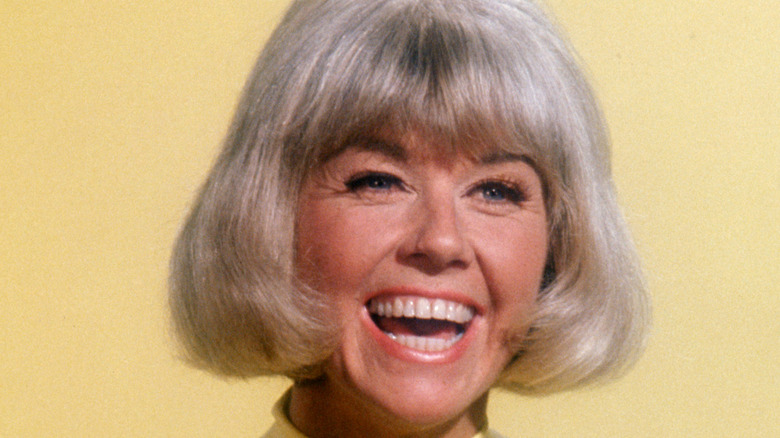 Martin Mills/Getty Images
Nearly three years after her death, Doris Day still epitomizes the fun and optimism of the late 1950s and early 1960s. She's remembered for starring in movie musicals and romantic comedies, as well as a popular TV sitcom. Day was born Doris Von Kappelhoff in 1922 in Cincinnati. Her parents were of German descent. She originally hoped to be a professional dancer, but an injury made that too difficult. A vocal coach, Grace Raine, recognized her talent early on, and by age 15, Day was singing with big bands and had adopted her stage name. By 1948, she made her first movie, "Romance on the High Seas," and she continued working in film and TV for nearly 40 years (via the Doris Day website).
Day's later life was less active. After retiring in the 1980s, she dedicated herself to charity work, creating the Doris Day Animal Foundation, which raised awareness about animal welfare, something about which she cared deeply. She rarely appeared in public or gave interviews after 1989, but when she did, she often reminisced about her favorite movies and the fun she had working with Rock Hudson. She said they became great friends and that she missed him after he died, according to The Hollywood Reporter, so perhaps it's surprising that her favorite role wasn't in a film she made with him.
Day was a success on the big screen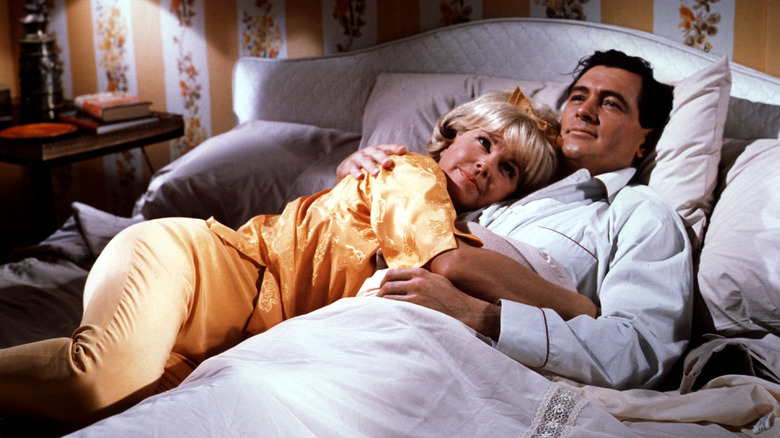 United Archives/Getty Images
Doris Day made three films with Rock Hudson, and "Pillow Talk" was the most celebrated: She earned Oscar and Golden Globe nominations for her work in it. The romantic comedy featured Day as an interior decorator who has an ongoing feud with her neighbor because they share a party phone line. He later pursues her, disguised as another man. Day's clothes and hairstyle in the film were trend-setting (via The Hollywood Reporter and The Films of Doris Day).
Another of Day's most famous movies was Alfred Hitchcock's "The Man Who Knew Too Much." She played the wife of an American doctor (James Stewart) whose son is kidnapped while they're on vacation (via The Films of Doris Day). Day sang her signature song, "Que Sera Sera," in the movie, and it also won an Oscar for best song. During filming, which took place in London and Morocco, Day asked Hitchcock why he wasn't correcting her performance, and he told her she was doing everything right (via the Doris Day website). Day's natural quality as an actress and singer is part of her enduring legacy.
Day's most fun role
Day's all-time favorite role was as the title character in the 1953 musical "Calamity Jane." She said she had more fun making it than any other movie. She joked that Calamity was "the real me," reminding her of her tomboy days as a child. She said she especially enjoyed the singing and dancing she did for the film (via The Hollywood Reporter and YouTube). She had a hit song from the movie, "Secret Love," which also won the Oscar for best song, according to The Academy of Motion Picture Arts and Sciences. The film portrays a (very fictional) romantic relationship between Jane and Wild Bill Hickok (via The Films of Doris Day).
The real Calamity Jane (or Martha Jane Cannary) was a well-known figure in the Wild West in the late 19th century. She was known for dressing in men's clothing and frequently being intoxicated, according to Deadwood Magazine. Her short autobiography contained unsubstantiated stories about her adventures, from stopping an assassin to working as an army scout. Her propensity for tall tales showed up in the movie. The real Jane didn't claim to be Hickok's wife but did ask to be buried beside him. (Hickok was shot and killed in 1876.) The idea that they were married came about decades later, when a woman claimed to be their daughter in what was probably a hoax (via Deadwood Magazine). Calamity Jane was just 51 when she died in 1903.