Taylor Hawkins' Friendship With Stevie Nicks Explained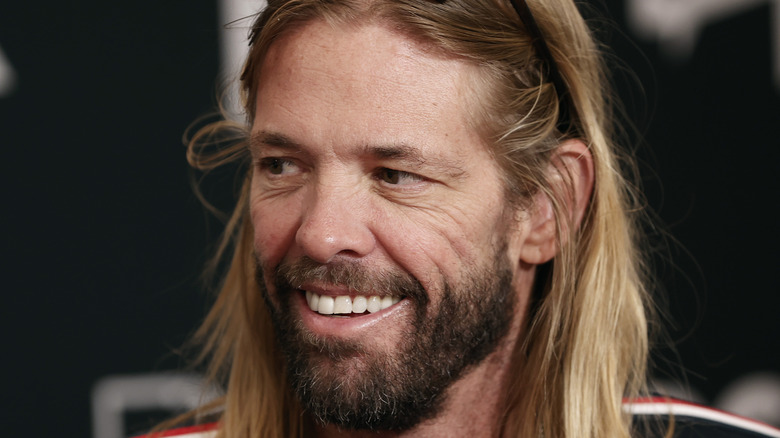 Arturo Holmes/Getty Images
On March 25, 2022, the music world mourned as the death of Foo Fighters' Taylor Hawkins was announced. AP News reported that the 50-year-old drummer was in Bogota, Columbia, as Foo Fighters was on a South American tour. The band was set to perform on the night of his death and Hawkins' final show had only been days earlier in Argentina. In fact, fans were already lining up for the show when they were told the heartbreaking news. According to CNN, the cause of death was not immediately known, however, a toxicology report found that 10 different substances, including marijuana and opioids, were found in Hawkins' system, per NBC News.
In a message posted on Instagram, Foo Fighters stated that they were "devastated by the tragic and untimely loss." Billboard reported that a number of tributes from legendary musicians poured in. Ozzy Osbourne, Roger Taylor, Jimmy Page, and more have sent out their condolences and simultaneously praised Hawkins' musical abilities. Per Today, Stevie Nicks is another famed mourner. On her Instagram, she posted two black and white photos of the pair that were taken at a photo booth at the Foo Fighters studio. In the caption, Nicks went on to write about her candid connection with Hawkins.
Steve Nicks and Foo Fighters performed Gold Dust Woman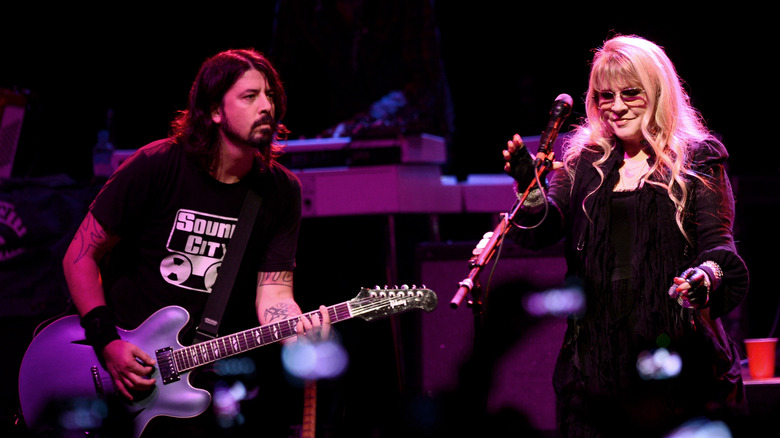 Kevin Winter/Getty Images
In Nicks' emotional Instagram post, she expressed that her friendship with Hawkins would live on, all thanks to her photo booth pictures. Additionally, she wrote that "He always came to my shows. He and his best friend Dave even let me be a Foo Fighter for a little while." 
What Nicks was referencing was a 2015 performance of "Gold Dust Woman" (as seen on YouTube) at the Forum, in Inglewood, California. The song first appeared on Fleetwood Mac's 1977 hit album "Rumors" (via Stevie Nicks Info). Written by Nicks, the song is believed to be inspired by drugs, rock 'n' roll, and her breakup with fellow Fleetwood Mac member, Lindsey Buckingham.
Far Out Magazine wrote that Foo Fighters were on their "Sonic Highways" tour when they surprised fans with an appearance and performance by Nicks. She has gone on to say, "We recorded a kick-ass version of 'Gold Dust Woman' (live) and at the end of the song I yelled out 'Best Gold Dust Woman ever' And I meant it" (per Today). Although Nicks never collaborated with Hawkins again, NME reports that her 2020 song "Show Them The Way" featured Dave Grohl on drums.
Steve Nicks wrote a poem about Taylor Hawkins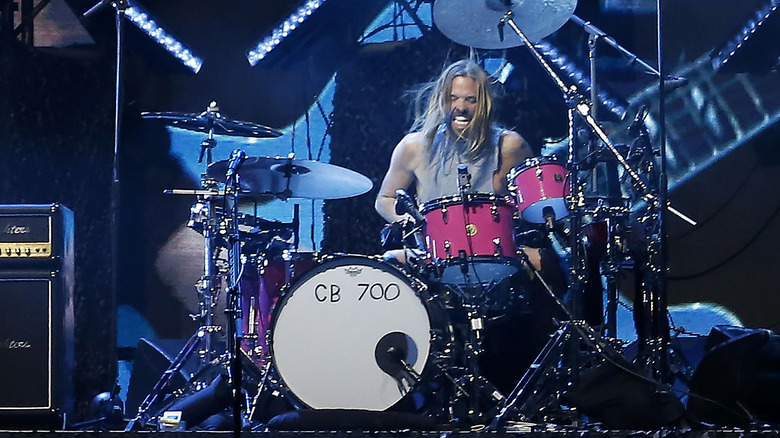 Marcelo Hernandez/Getty Images
Although Nicks' friendship with Hawkins was brief, he clearly made a lasting impression on her. In her Instagram post, she stated, "He had a huge heart and a glorious smile. When he walked into the room, everyone looked up. When he left the room, everyone was sad ..." Nicks went on to share a poem she wrote to honor Hawkins and his memory. In it, she writes that "It's like a bad dream / Comes like a wave / Gives you a moment / And then drags you away." 
Nicks goes on to say "Our hearts are broken / We will never be the same / As I write these words/ I feel the pain." She ends the poem by expressing her hope that Hawkins won't forget those who have loved him. Taylor Hawkins left behind a wife and three children, US Weekly reported.