How A Backyard Drinking Game Stole Ratings From The Super Bowl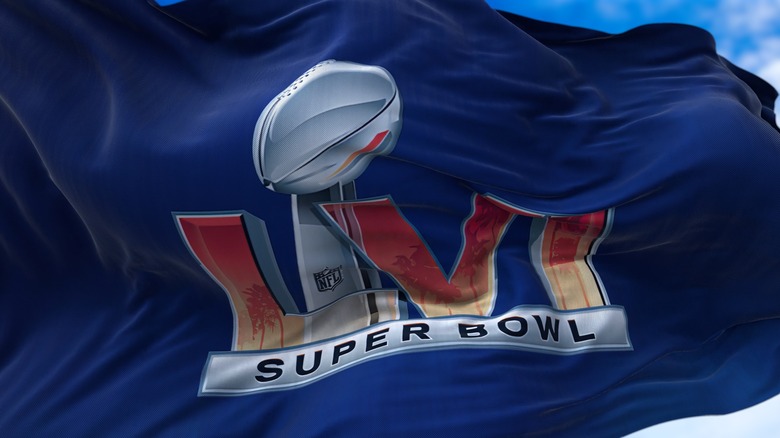 rarrarorro/Shutterstock
Needless to say, the Super Bowl is one of the biggest events on the sporting calendar. It's not simply a sporting event, it's both a national institution and a global popular culture landmark.
The Los Angeles Times reports that the 2021 Super Bowl was watched by no less than 96.4 million people. It's a testament to what a sensation it is that these remarkable numbers are actually considered low by Super Bowl standards (the lowest recorded since the 2007 event, in fact).
It's a show where commercials are as anticipated as the game itself, and some of the biggest stars of all time are called upon to perform. Snoop Dogg, prior to his own performance in 2022, told the Associated Press that it had been a dream of his to feature in the star-studded halftime show. As surprising as it may seem, however, there are actually other viewing options during the game. The American Cornhole League's own glamorous event, for one.
Why watch the Super Bowl when you can watch the SuperHole?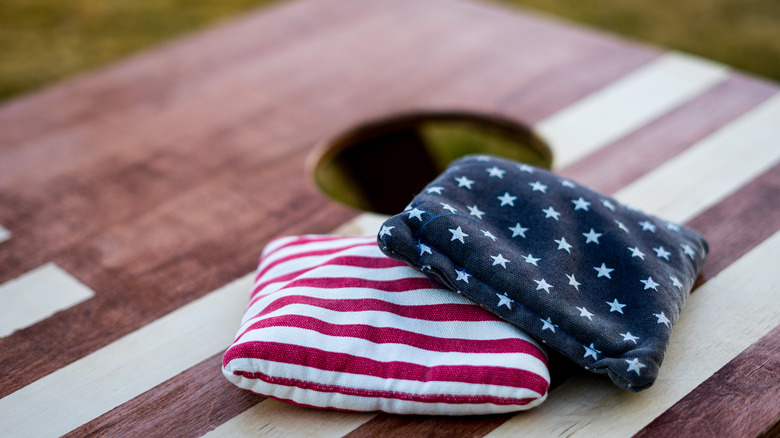 Mark Rossbach/Shutterstock
Cornhole may not be the most high-profile sport in the world, but it has a huge fanbase and its aspirations are sky high. As the American Cornhole Organization reports, the basics of the game are simple to grasp: Players throw corn bags toward a platform with a hole in it. The aim is to get the bag into the hole, a feat worth three points. Simply hitting the platform scores one point, and players alternate with each throw until somebody has scored 21, which wins them the game.
The American Cornhole Organization goes on to claim that the game originated in Germany in the 1300s. Regardless of its origins, it's a pastime that can be enjoyed at all levels of play, whether as a simple backyard drinking game or with higher stakes as a more competitive experience.
As Las Vegas Sports Biz reports, the SuperHole event took place from February 11th to 13th 2022, at Mandalay Bay, signalling that cornhole has truly grown into an event to be reckoned with.
Where next for Cornhole?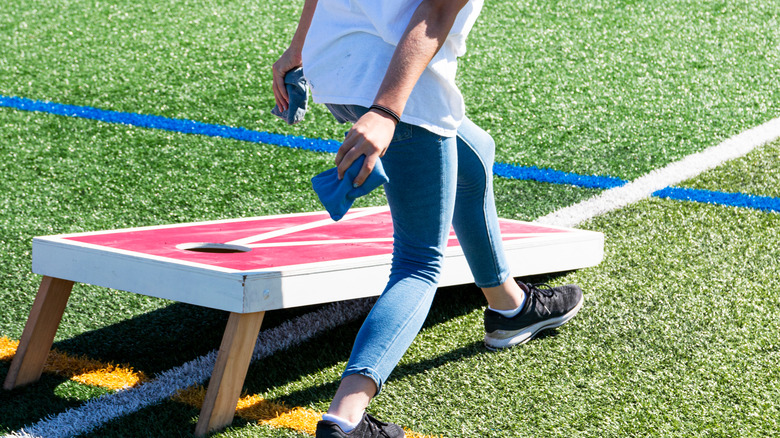 WoodysPhotos/Shutterstock
The American Cornhole League's creator, Stacey Moore, told Las Vegas Sports Biz that Mandalay Bay was the prime location. "We want to establish grounds in cities with a growing cornhole fanbase," Moore said, "and Vegas is just that!" Moore explained that SuperHole began in 2019 as a promotional affair, with a famous face playing Cornhole against a league player. It was televised on ESPN in the run-up to the Super Bowl, and was reportedly so well received that it grew in scale in short order. "Due to its enormous popularity, the idea evolved into a multi-event cornhole SuperHole series that will consist of 6 different prelims," Moore concluded proudly. In August of 2022, SuperHole III will conclude in South Carolina, the home of the American Cornhole League.
As the American Cornhole Organization reports, it's a growing sport, and an inclusive one: In collaboration with the National Senior Games, it will be available at the event to players aged from 50 to 100 years old. Though it's not threatening the ratings of the Super Bowl any time soon, it's clear that cornhole is a growing sport with a passionate community, and that advancing its cause is a labor of love for many.