The Untold Truth Of The Super Bowl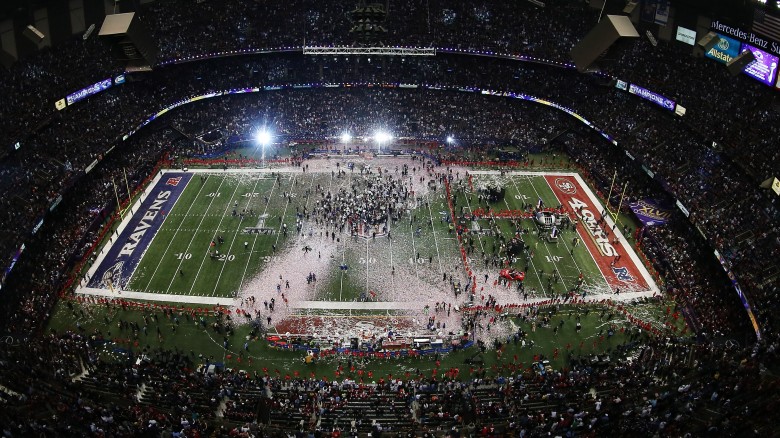 It's the most anticipated sporting event of the year, one that consistently draws even non-sports fan to watch, even if it's just for the commercials. The Super Bowl is such an event, movements are afoot to make the following Monday a national holiday. So, how did we get here? What happened along the way? Take a gander at all the hidden details involving the last NFL game of the year.
How did we get to a Super Bowl?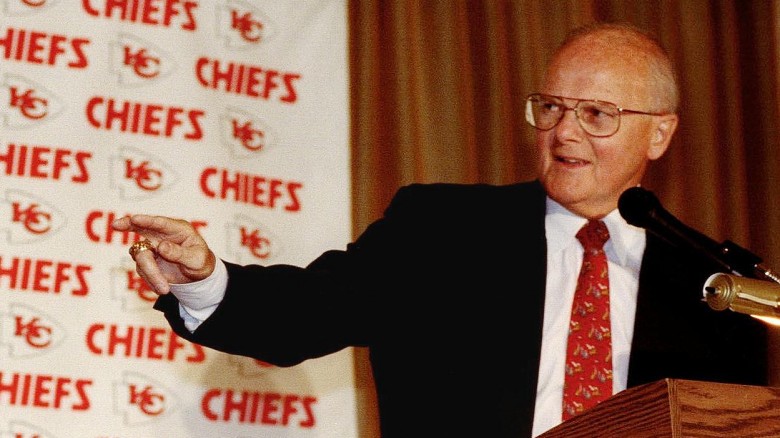 There would be no Super Bowl if the NFL hadn't rebuffed a Texas oilman. Lamar Hunt wanted to bring an NFL team to Texas, but the National Football League politely declined. Hunt responded by doing what any respectable high falutin' Texan would — he formed his own league. It was more socially acceptable than Plan B: pistols at dawn.
Hunt convinced seven others to go along with his plan to compete with the NFL, launching the American Football League in 1960. It mostly featured college stars (with the AFL often outbidding NFL teams for their services) and castoffs from the NFL. In short, the AFL was as second-class citizen as it could get. The media mocked them, the NFL ridiculed them, and even CBS — which carried NFL games — refused to report AFL scores.
But that plucky little league wouldn't go away, and they did provide some flashy football. The games were more "modern," with more passing, more flamboyance from the players, and just more fun. The NFL feared a bidding war for players, so they proposed a compromise: merge the two leagues. In June of 1966, they did just that — the AFL and NFL would continue their regular league play, but the winner of each league would then meet at a neutral site facility to determine the world champion. They even came up with a catchy name for that game, one that would live forever: The AFL-NFL World Championship Game.
Wait, what?
The real story of how it got called the Super Bowl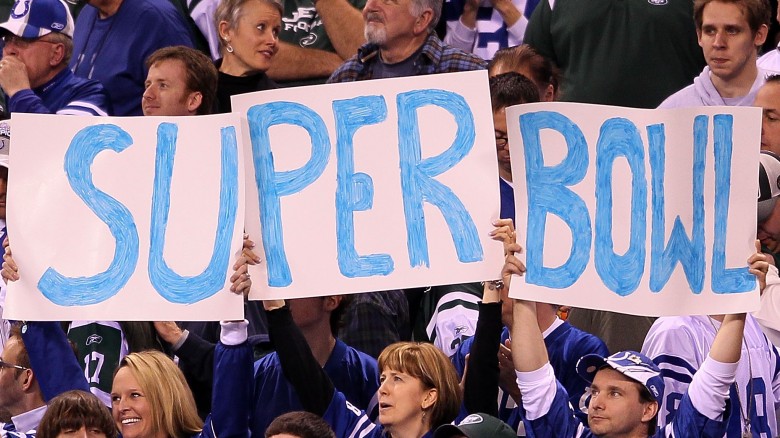 Obviously, calling it the AFL-NFL World Championship game wasn't going to fly — AFL-NFLWC is about as awkward as it comes, initially speaking. But the folks running this got big brains, so they quickly came up with a better name: The World Championship Game. No really, officially that was the name of what we know as Super Bowl II and III. It was only via the quick wit of Lamar Hunt, who noticed his children play with a Super Ball toy, that we got the name "Super Bowl" in time for the fourth game. We know that's true because the venerable old Gray Lady herself, the New York Times, reported it as fact in 1983.
But that's what people like to call "fake news" nowadays. In truth, Hunt put out his first mention of "Super Bowl" in 1966 after meeting with broadcast networks to discuss coverage. The game wasn't even set in stone until December 1, 1966 — it was scheduled only 45 days later. But the game was already unofficially the "Super Bowl" by then — as early as September 1966, the Los Angeles Times called the upcoming event the Super Bowl. The Washington Post did the same about a week later. Logically, this makes sense, as the game was clearly "super" — the New York Times even called it a "superduper" game in June 1966, months before the season even started.
Plus, calling an end-of-season game a 'bowl' wasn't groundbreaking — colleges had been playing bowls for 50 years at that point. A bunch of headline writers, independent of each other, probably just put the two words together and created a legend. In short, Hunt's Super Ball story, while cute, is about as real as the Browns' chances of winning a Super Bowl.
The hungover hero
Your grandfather's NFL isn't your NFL. Today, rules are in place to assure safety, and athletes are serious about their diets and careful to keep in tip-top shape. Meanwhile, players in the "back in my day" era would smoke cigarettes at halftime as casually as today's athletes chug Gatorade.
But Green Bay Packers wide receiver Max McGee had all the smokers beat. His Packers appeared in the first World Championship Game, and he was a backup, not supposed to play at all. So, as the famous story goes, McGee stayed out with two stewardesses (as they were called back then) until 6:30 a.m. the day of the game. And they weren't playing parcheesi.
Before the game, McGee ominously warned starting wide receiver Boyd Dowler not to get hurt, saying "I was out all night and I had a few more drinks than I should have." Unfortunately, Dowler went and did just that, reinjuring his shoulder. A hungover McGee went in and, somehow, shined, with seven receptions for 138 yards and 2 touchdowns. McGee, the happy-go-lucky partyboy, was able to pull it together when his team needed him and contributed to a rare, alcohol-fueled Super Bowl victory.
The rise and fall of an unknown Super Bowl star
Often in sports, the phrase "came out of nowhere" is thrown around to describe a virtually unknown player who excels in a big spot. Should that ever need a photo to accompany it, they should use Timmy Smith. When the Washington Redskins used a 5th-round pick on him in the 1987 draft, there weren't a lot of people who had even heard of him. He suffered injuries his Junior and Senior years of college at Texas Tech, and barely played. Even in the regular season, Smith only mustered 29 carries over the half of the 14-game schedule he actually played.
Starting running back George Rogers struggled in the playoffs, so Smith got his opportunity and performed well, but nothing was expected from him in the Super Bowl. Head coach Joe Gibbs surprised Smith the morning of the game, by informing him he was getting his first start of his career, and on the biggest stage of them all. He responded with a Super Bowl record 204 rushing yards and two touchdowns, as the Redskins won 42-10.
Unfortunately, this was not the start of a great career. Smith faded quickly after his unbelievable performance in the Super Bowl. He was out of football by 1990, and quickly started running with the wrong crowd. In 2005 he was arrested for cocaine trafficking and served 18 months in prison.
The most unlikely Grammy nomination ever
The Super Bowl XX champion Chicago Bears were something unseen at that time — a flashy team that could back up the talk. The '85 Bears finished the regular season 15-1, crushed the New England Patriots in the Bowl 46-10, and are recalled as one of the greatest teams ever. When you're that good, you need the quintessential 1980s vehicle to show off: a song and an MTV video.
Wide receiver Willie Gault already had ties to the record industry when executives approached him about doing a song about his Bears. A song called "Kingfish Shuffle," a parody of Amos and Andy, received new player-specific lyrics and became the "Super Bowl Shuffle." The music video was so '80s it might as well have been neon. The Bears didn't really take it too seriously — it was boastful and certainly fit their image, but it was more of a parody than anything. A parody of a parody basically. Mockception.
But the public, Bears fans or not, loved it. It hit #41 on the Billboard charts, and the bulk of the money went to Chicago charities. Plus, amazingly enough, the song was nominated for a Grammy. They could've won "Best R&B Performance by a Duo or Group with Vocal," but Prince took it home.
Oh, and the Patriots countered with their own song and MTV video, "New England, The Patriots, and We." It ... didn't sniff a Grammy, and basically went over about as well as their performance on the Super Bowl field.
The crazy prop bet that started them all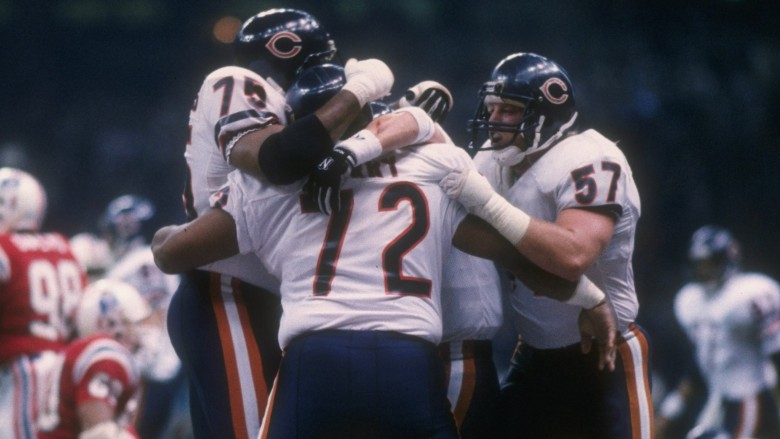 You already know the Super Bowl is a heavily gambled event. Besides the traditional bets, there's a host of other crazy prop bets one could take. There's "will the coin flip heads or tails," "which team will get the ball first," "how many times will a player dab" and the immortal "will Peyton Manning cry" from Super Bowl 50.
If you love betting on these dumb lies, you can owe it all to a Refrigerator. William Perry was a rookie defensive linemen for the '85 Bears. To get a little more blocking help on short yardage plays, Chicago inserted the massive lineman — nicknamed "The Refrigerator" due to his size — to plow the way for running back Walter Payton. And then, on a lark, Perry got to carry the ball — lo and behold, he waddled into the end zone and scored a touchdown!
"Fat man in the end zone" caught the imagination of fans, and he became an overnight sensation. When the Bears reached Super Bowl XX, Las Vegas saw an opportunity to take a few suckers' cash. Bookmaker Jimmy Vaccaro installed a pretty ridiculous wager: will Refrigerator score a touchdown? He put it at 40-1 (a $10 bet will win you $400), and odds rose to 75-1, until the national media caught wind of it and people flocked to Vegas to get a piece of the Fridge.
Logically Payton, one of the greatest running backs in NFL history, would be given the opportunity to score if the Bears got close, but gamblers kept wagering on Perry to the point where the odds dropped to only 5-1. And yes — in the 3rd quarter of a 37-3 blowout, with the Bears sitting on the one-yard line, Refrigerator entered the game and scored him a touchdown. Vegas got smeared on the wager, but in the long run, they came out way on top, because if not for that 1986 prop bet, very likely none of the other crazy wagers would exist.
The whole truth behind Joe Namath's guarantee
Popular myth persists that the New York Jets, as 18 point underdogs, had no chance against the Baltimore Colts, in Super Bowl III. As such, the Jet's flashiest player, Joe Namath, responding to a Colts fan's hecking with, "We're going to win the game, I guarantee you," and then delivering, was basically the work of a hard-partying soothsayer.
But what the mythmakers (and betting line makers) didn't realize was that the Jets were very well matched for the Colts from the start. The New York players knew Baltimore couldn't beat them — Namath simply said the same thing they all said privately. The 18-point thing was more "oh, those crazy AFL clowns" than anything else.
The real crazy thing about "the guarantee" is that Namath's comments didn't trend on Twitter or make ESPN's bottom line as BREAKING NEWS (mostly because it was 1969). He said it late Thursday night, and they appeared in a Miami Herald article the next day — the guarantee never got much more attention until the day of the SB, when broadcaster Curt Gowdy mentioned it briefly. Even that didn't cement the legend, as reports right after the game didn't mention Namath's guarantee. That was up to Father Time, and the mythmakers blessed with the powers of hindsight.
The story behind the biggest ball-drop in SB history
Modern football has finally learned how to use the tight end properly. Prior to 1980, however, most were lumbering giants known more for blocking than hands and skill. Jackie Smith was an outlier — when he retired, no tight end caught more passes nor had more yards than the future Hall of Famer. But all anyone remembers is that time he cost the Dallas Cowboys a Super Bowl.
But see, Smith really didn't cost Dallas a win, but he did drop a wide-open touchdown reception in the 3rd quarter of Super Bowl XIII. Smith, in his last season in the NFL, attempted to catch a pass near the goal line. Unfortunately, the throw was low, and Smith slipped on the turf, failing to catch the ball. Now, there was still 17 minutes in the game, and Dallas truly lost by settling for a late field goal instead of the touchdown needed to stay alive. But none of that matters to the memories of fans, who see "drop" and go "THAT."
Dallas radio play-by-play man Verne Lundquist said it best after the drop: Smith must be "the sickest man in America." He most likely was. Smith was called a scapegoat. Fans ridiculed him, even in front of his children. They even ridiculed his children, taunting them in their sporting lives. The drop follows him and rarely is his Hall of Fame career the thing that jumps to mind when you hear "Jackie Smith." We'd be sick too.
You know what never gets mentioned? Jackie Smith got the Cowboys to the Super Bowl that year by ... scoring a touchdown! His touchdown catch tied the Atlanta Falcons en route to a 27-20 comeback win, but that's not juicy enough for angry soundbites.
I'm going to Disney World!
The famous phrase started by accident. Michael Eisner and his wife dined with Dick Rutan and Jeana Yeager, a duo who just became the first to fly non-stop around the world. Asked what they planned next, Rutan deadpanned, ""I'm going to Disneyland." After a good chuckle, Eisner's wife Jane said, "You know, that's a good slogan."
With Super Bowl XXI rapidly approaching, Disney acted quickly. They looked at both teams and tried to determine MVP candidates, eventually zoning in on the two starting quarterbacks: the Giants' Phil Simms and the Broncos' John Elway. Since it was the first time The Mouse had to front some guaranteed cash, Simms got $75,000 win or lose (if he said it or not), while Elway was offered less (at least $15,000, though possibly almost $50,000). Simms' Giants demolished the Broncos — as he jogged off the field in victory, a tap came on his shoulder. "Disney!", the voice shouted. He almost forgot about it, because after 60 minutes of football and visions of championship glory dancing in your heads, a random ad spot is furthest from your mind. But he said the line, and created a tradition.
The famous slogan (and payday) bled into other sports and cultural events. Disney, who's as much about marketing as it is about magic, quickly got wise, and had every player (even the scrubs) sign a contract to say the line — this way, they could assure they'd get what they needed, no matter who won. It also helped them not use the Ravens' Ray Lewis — he was the MVP of Super Bowl XXXV, helping his team cruise to a 34-7 win over the Giants, but due to his alleged involvement in a double murder the year prior, Disney had no interest in him. Quarterback Trent Dilfer got pegged to say the line instead, because the only murder he had anything to do with, was that of the Giants' hopes and dreams.
Everything you know about Apple's 1984 ad is a lie
It's the greatest Super Bowl commercial ever — just ask every listicle ever. Apple procured Ridley Scott to direct their Super Bowl XVIII commercial to usher in a new era and play off the Orwellian notion of totalitarianism. The ad was an immediate hit. And we mean like right after the commercial aired, game announcers Pat Summerall and John Madden commented, "Wow. What was that?"
Apple gets a lot of play off the story that it only aired once, but here's the thing: it aired more than once. Apple may have only paid for one airing, but TV news replayed the commercial numerous times because of the buzz it created. And besides that, it aired once before the Super Bowl, at 1 AM on December 15, 1983, after the sign-off signal for local Twin Falls, Idaho station KMVT. Why? It was an old industry trick to become eligible for awards.
There was also a 30-second version that aired weeks before the Super Bowl, one that ran in major markets, plus the much-more-minor West Palm Beach, Florida market. Why West Palm? IBM's computer base was in that market, that's why. Like you didn't know Steve Jobs was that petty.