Hugh Hefner's Strange Connection To The Hollywood Sign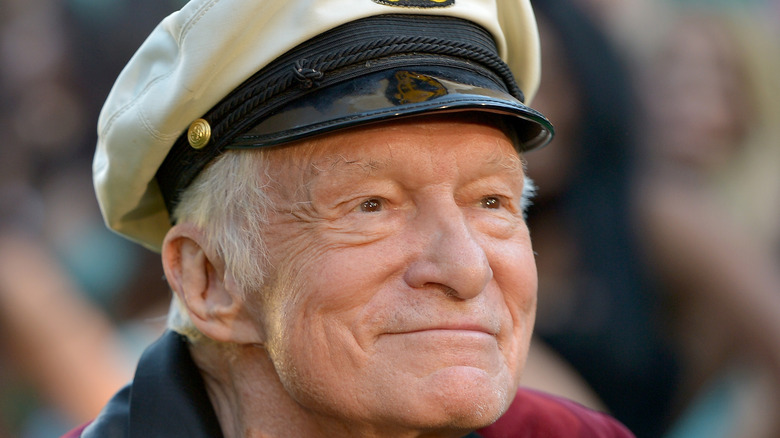 Charley Gallay/Getty Images
Say what you will about Hugh Hefner — and there's a lot that can be said about him — he was definitely not one-dimensional. Sure, at the end of the day, he was a peddler of smut, but he was also an advocate for LGBTQ rights a decade before the Stonewall Riots, according to The Advocate. He was also an animal rights advocate, according to Purple Clover, and a staunch defender of free speech rights, per the First Amendment Encyclopedia.
Though he was born in Illinois, Hefner was pure Southern California through and through. For decades he was one of the most famous residents of L.A., in a city that's brimming with famous people. For decades, his legendary Playboy Mansion was a top party spot in the city, even though not everything that went on there was above board, according to claims from some of the women who lived there.
Hefner was also responsible for saving a Southern California landmark, not once, but twice.
An enduring advertisement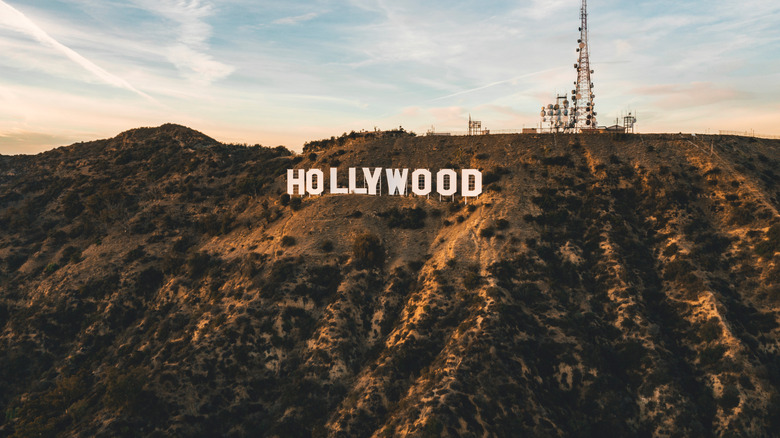 21 Aerials/Shutterstock
Here's a thought experiment: How does something that was essentially a roadside billboard become an enduring cultural landmark?
The Hollywood sign was erected in 1923, according to Fodor's Guide, intended to advertise a housing development known as "Hollywoodland." Though intended as a temporary advertisement, and scheduled to be dismantled after a couple of years, Angelinos came to love it, and the sign stayed (per the landmark's website). By the 1940s, the "land" had been removed, and the Hollywood sign became a visual metaphor for L.A. specifically, and the film industry more broadly.
Unfortunately, by the 1970s, the sign — originally made of wood — had fallen into disrepair thanks to exposure to the weather, vandalism, and other maladies, as The Hollywood Reporter explains. The Hollywood Chamber of Commerce was keen to preserve and upgrade the sign, but those efforts would come at a cost: $250,000, per Vanity Fair. That amount of money is hardly child's play today, and in the Carter administration it was an even steeper bill, particularly for a municipal government short on cash.
Hugh Hefner saves the day, twice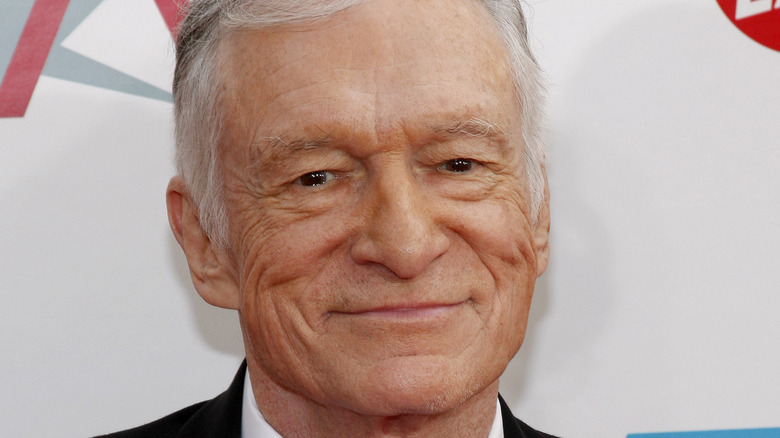 Tinseltown/Shutterstock
Hugh Hefner didn't want a landmark from his adopted hometown to fall into ruin or be torn down, according to Vanity Fair, so in 1978 he raised the money to save the sign in the most Hugh Hefner way possible: by throwing a party. Specifically, the lavish party was also an auction, during which Hefner auctioned each of the nine letters in the sign for $27,000 each. Hefner's friends came through: donors as disparate as rock star Alice Cooper and singing cowboy Gene Autry each contributing to the restoration efforts.
For a few months, L.A. was without one of its most famous landmarks, as new, metal letters were installed.
That wasn't the end of the matter, however. By 2010, the sign was in danger again, this time not from decay, but from progress. Specifically, as People reports, a group of developers wanted to buy the land for a housing project, but offered to allow preservation-minded individuals the opportunity to purchase the hillside for $12.5 million. With the deadline closing in, the conservation group that wanted to purchase the land and preserve the sign was about a million short. Fortunately, Hefner saved the day, again, this time cutting a check for the remaining $900,000.
"It would have been a real shame after having restored it if it wound up sold," Hefner said.