The Story Behind Where Elvis Presley Was Born
Memphis Brooks Museum/Getty Images
Elvis Presley's impact on popular culture is difficult to even comprehend. Decades after his tragic death before his time (he was only 42 when he died in August of 1977, per Biography), his music continues to inspire. His iconic and flamboyant fashions, hairstyle and dance moves continue to be adopted by Elvis impersonators around the world. His home, of course, continues to be a huge tourist attraction.
In 2013, The National reported on the sheer scope of Graceland's lasting appeal. Elvis Presley Enterprises stated, according to the outlet, that The King's extravagant former home attracts around 600,000 visitors every year, and that approximately 120,000 of them journeyed from other countries to pay homage to the musical legend.
June 2022, Graceland's official website reports, marked 22 million visitors and 40 years of private tours. Elvis himself, however, was not born into the luxurious mansion lifestyle he would later enjoy. Here's the story of his birth.
Elvis Presley's first house couldn't have been further removed from Graceland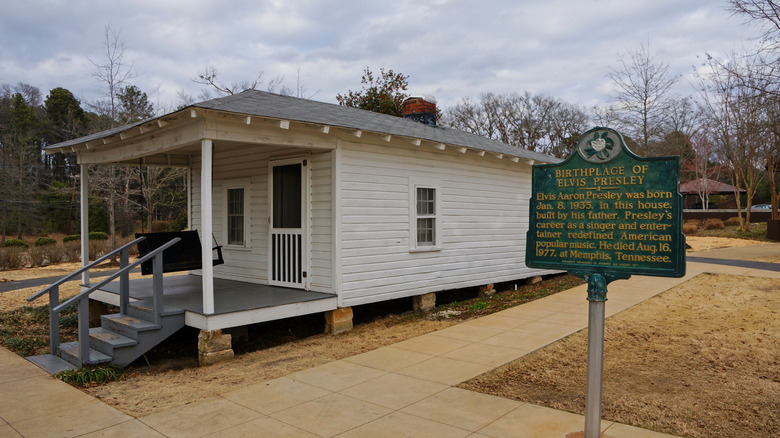 Bennekom/Shutterstock
Many fans will not know that Elvis was a twin brother. Jesse Garon, per History, was sadly stillborn, arriving a little over half an hour before Elvis himself. Garon, it seems, was buried the next day. Tragically, his family could not afford anything more than an unmarked grave for him.
History goes on to report that Elvis and Jesse were born in Tupelo, Mississippi. More specifically, the births took place on January 8 in 1935, and it would have been difficult to imagine a less auspicious setting for the arrival of a future icon and his twin: a humble two-room home.
The future King's parents were Gladys Love and Vernon Elvis. His father, per Smooth Radio, had personally built the small house in which his sons were born. Three years later, Vernon Elvis was discovered to have changed the text of a check from the owner of their land. He reportedly spent eight months in jail (and so lost the family home).
Elvis's family later moved to Graceland too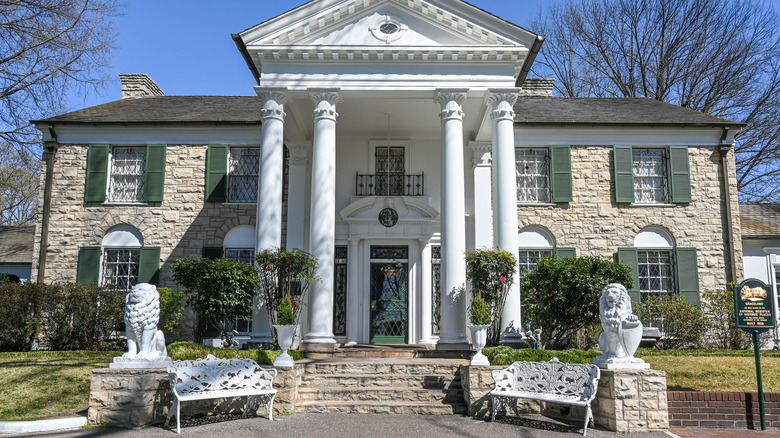 Rolf_52/Shutterstock
According to Newsweek, the 13-year-old Elvis and his family were able to start a new life in Memphis in the late 1940s. Per the outlet, it was in 1953 that he found the courage to enter the Memphis Recording Service and make a shy musical debut. The recording time cost him a princely $3.98. Ultimately, it would be one of the greatest purchases he ever made, helping to kickstart his confidence and musical career.
For generations of fans, however, the most significant thing Elvis ever bought was Graceland itself. He purchased the magnificent Memphis mansion, Britannica reports, in 1957. At the time, it had stood for just 18 years, having been completed by Thomas Moore in 1939.
According to Outsider, Elvis paid a total of $952,392 (adjusted for inflation) for the property. Vernon Elvis and Gladys Love moved in with him, Britannica adds, and his mother was buried there on her death in 1958. Elvis would later buy another property for his father and Vernon's next wife. It was clear that the whole family had been swept up in the crooner's wild ride since his birth in that tiny house in Tupelo.