Elvis Presley Almost Starred In This John Wayne Western Hit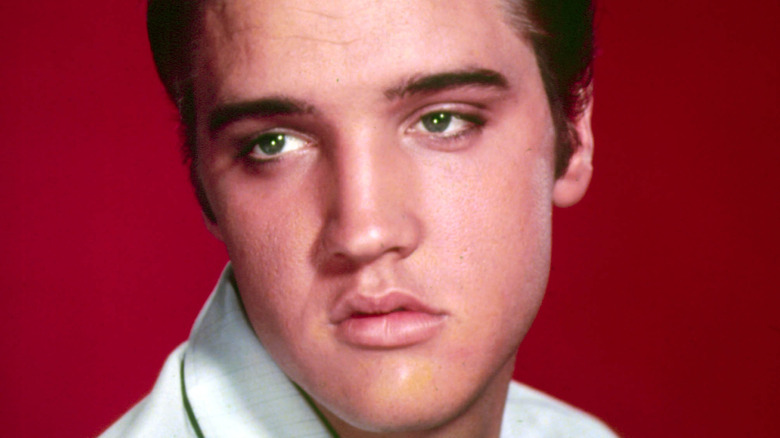 Getty Images/Getty Images
Elvis Presley, the undisputed King of rock 'n' roll, was a worldwide viral sensation, decades before the concept of going viral ever existed. Quite possibly the most beloved musician of all time, he became (and remains)  an intensely popular culture behemoth. His untimely death on August 16, 1977 (he was just 42, per Biography), cemented his place as a remarkably bright spark that burnt out far too soon, an eternal legend of the industry. Like so many icons of his caliber, though, Presley ventured into other disciplines as well as music.
He was quite a prolific actor. As Britannica reports, the period after his return from his army service in Germany marked the beginning of a busy movie-making era for The King: between 1961 and 1969, more than 30 of his movies were released. They weren't the most intense fare, Britannica goes on, as they were largely intended simply to keep Elvis' face and music in the limelight. Curiously, though, he almost appeared in a Western movie with another popular culture icon: John Wayne.
From one western legend to another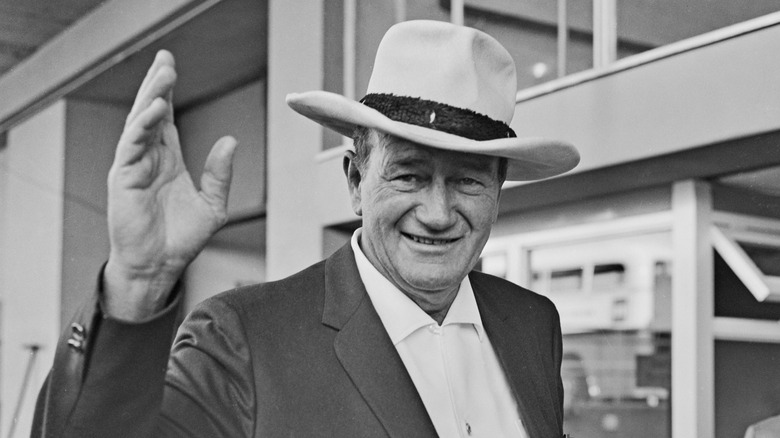 Evening Standard/Getty Images
Elvis Presley wasn't a complete stranger to the genre of Western movies. "Love Me Tender," per IMDb, is a Western set during the closing stages of the American Civil War. Elvis features as Clint Reno, the brother of a Confederate soldier who becomes embroiled in a train robbery. The movie was released in 1956, rather early in Presley's rise to superstardom, but it seems that it attracted some very high-profile attention.
"Love Me Tender" was, per the Express, the "Jailhouse Rock" hitmaker's first movie role. John Wayne was watching, it seems, and similar roles, later on, would cement Elvis' place as an actor Wayne wanted to collaborate with, during the height of his own acclaimed career.
Outsider reports that Wayne had lined up a particularly juicy role for the hip-shaking musician: LeBoeuf the ranger in 1969's "True Grit." Reportedly, this dream collaboration was actually agreed upon by both stars, but Presley's overly-demonstrative manager would ultimately prevent him from playing the role.
Elvis was too busy becoming a legend all over again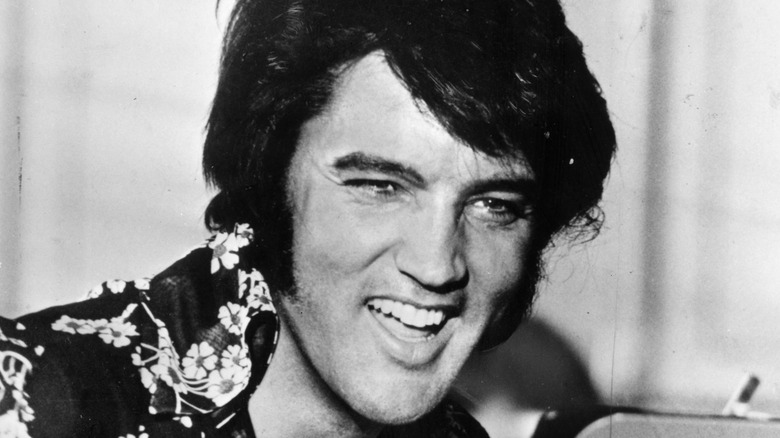 Keystone/Getty Images
Billy Smith, Elvis' cousin, tackled the question of whether John Wayne asked Presley to star with him in a movie. Smith said, via Memphis Mafia Kid on YouTube, that Wayne did ask, and more than once. The trouble was, co-starring wasn't Presley's style ... or, rather, it wasn't the style of the Elvis that "Colonel" Tom Parker, the singer's manager, fashioned.
As Smith put it, such requests were "always carried through Colonel." Presley was perhaps at the height of his prestige around this time, and, per Smith, "Colonel didn't want him to play ... second star with anybody else." With a myriad of other demands on his time to boot, Presley would miss out on the role of LeBoeuf. The character would instead be played by Glen Campbell.
Perhaps it was for the best, however, that didn't appear in the "True Grit." It released in 1969, which was a crucial time in his career. December of 1968, per USA Today, marked his now-legendary "comeback special," which was followed the next year by almost 60 performances at the magnificent International Hotel in Las Vegas. During these incredible shows, Presley ably proved the point his manager insisted upon: Elvis Presley would play second fiddle to nobody.