Why Did Franklin Floyd From Netflix's Girl In The Picture Murder His Stepson?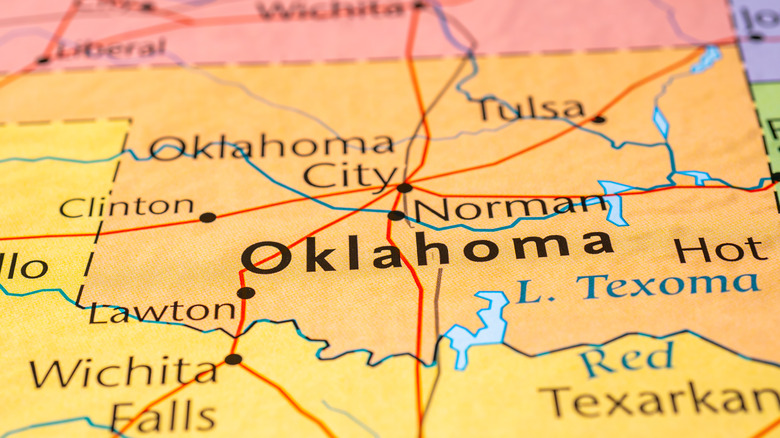 Alexander Lukatskiy/Shutterstock
In 1990, 20-year-old Tonya Hughes was killed in a hit-and-run accident in Oklahoma City (via the FBI). At the time of her death, she was married to a man named Clarence Hughes and the couple shared a son named Michael. As The Oklahoman explains, Hughes was not who he claimed to be. His real name, in fact, was Franklin Floyd and he was a wanted fugitive. After Tonya died, Floyd went on the run and left his then 2-year-old son in the state's custody.
The truth behind Floyd, his wife, and their son, however, was a complicated web of deceit that would take years for the authorities to figure out. As it turned out, Tonya Hughes was actually Suzanne Marie Sevakis, Floyd's stepdaughter (per the FBI). The Doe Network reports that at one point in time, Floyd was married to Sevakis' mother. While her mother was in jail, Floyd kidnapped Sevakis and moved her from town to town while claiming that he was his daughter. Eventually, the pair married.
Per Unsolved Mysteries, Sevakis gave birth to Michael when she was just 17 and Floyd believed that he was the boy's father. Six months after abandoning Michael, Floyd was arrested for violating his parole. Despite this, The Oklahoman writes that Floyd made it very clear that he wanted to regain custody of his son. Shortly after, a blood test proved that Floyd was not Michael's biological father. Nevertheless, this revelation did not change Floyd's desire to have his son back.
The kidnapping of Michael Hughes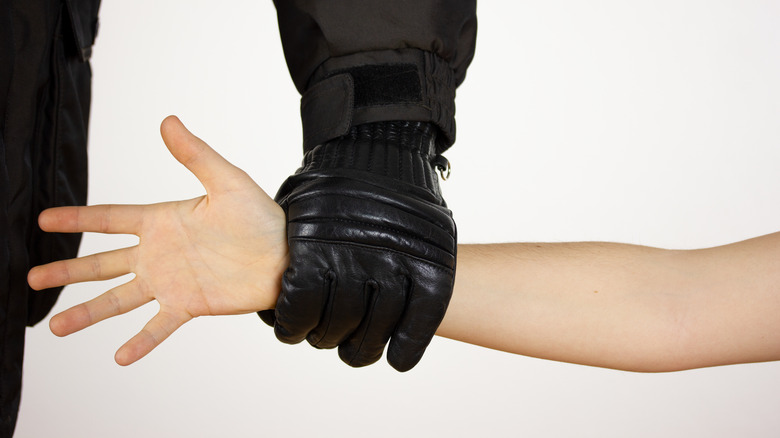 Plantronica/Shutterstock
Unsolved Mysteries reports that when Floyd was released from jail, he asked for Michael to be returned to his custody. As he was not the biological father and was facing possible prison time for assault and battery charges, he was denied this request (via The Oklahoman). On September 12, 1994, Floyd walked into Michael's elementary school and threatened the principal at gunpoint. He then proceeded to kidnap the then 6-year-old Michael. At the time of the abduction, Michael had been living with his foster parents Ernest and Merle Bean for four years. In other words, Floyd was now a complete stranger to him.
Unsolved Mysteries explains that Floyd demanded that the principal use his pickup truck to drive him and Michael to a rural area. The principal obliged and when they got to their destination, Floyd handcuffed him to a tree and abandoned him. Shortly after, the authorities were able to locate the unharmed principal. As for Floyd, the FBI states that he was tracked down in Kentucky two months later. Michael, however, was not with him and Floyd refused to talk.
As the authorities searched for the missing boy, they were able to charge Floyd with the 1989 murder of Cheryl Commesso (via the FBI). Per The Oklahoman, photos of a beaten Commesso were found hidden inside the stolen pickup truck that was owned by the principal. Her remains were discovered in 1995 and Floyd was convicted and sentenced to death for her murder in 2002.
Michael Hughes's remains were never found
According to The Oklahoman, Floyd was given a 52-year prison sentence in 1995 for kidnapping Michael. Even so, he refused to disclose the boy's whereabouts. Instead, he released a statement that read, "It's none of your business where he is, nor do I care how much any of you in Oklahoma miss him or love him." However, by 2014, Floyd was on death row for Commesso's murder. Perhaps feeling like he had nothing else to lose, he began to talk to the FBI. He revealed to investigators that he had murdered Michael on the same day he had kidnapped him.
While driving from Oklahoma City to Dallas, Floyd, as the FBI put it, "ran out of patience." Special Agent Scott Lobb explained, "Michael was being a typical 6-year-old. He was out of control, and that pushed Floyd over the edge." Floyd then proceeded to shoot the child in the back of the head two times. Per The Doe Network, Floyd buried Michael's body near the last exit out of Oklahoma on Interstate 35 by the Texas border. Although the FBI searched the area for Michael's remains and evidence, nothing was ever uncovered. It's believed that wild animals may have eaten his remains.
Additionally, The Oklahoman writes that Floyd also confessed that Michael's mother was not actually named Tonya Hughes. Prior to this, her real identity remained unknown (per Unsolved Mysteries). Floyd's revelations allowed investigators to close the case. It also provided closure to Michael's foster parents. According to Newsweek, "Girl in the Picture," a documentary about Floyd's crimes, is set to be released on Netflix on July 6. The trailer is posted on YouTube.