The True Story Of Rick James' Torture Arrest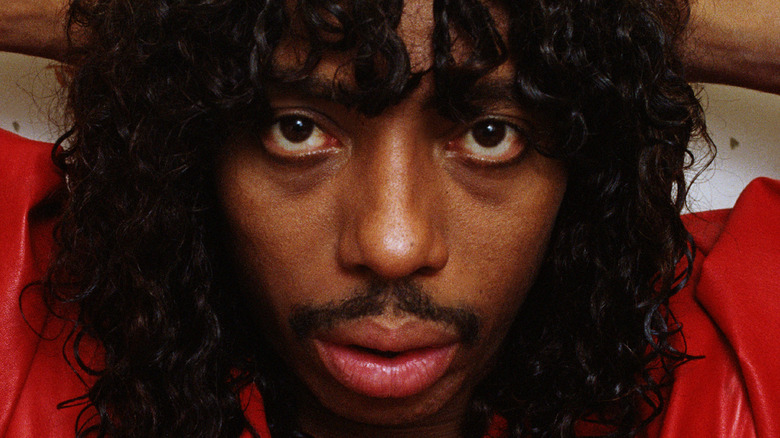 George Rose/Getty Images
The pop star and "King of Funk" never hid his fixation on sex and objectifing views on women. While songs like "Super Freak" have extreme and sexualized lyrics, it's also so mainstream that most of us have witnessed wedding guests from multiple generations dance to the punk funk hit.
In the late 1980s, the singer and producer Rick James' newest album had flopped, and his drug abuse evolved from lighter fare to heroin and cocaine. The Beverly Hills mansion backdrop and meteoric rise to fame did not save James from the negative decisions inspired by troubled beginnings, unhealthy views of women, and the influence of crack cocaine (via Far Out). His violent choices led to convictions for extremely depraved behavior against two women: Frances Alley and Mary Sauger.
If you or anyone you know is struggling with addiction issues, help is available. Visit the Substance Abuse and Mental Health Services Administration website or contact SAMHSA's National Helpline at 1-800-662-HELP (4357).
The Attack on Frances Alley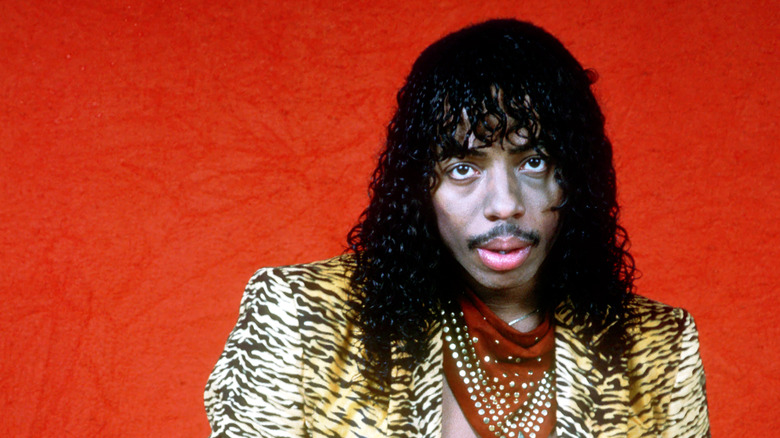 Michael Ochs Archives/Getty Images
At 43 years old, Rick James and his young future ex-wife Tanya Anne Hijazi met 24-year-old Frances Alley at a party (via Jet Magazine). Learning she was unemployed, they invited her to stay with them at Jame's residence. While staying with the couple, things became violent on July 16, 1991. The singer threatened Alley with a gun, accusing her of stealing his drugs. He said if she tried to leave, he'd kill her (via Far Out).
At this point, Jame and Hijazi allegedly tied Alley naked to a chair (via the Los Angeles times). Over several days, Alley was burnt over 20 times with the hot end of their crack pipe (via another posting by Far Out). A day in to the forcible imprisonment, James made Alley engage in sex acts while he watched. They also forced the victim to smoke crack cocaine.
On July 17, when James untied Alley, she fled and eventually made it to Cedar Sinai Medical Center in Los Angeles for treatment. After hearing the allegations, authorities issued warrants for the arrest of James and Hijazi.
If you or anyone you know has been a victim of sexual assault, help is available. Visit the Rape, Abuse & Incest National Network website or contact RAINN's National Helpline at 1-800-656-HOPE (4673).
The Attack on Mary Sauger and Trial
James and his partner, Hijazi, potentially guilty of extreme violence towards women, were released on bail and able to assault Mary Sauger. In 1992, Sauger was a music executive and met with Hijazi and James for business (via Far Out). As Sauger later testified, things went wrong when the cocaine-fueled Hijazi and James became enraged, slapping Sauger over and over (via the Los Angeles Times). Against the backdrop of a posh West Hollywood hotel room, Sauger said the pair held her against her will, beating her for a 20-hour period (via Entertainment Weekly).
James was eventually charged with assault with a deadly weapon, aggravated mayhem, torture, forcible oral copulation, false imprisonment, and kidnapping for the crimes against Alley and Sauger. During the trial, while Sauger recounted a cycle of beatings that lead to unconsciousness, followed by reviving with water, James fell asleep and began to snore audibly (via the Los Angeles Times). James was found guilty of one count of assault and false imprisonment involving Sauger (via UPI). Many of the allegations made by Alley were not upheld. Thanks in part to strong legal defense team, James managed to avoid life imprisonment after being cleared of the torture charge.
In Folsom Prison, he served only two years of his five-year sentence due to prosecutorial misconduct (via another article from the Los Angeles Times). Eventually, James was ordered to pay $1 million to Sauger in a civil suit (via Far Out). He became untouchable in an industry where he had found remarkable success. He died in his home August 6, 2004, of a heart attack (per Billboard).