The Johnny Carson Theory That Ed McMahon Disproved
Michael Ochs Archives/Getty Images
On May 22, 1992, "The Late Night Show starring Johnny Carson" aired for the very last time. The interviewer/TV personality built a legacy that spanned the course of 30 years (via History), and throughout that time, he developed an on-screen persona that people came to adore. Carson's show was something of a prototype for programs like Saturday Night Live that merged outrageous comedy with personal commentary and celebrity cameos. Without him, television and show business in its entirety would likely look a lot different. Almost 20 years after his death, he's still often regarded as the greatest talk show host of all time (via Movie Web).
Everybody knew what to expect when those two legendary words of introduction ("Heeeeere's Johnny!") rumbled from their television sets — a silly, warm, joyous gentleman who balanced sincerity and humor with seemingly little effort. However, over the years, a certain perception of him started to proliferate amongst peers and people who had run-ins with him in different social/professional settings. According to Showbiz Cheat Sheet, some felt that Carson had a cold, dismissive demeanor about him when he wasn't hosting the show.
People thought Johnny Carson was cold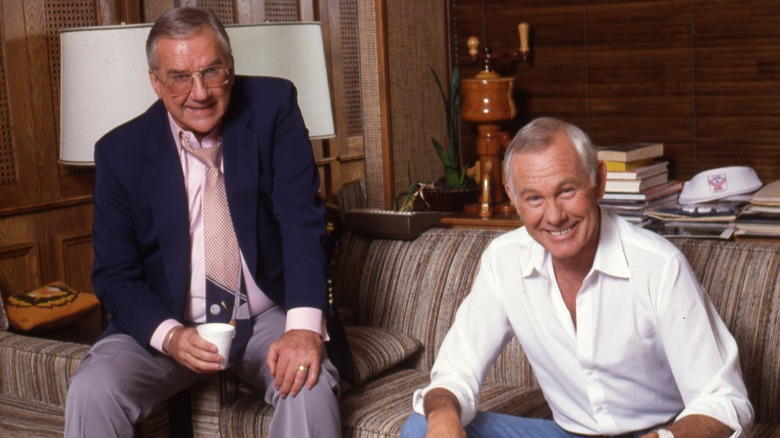 Donaldson Collection/Getty Images
Aside from his own family, there was probably nobody who knew Johnny Carson better than his dear friend and longtime co-host Ed McMahon. In fact, the two were so close in their personal lives, that they even shared a birthday tradition. As Showbiz Cheat Sheet reports, Carson and McMahon would call each other every year on their birthdays, and every year, Carson would offer his friend and fellow showrunner a specially written joke as a present. 
"One reason for the myth of ice water in [Carson's] veins was that socially he seemed aloof," Ed McMahon shared in retort to rumors of his dear friend's alleged off-putting attitude toward people. "But he wasn't aloof; he was merely shy." If you spend as much time in the public eye as Johnny Carson did, it's probably only natural that you'd crave some much-needed downtime away from people. McMahon recalls how the "Late Night" host would often choose a quiet corner to sit in at parties where he would toy around with magic tricks and keep to himself (per Showbiz Cheat Sheet). 
Johnny Carson's kind words to Ed McMahon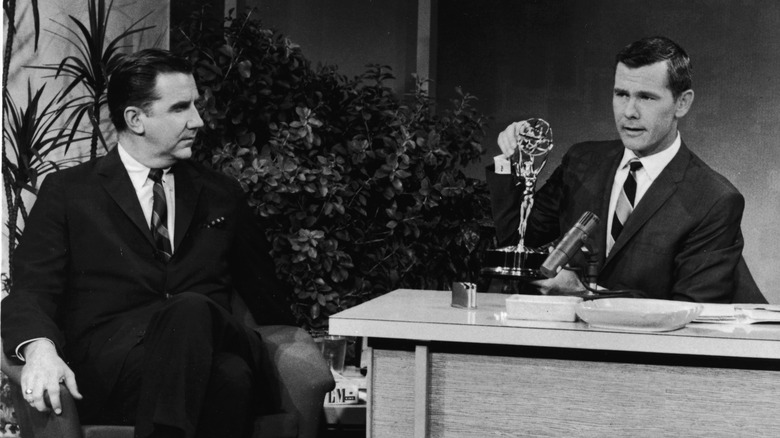 Nbc Television/Getty Images
Ed McMahon once leveled a question at his friend."Seriously, Johnny. Every day a dozen people ask me, 'What's Johnny Carson really like?'" Despite Johnny Carson's blatantly embellished description of himself as "an easygoing sociopath whose hobbies are bungee jumping, collecting swimsuit pictures of Jack LaLanne, and doing Zen meditation with P. Diddy," McMahon knew there was something more to him at the core of it all — something he cherished dearly. As it turned out, that feeling of admiration was very much mutual, and Johnny made sure that Ed knew it (via Today).  
According to Showbiz Cheat Sheet, Johnny Carson once summed up his feelings toward Ed McMahon in a simple slew of words that cut straight through to the tear ducts: "I wish I could be like you," he said. "You're so hearty. Mr. Sunshine; you're everyone's friend." Well, anybody with enough humility to bestow so much kindness and respect upon someone else isn't likely to walk around with veins full of ice.