The Poetic Justice Behind The Placement Of Carol Burnett's Star On The Walk Of Fame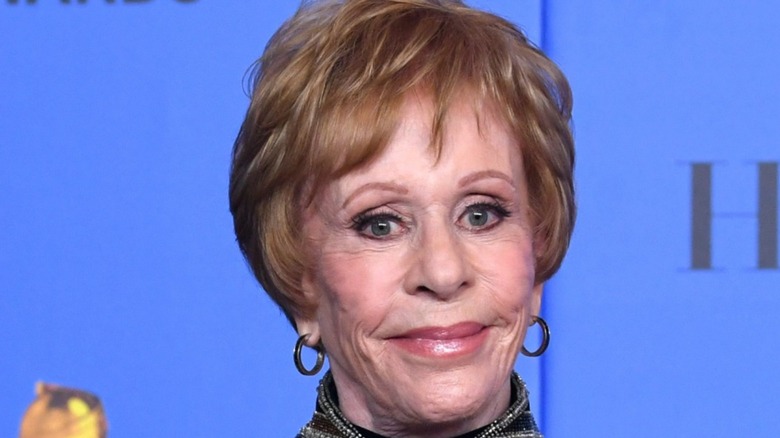 Kevin Winter/Getty Images
Actress Carol Burnett made America laugh with her long-running comedy-variety series, "The Carol Burnett Show," which ran from 1967 to 1978 (via IMDb). The hit show racked up an impressive 25 Emmy Award wins during its run and featured the likes of such talents as Tim Conway, Vicki Lawrence, and Harvey Corman.
Burnett was, in fact, already a celebrated performer, even before she scored her own series. She earned a Tony Award nomination in 1960 for playing Princess Winnifred in "Once Upon a Mattress," a musical based on "The Princess and the Pea" (via Playbill). Two years later, she won her first Emmy Award for her work on "The Garry Moore Show," a popular variety show.
Over the course of her impressive career, Burnett has received many of entertainment's top awards. Only one of those special honors, however, allowed the actress to exact a bit of fun revenge. When she was given a star on the Hollywood Walk of Fame, Burnett knew precisely where she wanted to stick it. 
Burnett had a rough start in life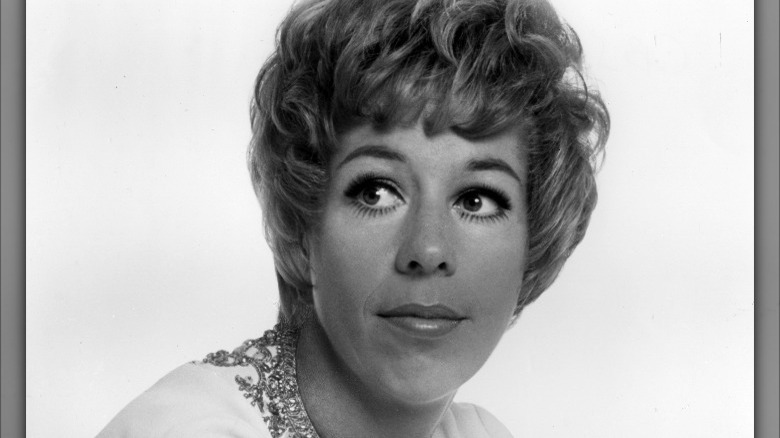 Michael Ochs Archives/Getty Images
Burnett had a difficult time growing up as both of her parents struggled with alcoholism, according to the Walk of Fame. Her parents eventually split up, and she was largely raised by her grandmother, Mabel Eudoria White. Burnett and her half-sister Chrissy lived with their grandmother in a boarding house in Hollywood, California (via Masterworks Broadway). Her creative talents emerged early with her trying to fool the other tenants in the boarding house that she had a twin sister named Karen. But Burnett eventually tired of playing both parts with all the required costume changes needed to pull the stunt off.
Both of Burnett's parents had some connections to the entertainment industry –- her father managed a movie theater and her mother wrote publicity materials for film studios. But it was really her grandmother who helped inspire her life path, according to Entertainment Tonight Online. Burnett loved to go to the movies with her grandmother, and these trips to the theater had a lasting impact on her.
Burnett attended Hollywood High School, graduating in 1951. She also worked as an usherette at the Warner Brothers Theater around this time. But Burnett was sacked from her job in 1951 for reportedly telling a couple not to go into the theater until the previous film had ended. It seemed that Burnett was trying to stop them from spoiling the finale of "Strangers on a Train." And it was this unjust dismissal that inspired Burnett's special request for her star on the Walk of Fame. 
Burnett's star stands outside her former workplace
After "The Carol Burnett Show" had been on the air for several years, Burnett received her own star on the Hollywood Walk of Fame. She asked for her honor to be placed at 6439 Hollywood Boulevard, which is in front of what was the Warner Brothers Theater (via Hollywood Walk of Fame). Fans can visit Burnett's special tribute while checking out the place where the great comedian got canned from one of her first jobs.
After being fired from the theater, Burnett went on to study at the University of California, Los Angeles. She first thought she wanted to go into journalism and then switched gears and aspired to be a playwright. But all it took was one college acting class to change the course of her own life. Burnett was so taken with performing that she quit school and moved to New York City (via Masterworks Broadway).
Burnett's career path has been more enduring than her old workplace. Warner Brothers sold the theater in the late 1960s and it became the Hollywood Pacific Theatre, according to the Los Angeles Conservancy. Nearby subway construction and an earthquake in 1994 damaged the building, which led to its closure. While the theater's future is uncertain, Burnett's star will continue to shine brightly outside its doors.