Why Sammy Hagar Is A True Believer In Extraterrestrial Life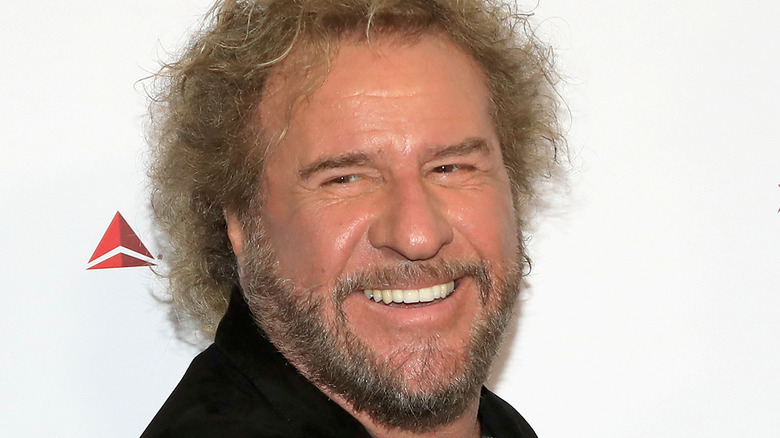 Kathy Hutchins/Shutterstock
Even though artist Sammy Hagar has been shredding guitars since the early '70s, singing his way through the rock group, Montrose (via All Music) from 1973 to 1977, Hagar's life hasn't been all about the rock 'n' roll lifestyle. While fronting the one of world's most popular rock bands — Van Halen — throughout the mid-'80s into the '90s might suggest otherwise, Hagar's still had a quiet, underlying message prevailing throughout his musical career: Perhaps we are not alone in the universe.
Back in 2011, in coordination with the hardcover release of his new autobiography, "Red: My Uncensored Life in Rock," Sammy Hagar went on the press junket to promote his new book. One such place the Red Rocker appeared was on MTV, specifically MTV's then popular webpage: MTVHive. While the page no longer exists, the interview still is out there (via MTV). In between the usual sex-fueled rock star talk, Hagar casually flat out admits to being contacted by alien beings. Stating specifically when asked directly if he was abducted by aliens, Hagar responds in the interview: "I think I have."
Love -- or Aliens -- Walk In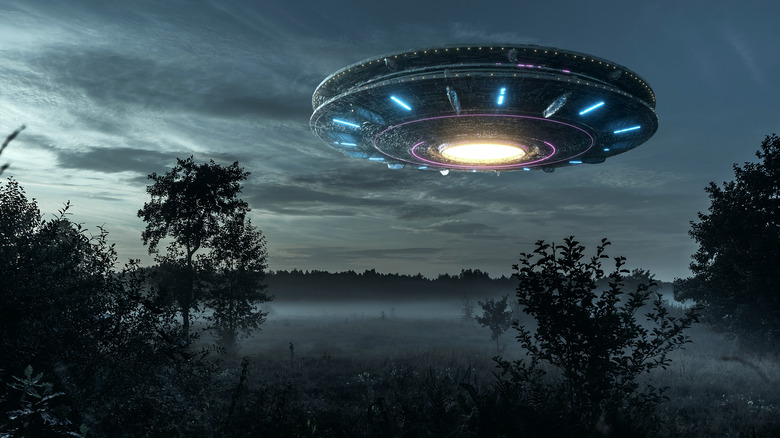 Marko Aliaksandr/Shutterstock
In his book, Hagar claims that not only was he abducted, but was actually plugged into some sort of wireless communication with said beings. In his re-telling of the experience, Hagar recalls how he witnessed "decades ago" a craft of some type hovering above his house in Fontana, California (via MTV). In the craft, Hagar remembers seeing two beings "who were plugged into me. It was a download situation. This was long before computers or any kind of wireless. There weren't even wireless telephones. Looking back now, it was like, "F***, they downloaded something into me!" Or they uploaded something from my brain, like an experiment. 'See what this guy knows.'"
For Hagar, the alien visitation isn't just a one-and-done kind of deal. During the same interview with MTVHive, Hagar let go of another tidbit that he didn't write about in his autobiography. Speaking on his alien abduction, Hagar related how he witnessed a craft hovering above his house when he was only 4 years old.
A message downloaded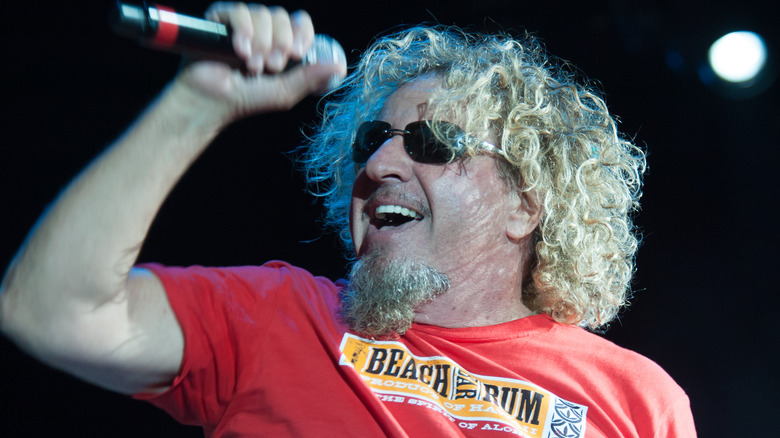 Randy Miramontez/Shutterstock
Believing he was seeing some sort of flying car, Hagar told the interviewer: "One time I saw what I considered to be, well, at the time I thought it was a car with no wheels. We lived out in the country and I saw this thing floating across a field, creating this big dust storm. I threw rocks at it and s***. And I don't know what happened after that (via MTV).
And while all this alien abduction talk for Hagar only came to public light in 2011, Hagar hasn't been quiet about his alien adventures, musically speaking. According to the MTVHive interview, a number of Hagar's songs over the years have been about alien life. 
One example is Hagar's biggest departure from the David Lee Roth-led Van Halen sound, "Love Walks In," (via Pop Matters) which, quite literally talks about "... some kind of alien / waits for an opening ..." He also seems to reference outer space adventures on the self-titled Montrose debut, recalled in "Space Station 5:" "Start with the Sun / and move on out / The future's in the skies above / The heavens unfold / and a new star is born ...". Sammy Hagar clearly has something to say about space aliens, but he's still being pretty vague about the whole thing.