Elvis' Yacht Had Another Famous Owner Before The King Of Rock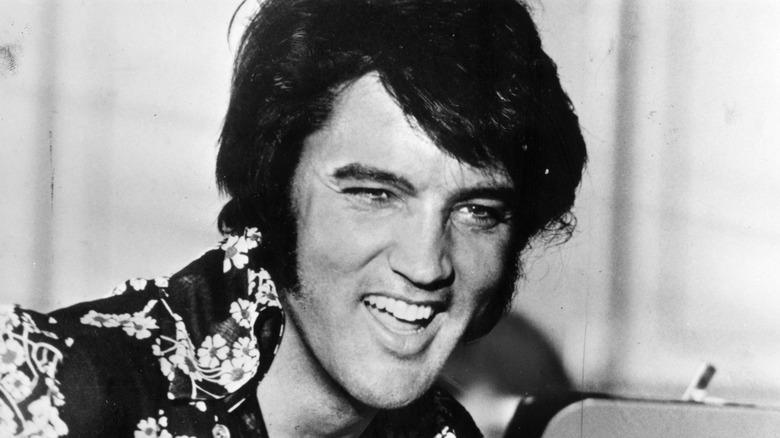 Keystone/Getty Images
As tends to be the case for all superstars, fame certainly proved to be a double-edged sword for Elvis Presley. In 2018, the RIAA reported that he had sold over 146.5 million albums — even though he died in 1977 – and success on that dizzying scale becomes a part of a person's very being. The King was a very powerful and equally wealthy man.
At the same time, he was also subject to the whims of outside influences to an extent. Most of his career was overseen by his controversial manager, Colonel Tom Parker, who had enough power of his own to rein Presley in at times. It is said, per Biography, that Presley never got to embark on a world tour because Parker didn't have a passport, and so forbade it. He also took a significant cut of Presley's earnings.
In that sense, then, the King was a figure rather like the president of the United States. Great influence and cachet, yes, but still without carte blanche to act as they may wish. In another interesting parallel, a rather famous yacht owned by Presley was previously presidential property.
USS Potomac was previously FDR's 'Floating White House'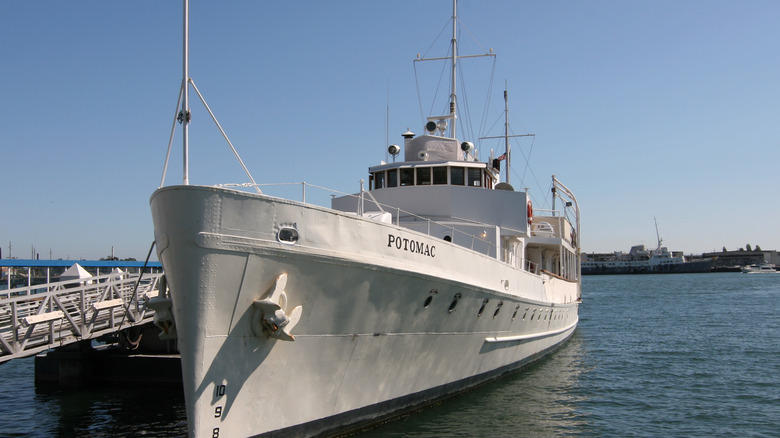 Terry W Ryder/Shutterstock
The USS Potomac is, according to its official website, no ordinary yacht. The presidential yacht of the venerable Franklin Delano Roosevelt, it was originally known as Electra, used by the Coast Guard in the first two years of its life after its construction in 1934. As USS Potomac, it was a navy vessel as well as FDR's pride and joy.
As the National Park Service reports, Roosevelt was a man proud of his naval past, a keen seafarer who was often found on the USS Potomac. He would even hold meetings aboard it. On the president's death, however, the vessel that had become known as the Floating White House began another curious odyssey, one that would see it come into the ownership of one Elvis Presley. Decades later, in June 2022, Alanna Nash (who had known Colonel Tom Parker in his later years) explained in Vanity Fair that Presley's purchase of the yacht seemed to be another fascinating gambit of the Colonel's. 
The official Instagram page for Elvis Presley's estate shared an image of the King aboard a boat. The caption explains that he paid $55,000 for the USS Potomac in 1964. He would own it for a very short span, however, as (in a seemingly Colonel Parker-orchestrated move) he would donate it to a very special cause a little later that year.
USS Potomac sails on, against all odds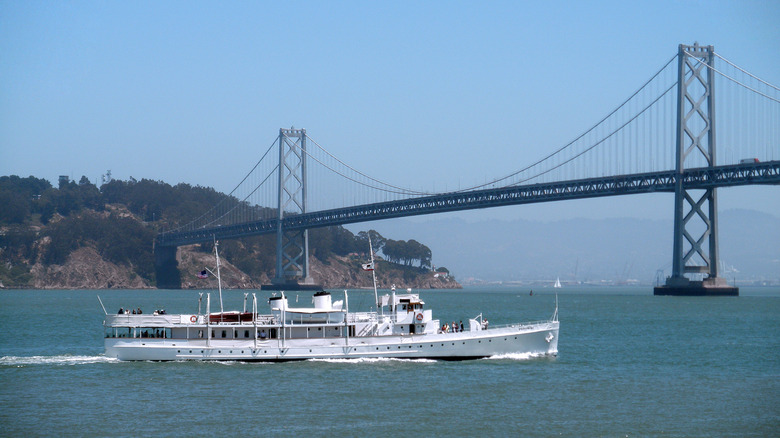 Eric Broder Van Dyke/Shutterstock
Alanna Nash writes in Vanity Fair that February 1964 saw Presley and Parker in California's iconic Long Beach. They were there with St. Jude research hospital founder Danny Thomas and, before hordes of excitable fans and members of the press, Presley donated the Potomac to Thomas' hospital. A very worthy cause indeed, but perhaps a publicity-baiting move on Parker's part.
According to Nash, the boat was in a sorry state, and the Colonel had allegedly ensured that only the side the cameras would see had been given a fresh coat of paint. Whatever the cynical truth of the occasion may have been, though, it takes nothing away from the numerous charitable endeavors Elvis Presley contributed to throughout his life.
Since Presley's untimely death at 42, the yacht's fascinating story has continued to unfold. USS Potomac states that 1980 saw it sunk after being seized by the authorities (having been used in narcotics-related crimes), and the Port of Oakland stepped in just before it was scrapped. A 12-year process of restoration and renovation followed, and in 1995, the ship became something of a floating museum for visitors.