What Was Colonel Tom Parker's Net Worth When He Died?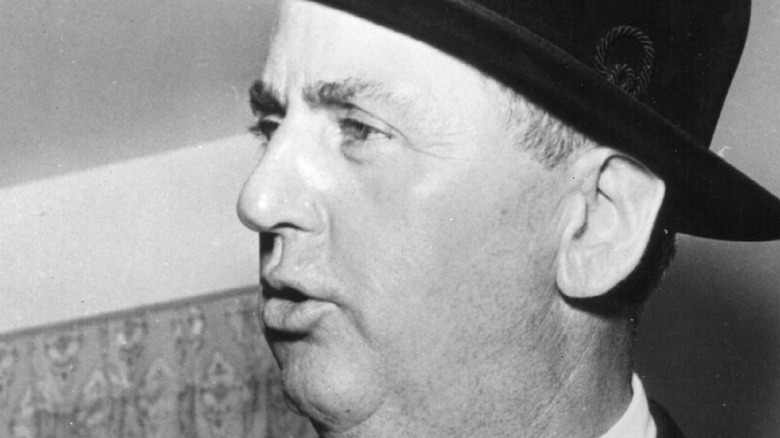 Avalon/Getty Images
The King of Rock and Roll's legacy might not be what it is today if not for Colonel Tom Parker, Elvis Presley's first and only manager, beginning in the 1950s and lasting until Elvis' death in 1977, according to Smithsonian Magazine. There are nearly as many myths and legends about Parker, who was born in the Netherlands, as there are about Elvis, himself. (Could he have in fact been a murderer? We'll likely never know). But one thing is for certain: Over the decades that Parker spent managing Presley's career, Parker made plenty of money, leading to a sizable net worth of his own at the time that he died. The amount of money that Parker had also goes to show that some of the demons that chased Parker all throughout his life were there until the end.
That's not to say that through astute promotion and management, Parker didn't help Elvis make plenty of money of his own. Thanks in part to Parker's tireless image and brand management during the duo's time spent working together, and even after Elvis died, the King of Rock and Roll would go on to be among the best-selling recording artists in history; some estimates put the number at more than 1 billion records worldwide, as the Graceland website explains. When pressed on whether the 50/50 deal he maintained with Elvis was fair — Parker getting 50% of everything Presley earned — Parker allegedly said in 1968 (via Express) it was more like the opposite. Elvis, Parker continued, "takes 50% of everything I earn," as Express reports.
Colonel Tom Parker was a consummate showman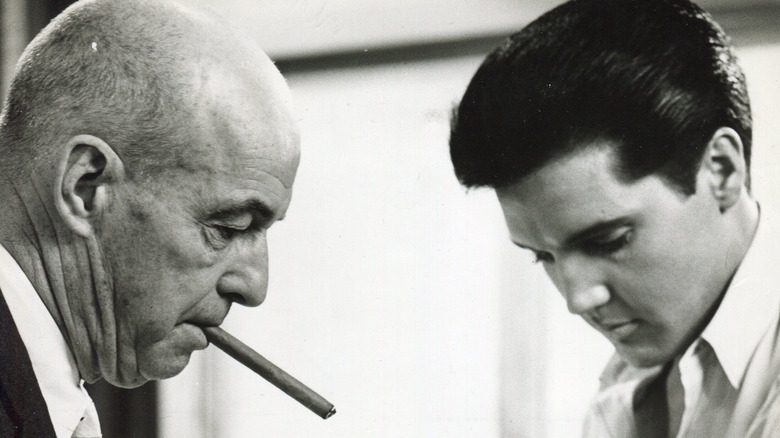 Mark And Colleen Hayward/Getty Images
Elvis Presley and Colonel Tom Parker first worked together in 1955, though early in Parker's life he spent time in the carnival and tried his hand at managing other singers. Born in the Netherlands, Parker likely arrived in America as a stowaway, even though he claimed to have come to the U.S. via Canada. He also claimed that he was born in West Virginia instead of Europe, asserted shortly after he began working with Elvis, as Biography notes. After meeting Presley in Memphis, whom Parker had heard was destined to become a star, the two joined forces and after that point, Presley's career began to skyrocket. (Even though Parker did serve in the military, the rank with which he became associated was merely honorary, as Biography also states.)
Parker certainly played a part in Elvis becoming the major celebrity we now know today. He was known to scout ahead of Elvis while touring preparing local media and radio for the star's arrival, among other tasks. Parker is also a controversial figure, known to have defrauded the King of Rock and Roll on several occasions for as much as $8 million. He also pocketed some $6 million on a deal for Elvis' music when the singer himself only received a bit less than $5 million for his own music. The 50/50 revenue split Parker maintained with Elvis was also unusual, with typical promoters and managers such as Parker earning between 10% and 15% percent of their client's earnings, as Biography goes on explain.
Parker's net worth when he died was $1 million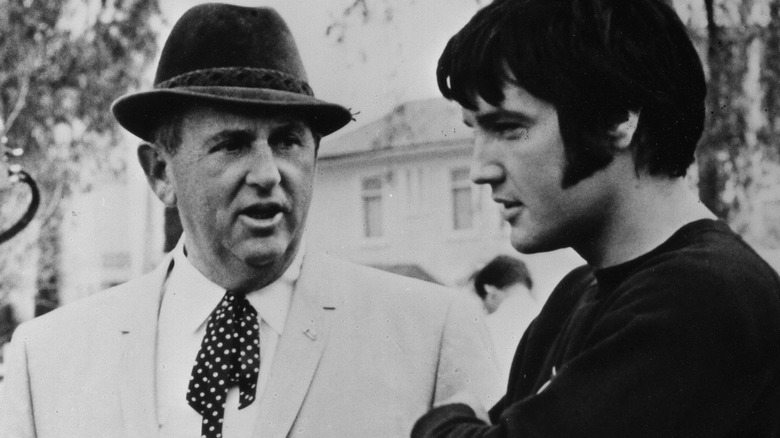 Michael Ochs Archives/Getty Images
Despite the shady financial dealings Parker maintained with Presley, his net worth when he died was much less than that of Elvis, who died with a net worth of $5 million – around $20 million when adjusted for inflation. For his part, Parker himself died with a net worth of $1 million, or roughly $1.8 million in today's money (via Dollar Times). That number is down significantly from an estimated $100 million Parker earned in his lifetime, as Celebrity Net Worth states. Much of Parker's financial malfeasance while managing Elvis was revealed through a 1983 court case brought against Parker by Elvis' then 12-year-old daughter Lisa Marie Presley. Lisa Marie, who was only 9 when her father died, took control of the entire Presley estate when she turned 25.
Supposing Parker had that $100 million in 1977 when Elvis died, he'd have had a $270 million net worth when he died two decades later, per Dollar Times. So where did all of Colonel Tom Parker's money go? To gambling, potentially, as Parker is known to have $30 million in gambling debt when he died, as Celebrity Net Worth goes on report. Parker also certainly never worked with another artist in his lifetime who matched Elvis Presley's success. On the topic of this dark side to Parker, actor Tom Hanks, who plays the music mogul in Baz Luhrmann's 2022 Presley biopic "Elvis" (via IMDb) called Parker a "diabolical genius in every way" on "The Late Show with Stephen Colbert" (available to watch now on YouTube).