Inside The Most Expensive Yacht Ever Sold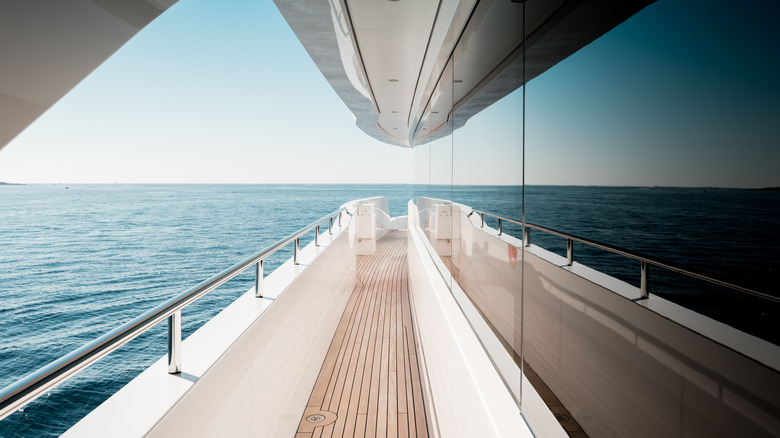 Shutterstock
Billionaires are seemingly always seeking to top one another and themselves when it comes to buying jaw-droppingly expensive and ridiculous objects. In 2011, an anonymous Malaysian man, rumored to be business tycoon Robert Kuok, may have moved to the head of the pack when he allegedly bought the hilariously named History Supreme, a yacht made of such materials as solid gold, platinum, meteoric stone, and the bone of a tyrannosaurus rex. According to Business Insider, Kuok is a notoriously private self-made billionaire who heads the Kuok Group, a multinational conglomerate that owns assorted businesses around the world. When he bought the History Supreme for $4.8 billion, he reportedly spent a third of his $12.8 billion fortune. According to Forbes, in 2021 the 97-year-old is the 171st richest person in the world with a net worth of $12.6 billion.
As reported by the Daily Mail, the History Supreme is made up of over 100,000 kg (that's over 220,000 pounds) of platinum and gold; the entire base of the boat is wrapped in solid gold and the precious metals are used throughout, while the aforementioned meteoric stone and dinosaur bone make up a "wall feature" in the master bedroom. Additional features, per Jetset Magazine, include a luxury liquor bottle adorned with a rare 18.5 carat diamond, a custom iPhone encrusted in 500 diamonds, including two special interchangable home button diamonds, and a panoramic Aquavista wall aquarium made from 24-carat gold, presumably setting a new standard when it comes to panoramic yacht aquariums.
Is the History Supreme a hoax?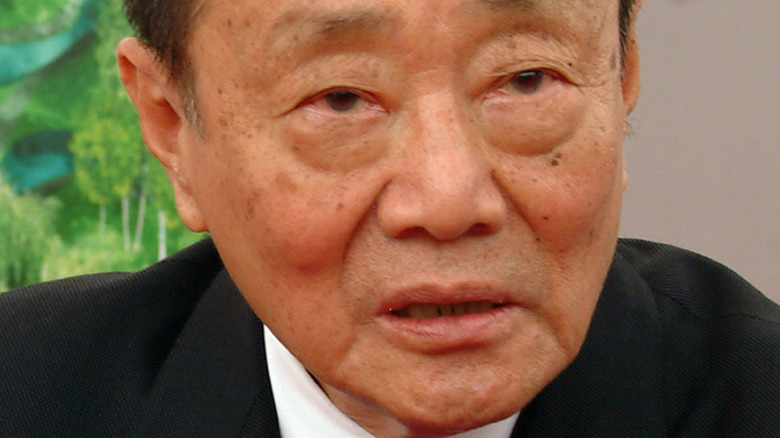 Bloomberg/Getty Images
The History Supreme yacht is the handiwork of British designer Stuart Hughes who per his website has also made such collectibles for the ultrarich as the world's most expensive suit, the world's most expensive iPhone, the world's most expensive model car, and a solid gold Rolls Royce Phantom. According to Jetset Magazine, the "anonymous Malaysian business man" (probably Robert Kuok, shown above) commissioned Hughes via a friend in his yachting circle; Hughes never met the person for whom the yacht was intended, but was given completely  free reign in terms of the ship's design and construction. The project took three years to complete. 
To add to the History Supreme's mystique, some people don't believe it exists at all. Autoevolution says it "was never real, it was never made and no, it does not exist," noting that Italian company Baia Yachts issued a statement claiming the pictures of History Supreme's interior on Hughes' website were stolen from their site and used without permission. MoneyInc and YachtHarbor also lay out the case for the entire story being a hoax, with MoneyInc noting that at one point Kuok deconstructed his Hong Kong mansion into several smaller homes to avoid an ostentatious display of wealth, which makes his commission of the world's most luxurious yacht seem unlikely. Furthermore, as Kuok is known for staying out of the public eye, perhaps Hughes chose him as the supposed customer because he is hard to reach and therefore will not confirm or deny the yacht's existence. The History Supreme section of Hugh's website remains intact. 
Did the Eclipse get eclipsed?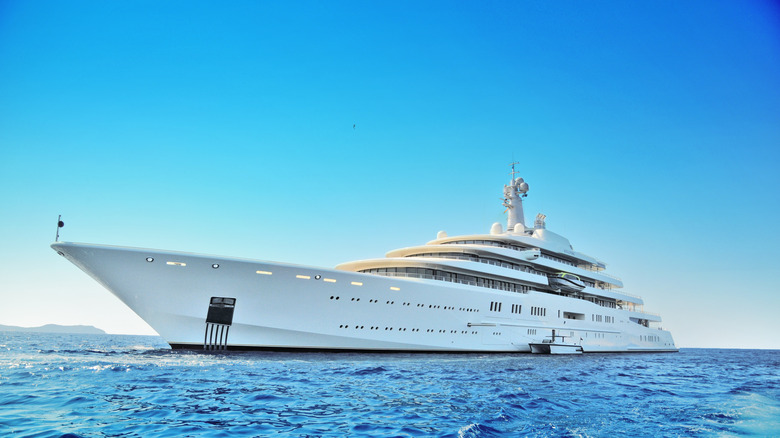 Shutterstock
Before the possible existence of the History Supreme, the title of world's most luxurious yacht belonged to the Eclipse (shown above). Per the Sydney Morning Herald, it was purchased in 2009 by Russian business tycoon Roman Abramovich for $590 million and includes two helipads, a movie theater, a sports complex, its own mini-submarine, and a missile defense system. Created by German shipbuilding company Blohm + Voss, an anonymous Russian yachting expert described it as a "big mansion on water." When asked why it looked like a military frigate, the expert replied "It's a trend. Private yachts look like military boats these days. The yacht is a statement for many people. It's a statement about power." For those who wanted to try out that sort of morally dubious power without committing, the Eclipse was at one point available for commission for up to 30 guests and 75 crew members via SuperYachtsMonaco at $2 million per week, as reported by Business Insider. It's no longer listed on the site.
Per Robb Report, the world's largest yacht since its construction finished in 2013 has been the Azzam, which comes in at 592 feet and six inches long and can travel at a speed up to 30 knots. Built by yacht company Lürssen, it was commissioned by United Arab Emirates president Khalifa bin Zayed bin Sultan Al Nahyan (per Super Yacht Fan) and has an interior described as sophisticated and luxe.