What Does It Mean If You Become A Disney Legend?
Paul Hiffmeyer/Disneyland Resort via Getty Images
Disney is one of the most beloved and profitable companies on the entire planet. For better or for worse, Disney is everywhere now. As the Guardian explains, the Disney empire has grown exponentially over the past decade or so. The company now owns Lucasfilm, Marvel, National Geographic, and even "The Simpsons." Many people have been considerably vocal about these acquisitions, worried about whether Disney is becoming too monopolistic in its hunger for more brands and creative properties. Disney's own Netflix competitor Disney+ is also gaining considerable steam with its staggering catalog of content, which may or may not have a big impact on the streaming business.
With that being said, when Disney's not seemingly acquiring almost every company under the sun, it dabbles in other fare, such as award ceremonies. The Disney Legends awards happen to be just that. According to the official Disney fan club website D23, Disney Legends are essentially awards given to extraordinary individuals who've contributed in some way to Disney itself. But what does it actually mean to become a Disney Legend?
What is a Disney Legend?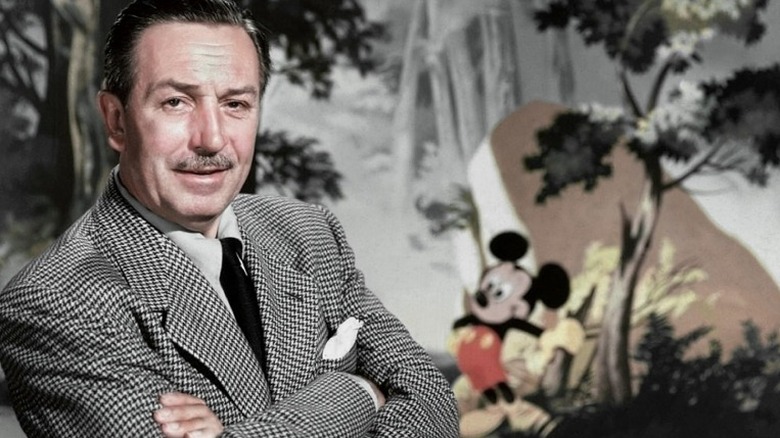 Donaldson Collection/Getty Images
There are many prestigious award ceremonies in existence such as the Oscars, Grammys, Emmys, and so on, but Disney Legends might just be one of the more misunderstood. The awards take the form of bronze emblems that are installed in sidewalks by Disney's studio theater. According to the official Disney fan club website D23, these emblems are then marked with each honoree's handprint and signature in wet cement, similar to the area in front of Grauman's Chinese Theatre (aka TCL Chinese Theatre).
This tradition first started in 1987 with Fred MacMurray, an American actor, being the very first honoree. As stated by This Day In Disney History, numerous Disney Legend recipients have come since. For example, most of the so-called Nine Old Men of Disney, who were incredibly important animators foundational to the success of Disney Studios, were also given awards, most of which came posthumously. Other recipients include Imagineers, voice actors, executives, and so on.
How do Disney Legends award ceremonies work?
The process for selecting a Disney Legend is fairly straightforward. According to This Day In Disney History, there is a selection committee in charge of selecting worthy recipients. This committee is made up of a diverse range of people such as historical experts, Disney executives, and other qualified individuals. The award itself features a star-tipped wand held by Mickey Mouse's arm and was designed by artist Andrea Favilli. For years, the actual ceremony for Disney Legends was carried out by Disney Studios in the Disney Legends Promenade, and now occurs in the Burbank location.
As described by the official Disney fan club website D23, when the awards were first established back in the '80s, there wasn't a ceremonial process dedicated to it. This only happened later on after a special area for the award was chosen. As of today, Disney Legends are given out biennially at D23 Expos, which is essentially a large exhibition event showcasing recent Disney development, news, and future plans (via D23Expos). The awards themselves will probably be around for as long as Disney will, which might be forever at this point.