How An MMA Fighter Won A Match After Knocking Himself Out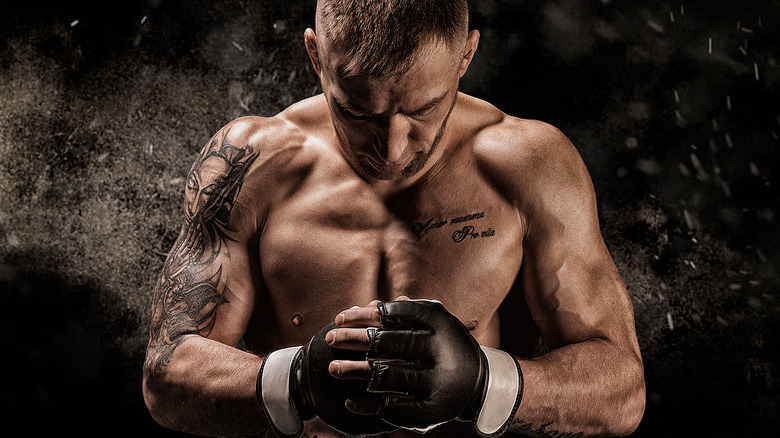 Andy Gin/Shutterstock
Most will never find themselves in a boxing ring or in a mixed-martial arts (MMA) match. That said, it's likely that even the most fainthearted among us understands that a primary objective in both those sports is to not be knocked out. As the news website MMA Fighting reported in 2018, though, one MMA match between Irvins Ayala and Drew Chatman ended when the lights went out for one fighter. That in itself is nothing unusual; according to Bleacher Report, some 60% of all heavyweight UFC fights — an MMA promoter — end in a K.O.
What's truly remarkable, then, about the Ayala-Chatman match is not so much that it ended when one fighter got knocked out: The unconscious fighter in question had accidentally knocked himself out and was still somehow declared the winner. As if a self-knockout-win weren't strange enough, as MMA Fighting reports, the story of the 2018 Ayala-Chatman match only gets stranger from there.
The Ayala-Chatman match took place in California
As The Atlanta-Journal Constitution explains, the Irvins Ayala-Drew Chatman match took place in Morongo Casino Resort & Spa in Cabazon, California. It was one of 36 Legacy Fighting Alliance (LFA) fights scheduled to take place that night. Like UFC, LFA is an MMA fight promoter. At one point in the match, Chatman was on his back when Ayala (pictured) came at him with a martial arts move called a hammerfist, a type of strike using the side of the fist or arm, according to Martial Art Guide.
As Ayala came down to deliver the blow, however, he hit his own chin on Chatman's knee and knocked himself out. (Notably, self-knockouts alone are not that uncommon in MMA as this YouTube video explains). With Ayala K.O.'d the ref called the match over and with that, it seemed like Chatman was the clear winner — it seemed that way at least until Chatman began to celebrate his own victory (via MMA Fighting).
Ayala was still declared the winner
Even though Irvins Ayala knocked himself out only a few minutes into the first round of the match, he was still declared the winner because once the match was called, Drew Chatman (pictured) decided to celebrate the victory by attempting a front flip off Ayala's unconscious body. The ref took exception to that unsportsmanlike conduct from Chatman and declared Ayala the winner. In a tweet reporting the results of the match, LFA certainly summed it up nicely when it declared the 2018 Ayala-Chatman match a "weird fight." 
According to the Daily Mail, the controversial incident spread quickly through the MMA, and Chatman, formerly nicknamed "The Honorable," later apologized. Chatman was also sanctioned by the LFA: His $500 purse for the Ayala fight was withheld. Speaking with news website MMA Fighting, Chatman said, "I want to apologize to Irvins Ayala ... He was a good opponent," adding that the excessive celebration "was not a good move on my part."