The Craziest Things That Have Happened In An MMA Fight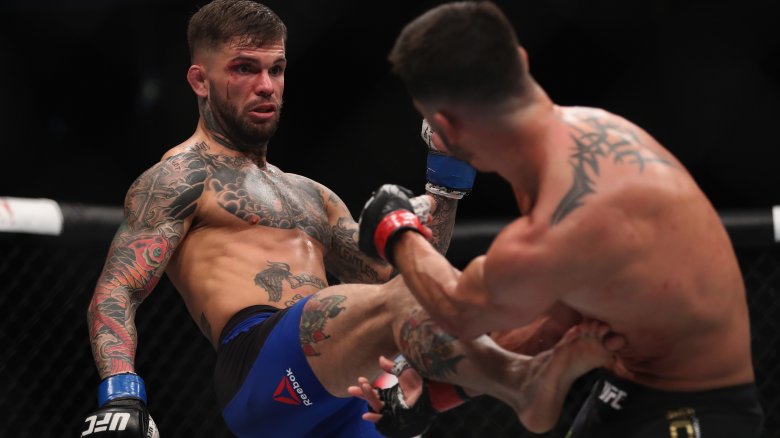 Getty Images
When it comes to the wild world of sports, it doesn't get any crazier than mixed martial arts. After all, when two fighters step into a cage, anything can happen. Invincible champions are destroyed within minutes. Match-ups that look mediocre on paper turn out to be awesome. And moves that should only be in the movies show up when you least expect them, leading to last-second tap-outs or stone cold KOs. It's a sport that's bloody, balletic, and completely bonkers. From the UFC to the regional scene, here are the craziest things that have happened during an MMA fight.
Rampage Jackson's powerbomb
While it closed down in 2007, Pride FC used to be a big deal in the MMA world. Based in Japan, the organization featured legendary fighters like Fedor Emelianenko, Shogun Rua, and Dan Henderson. And then, of course, there was the inimitable Quinton "Rampage" Jackson. Beloved for his devastating power and werewolf howl, Rampage defeated MMA stars like Chuck Liddell and Kevin Randleman, but despite his hands of stone, Rampage found himself in serious trouble when facing Ricardo Arona at Pride Critical Countdown.
Arona opened the fight by destroying Rampage with leg kicks, and at one point, the Brazilian even broke Jackson's jaw. Things got much worse when the jiu-jitsu expert caught Rampage in a triangle choke. Unfortunately for Ricardo, that's when Rampage lost his temper. Instead of trying to peel Arona off, Rampage used his insane strength to lift Arona off the ground and powerbomb him onto the canvas, knocking Arona out cold. And while an unintentional headbutt might've played a part in the knockout, that didn't stop Rampage Jackson from slamming his way into MMA history.
The knockout kiss
With its mixture of wrestling and Brazilian jiu-jitsu, MMA is a touchy-feely sport. But while fighters spend a lot of time mounting their opponents, they don't usually wind up kissing one another. And that's what makes the showdown between Heath "The Texas Crazy Horse" Herring and Yoshihiro Nakao so bizarre. In 2005, the two were supposed to trade blows at K-1 Premium Dynamite!! in Osaka, Japan, but things took an awkward turn when they approached each other in the middle of the ring.
As the ref was giving instructions, Nakao leaned forward and gave Herring a little smooch right on the lips. This didn't sit well with The Texas Crazy Horse who socked Nakao on the jaw, knocking him across the ring. As a result, Nakao was carried out on a stretcher, and the fight was over before it had even begun. Herring lost the match by disqualification, but later, it was decided that both fighters had committed fouls. There's no kissing in combat sports, after all, and both men were handed a no-contest, as well as a place in MMA infamy.
The Showtime kick
Ask any fan to name the craziest move in MMA history, and they'll tell you without hesitation, "The Showtime kick." This Matrix-level move went down in December 2010 at World Extreme Cagefighting 53. The organization had just been purchased by the UFC, so this was the very last event in WEC history, and the final fight on the card was between lightweight champion Benson "Smooth" Henderson and Anthony "Showtime" Pettis. And as you can probably guess by the nicknames, Pettis is the guy who got all the glory.
The match was an incredibly even scrap, but in the fifth round, Pettis delivered some pure MMA magic. Like a character from a kung-fu film, he ran up the cage and let loose with a kick that hit Henderson smackdab in the face. The champion dropped hard, prompting commentator Stephan Bonnar to shout, "He ran up the wall like a ninja!"
To Benson's credit, he managed to survive and keep fighting, but that cinematic kick sealed the deal for Pettis who won the WEC belt. A few years later, Henderson would try to get revenge at UFC 164, but things didn't go so smoothly when Pettis submitted his opponent with an armbar, once again stealing Benson's belt. While their rematch was dramatic, it couldn't live up to the insanity of their first fight, an event enshrined in MMA lore, with Pettis running off the wall, and Henderson tumbling to the floor.
The crane kick
Randy Couture is an MMA god. He's one of only four guys to ever win two UFC belts in separate divisions (along with B.J. Penn, Conor McGregor, and Georges St-Pierre), and he's defeated monsters like Chuck Liddell, Tito Ortiz, and Vitor Belfort. The dude's even starred in movies like The Expendables, but MMA is a bloody business and if you stick around long enough you're going to get KO'd in spectacular fashion.
That's exactly what happened at UFC 129 when Couture faced Lyoto "The Dragon" Machida. One of the best counter-strikers in the game, Machida was a karate master who pulled a page straight from the Daniel LaRusso playbook. After tricking "The Natural" into thinking he was going to throw a rear leg kick, The Dragon switched things up and delivered a jumping front kick that dropped Couture to the canvas, ending the athlete's career.
Yeah, it looked almost identical to the crane kick from The Karate Kid, earning Machida quite a few Daniel-san comparisons. But strangely enough, Machida wasn't the only one taking credit for this fight-finishing kick. Steven Seagal claimed that he'd shown The Dragon how to perform that particular move. Of course, the chances that Seagal actually had anything to do with the knockout are ... well ... kind of slim.
Nick Diaz taunts Anderson Silva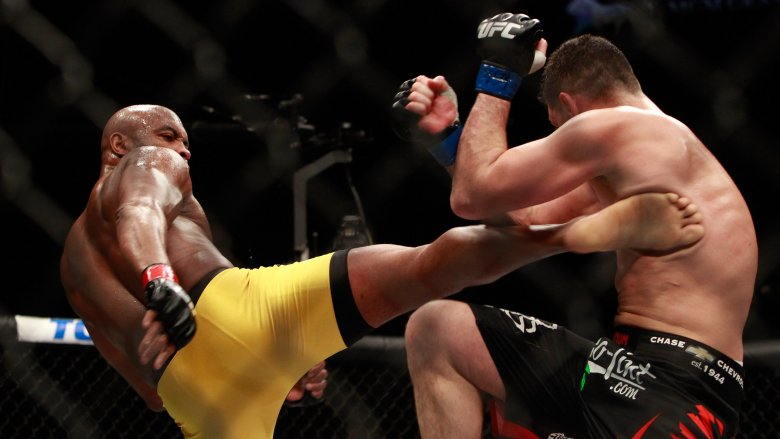 Getty Images
One of the all-time greats, Anderson "The Spider" Silva was coming off back-to-back losses in 2015. He'd lost his middleweight belt to Chris Weidman in 2013, and during their rematch, Silva's leg snapped in half, forcing him out of the UFC for two years. When he finally returned at UFC 183, he was set to fight fan favorite Nick Diaz. The former welterweight champ of Strikeforce and WEC (and older brother of Nate Diaz), Nick was beloved for taunting fighters inside the ring. He would talk trash during bouts, flip off opponents, and infuriate them with the painfully frustrating Stockton Slap.
And just because he was facing Silva, that didn't mean he was going to grovel before the GOAT. Instead, Diaz tried his best to antagonize Anderson, telling The Spider, "Let's go, come get you some." Diaz also shocked the audience by dropping to the mat and striking a pose. He stayed on the ground for a second or two, but after jumping up, he leaned against the fence and motioned for Silva to attack. When that didn't work, Diaz stood in the middle of the ring and turned his back to the ex-champ, prompting commentator Joe Rogan to say, "This is the greatest thing I've ever seen."
Despite Nick's tactics, he couldn't get into Silva's head, and The Spider walked away with a decision victory. Unfortunately, Anderson's victory didn't last long, as he would test positive for performance-enhancing drugs. The fight was then ruled a no-contest, but Diaz didn't get away scot-free either as he tested positive for marijuana. Both men were given suspensions, but despite the behind-the-scenes hijinks, it was truly a fight to remember. As Nick Diaz himself said, "I think we put on a great show."
The wall walk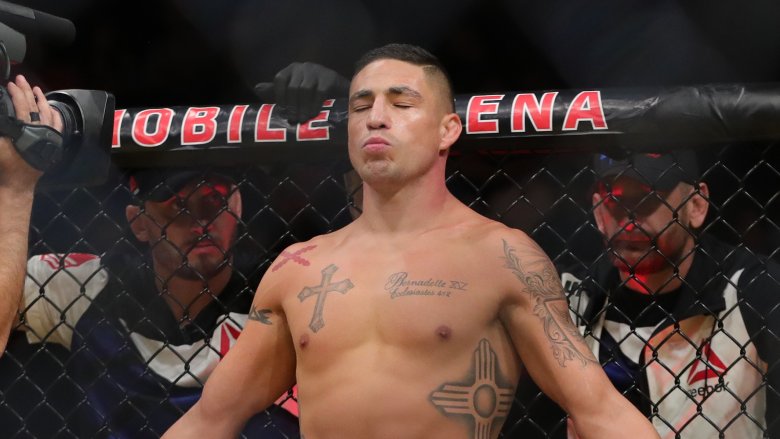 Getty Images
Coming into The Ultimate Fighter: Latin America 3 Finale, Diego Sanchez was definitely the underdog. "The Nightmare" had been fighting in the UFC for 11 years and was the very first winner of The Ultimate Fighter, which had aired back in 2005. So yeah, Sanchez had quite a bit of experience under his belt, but time was starting to catch up with him, and he'd lost three of his last five fights.
Marcin Held, on the other hand, was a new prospect from rival organization Bellator. Described as a "submission specialist," Held had racked up an impressive 14 wins. The 24-year-old was the favorite to win, and near the end of Round 1, it looked like the 34-year-old Sanchez was in serious trouble. Held caught The Nightmare in a standing guillotine choke, and for a few seconds, things were looking grim indeed. Held had the choke so tight that he was actually picking Sanchez up off the ground.
But that's when Sanchez turned into a real-life Spider-Man. Trapped against the fence, the UFC veteran walked up the wall and pushed off against the cage, allowing him to break free from Marcin's choke hold. And from there on, Sanchez was completely in control, grounding-and-pounding on the younger fighter and walking away with the win.
Cody Garbrandt's dance moves
Getty Images
From 2008 to 2016, Dominick Cruz was the king of the bantamweights. He only had one loss on his record, and he'd won all five of his fights in the UFC, sparking a blood feud with Team Alpha Male. A gym based in Sacramento, Alpha Male desperately wanted to beat Cruz. Their head coach, Urijah Faber, had suffered two UFC losses against the champ, and Alpha Male expatriate T.J. Dillashaw lost a razor-thin decision to "The Dominator." So when Faber's protégé, Cody "No Love" Garbrandt, was set to face Cruz at UFC 207, everyone expected Dominic would cruise to victory.
After all, Garbrandt had started 2016 as an unranked contender, but he'd earned a title shot that same year after winning three fights by KO. Still, most everyone expected the tricky Cruz to dance circles around the up-and-comer. But Cody made the champ look like a tired old man, and despite his best efforts, Cruz simply couldn't connect. Drawing on his boxing skills, Garbrandt trounced the champ, and as it turns out, he was the one dancing all over the Octagon ... literally dancing.
After landing a few blows, Garbrandt would do a little shuffle. When Cruz missed a kick, Cody put his hands on his hips in mock disappointment. When he dodged Dominick's punches, he'd point a scolding finger. He stuck his tongue at the champ, dropped to the mat, and acted like he was going to do push-ups, and after pulling some incredible Neo-style moves, Garbrandt started popping and locking. It was an incredible show, and after toying with the champ, Garbrandt walked away with the decision and the bantamweight belt.
Double knockout
When Alex Vasquez and Axel Cazares stepped into the cage at Shamrock FC 284, they didn't know they were about to reenact a scene straight from Rocky II. It was Round 1, and the two regional fighters were exchanging blows when both guys bashed each other on the chin at the exact same time. The two men went tumbling to the mat, dazed, confused, and kind of unconscious. For a moment, it looked like neither guy was getting back up, but after clearing some of the cobwebs, Vasquez managed to climb to his feet, earning both a victory by knockout and one messed-up looking nose.
The Boston Crab
Every so often, MMA and professional wrestling collide in really weird ways. Sometimes that involves UFC stars like Ronda Rousey showing up at WrestleMania. Or sometimes that involves WWE stars like Brock Lesnar (successful) or CM Punk (not so successful) trying their hands at mixed martial arts. But the MMA-WWE crossover got especially crazy in September 2017 when Jonno Mears fought Aaron Jones at Full Contact Contender 19.
Entering the fight, Mears was thinking about pulling a pro-wrestling move, and 90 seconds into the match, he got his chance. When Jones wound up on the ground, Mears took his back, grabbed his legs, and began bending them backward, performing a move that wrestling fans know as the Boston Crab. All the while, Mears was hunched down in a sitting position, sticking his tongue out in celebration, and just waiting to pick up his second professional win.
And Jones did indeed tap, though some wonder if the Boston Crab worked as a foot lock or if it actually put pressure on his back. As for Mears, he's convinced the move worked as a "spine lock," but either way, his victory went viral. Even WWE star Chris Jericho — known for his own unique take on the Boston Crab, aka "The Walls of Jericho" — shared the clip on Twitter. Now, all MMA needs is for someone to perfect the flying clothesline.
The Mighty Armbar (aka The Mousetrap)
Widely considered the greatest MMA fighter of all-time, Demetrious "Mighty Mouse" Johnson was set to make history at UFC 216. The UFC's only male flyweight champ, the 125-pound king had ten consecutive title defenses, and if he could beat "The Tazmexican Devil," Ray Borg, then he would break the previous record set by middleweight champion Anderson Silva. Going into the fifth round, it was very apparent that Mighty Mouse was going to earn his 11th straight win. Other than a few brief moments, DJ was in complete control for the entire fight, and if he wanted, Johnson could've easily won a unanimous decision.
But Johnson had no intention of letting the match go to the judges' scorecards, so in the fifth round, he wowed MMA fans with one of the craziest submissions ever seen in the Octagon. With about two minutes left, Johnson took Borg's back, lifted his opponent in the air, and tossed him to the canvas. But as Mighty Mouse was pulling off his spectacular suplex, he transitioned into an armbar while Borg was still in the air. Knowing Borg would try to catch himself before hitting the mat, Johnson snagged Borg's arm on the way down, locking in the submission and forced Ray to tap, stunning the world and setting a new UFC record.
Naturally, fight fans went wild, and some immediately dubbed the new move "The Mousetrap." Johnson, however, prefers to call his suplex submission "The Mighty Armbar." Sure, it's not as catchy, but the champ has been working on another secret move that he calls "The Mousetrap," and he tweeted that he plans to use it in a future fight. And since DJ is perhaps the most talented fighter on the planet, The Mousetrap could possibly be even crazier than his Mighty Armbar.