Ex-UFC Champion Cain Velasquez's Attempted Murder Charge Explained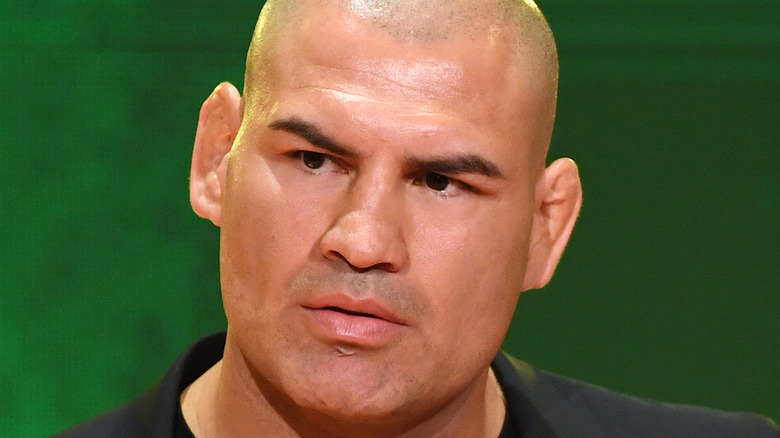 Ethan Miller/Getty Images
Professional wrestler Cain Velasquez has enjoyed a long and varied career (via UFC Stats). Having made his debut as a Mixed Martial Arts fighter in 2006 at the age of 24, the Californian soon caught the attention of the Ultimate Fighting Championship after back-to-back wins. Velasquez entered the UFC as a competitor soon afterward, putting together a string of TKO victories plus one KO to emerge as the undefeated UFC Heavyweight Champion following his victory over the formidable Brock Lesnar at UFC 121 in October 2010. He took the title again in 2012 after defeating Junior dos Santos, per ESPN.
Velasquez's career in the UFC continued until 2019, when he announced that he was retiring from MMA to focus on a career in professional wrestling. Since then, he has wrestled in Mexico's iconic Lucha Libre AAA Worldwide, before transferring to the WWE, from which he was released in 2020 after budgets were hit due to the coronavirus pandemic, according to a report in the Wrestling Observer. Many wondered what the former MMA champion's next steps would be.
Now, however, the respected Velasquez's future career is the last thing on anyone's mind, after he was charged with attempted murder. He is potentially facing a lengthy jail spell as a result. But what is the story behind Velasquez's unexpected fall from grace? Here are the sad and disturbing details.
Why Cain Velasquez allegedly attempted murder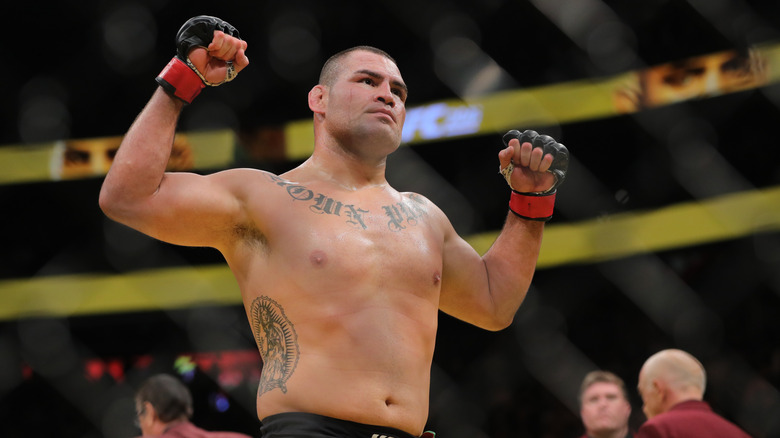 Rey Del Rio/Getty Images
The crimes of which former UFC Heavyweight Champion Cain Velasquez is accused occurred on February 28, 2022, in San José, California. As San José Police Department has outlined in a series of tweets, Velasquez reportedly shot at another man in an incident that occurred at the intersection between Monterey Highway and Bailey Avenue, leading to the man's hospitalization, though his injuries were described as non-life-threatening. The following day, Velasquez was officially charged and taken into police custody.
The initial police announcement that Velasquez had been charged with attempted murder revealed no context or possible motive for the attack. However, The Denver Post later reported further details. It has been claimed that Velasquez opened fire on a car containing 43-year-old Harry Eugene Goularte, a man living at the home of his mother, where she also runs a daycare center. According to the same source, Goularte was charged with "one felony count of a lewd and lascivious act with a child under the age of 14." The child in question is reportedly a relative of Velasquez. Goularte had been released on bail three days prior to Velasquez's attack.
Though Velasquez's target was reportedly Goularte, the victim in the attack was in fact Goularte's stepfather, who was also traveling in the car (via Oxygen).
The aftermath of Cain Velasquez's alleged murder attempt
In the days after the San José Police Department reported that Cain Velasquez had been arrested and charged with the attempted murder of Harry Eugene Goularte, The Denver Post interviewed a number of friends and acquaintances of the former UFC star, who revealed their shock at the news and characterized Velasquez as not being a man quick to anger.
Numerous requests for Velasquez to be released on bail had been denied by the courts. However, in November 2022 CBS Sports revealed that during a pre-trial hearing Velasquez was finally granted bail for the sum of $1 million and that he had finally left jail, though he remains under house arrest. Judge Arthur Bocanegra, who approved Velasquez's bail, reportedly told him: "Mr. Velasquez, I would not release you if I was not convinced that finally a release at this time, eight months later, that you would be a danger to Harry Goularte, primarily, Patricia Goularte or Paul Bender or the public ... But if you are as devoted as a husband and father, I have to believe and I'm confident he will not jeopardize anything that would take away from your son, your daughter or your family. I hope you don't prove me wrong" (via CBS Sports)
The date of Velaquez's arraignment is November 21, 2022, per Mercury News, which also reports that the alleged child victim of Goularte was Velaquez's four-year-old son. Goularte has pleaded not guilty to all charges, per USA Today.