What Qualifies Members Of The Armed Forces For A Bronze Star Medal?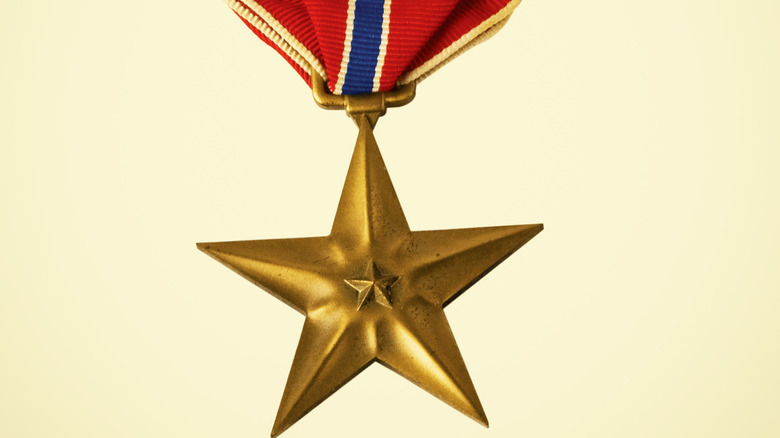 rCarner/Shutterstock
According to CNN, a mass shooting at Club Q, an LGBTQ-friendly establishment in Colorado Springs, left five people dead and 19 others injured in November 2022. As the suspected shooter, Anderson Lee Aldrich, continued his rampage, he was subdued by patron and veteran Richard Fierro (via the BBC). The New York Times reports that Fierro spent 15 years in the military and was awarded two Bronze Star Medals (BSM). Ultimately, his combat skills and experiences on the battlefield led him to heroically save several lives. Although it's unknown why Fierro received two BSMs, GovInfo writes that these are awarded for acts of heroism, meritorious achievement, and service.
In fact, LiveAbout notes that the words "HEROIC OR MERITORIOUS ACHIEVEMENT" are engraved on the back of the medal. Military Roll of Honor describes a BSM as a small five-pointed star. The design was based on the Silver Star Medal, which was established in 1918 (per Home of Heroes). Moreover, a BSM is attached with a ribbon that is white, blue, and red. Per The Hall of Valor Project, all branches of military service are eligible for a BSM. If a recipient receives a BSM for acts of heroism or valor, they also receive a "V" device (via GovInfo).
The History of the Bronze Star Medal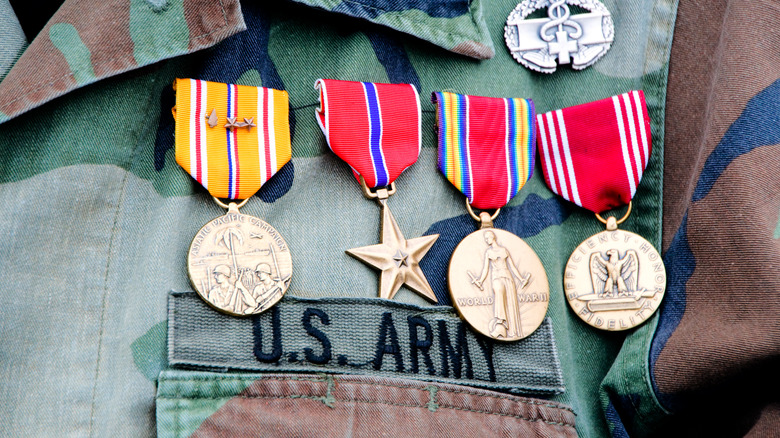 Cherylcasey/Getty Images
According to The Hall of Valor Project, the BSM was established on February 4, 1944. GovInfo states that anyone serving in the branches of the U.S. military after Pearl Harbor – December 7, 1941 — is eligible to receive a BSM. USO writes that the idea of the BSM was the brainchild of Colonel Russell Potter Reeder. At the time, the Air Medal had recently been created. Reeder, who led the 12th Infantry Regiment, 4th Infantry Division during D-DAY, believed that soldiers on the ground also deserved their own medals. Thus, the original name for the BSM is the "Ground Medal." However, the name was eventually changed to the BSM and approved by President Franklin D. Roosevelt.
Veteran.com reports that the acts of heroism or meritorious achievement must be accomplished, "not involving participation in aerial flight." Furthermore, these actions must transpire against an enemy or foreign force. A BSM can also be awarded to those serving with friendly foreign forces where the United States is "not a belligerent party." The Veteran adds that the Secretary of the Army, Navy, Air Force, Homeland Security, and other military officers can give out a BSM. That said, LiveAbout states that it's easier to receive a BSM than its predecessor, a Silver Star Medal. Some recognizable recipients of the BSM include Beau Biden (per Distractify), Henry Fonda (per The New York Times), and Rod Serling (per National World War II Museum).
Civilians can also receive Bronze Star Medals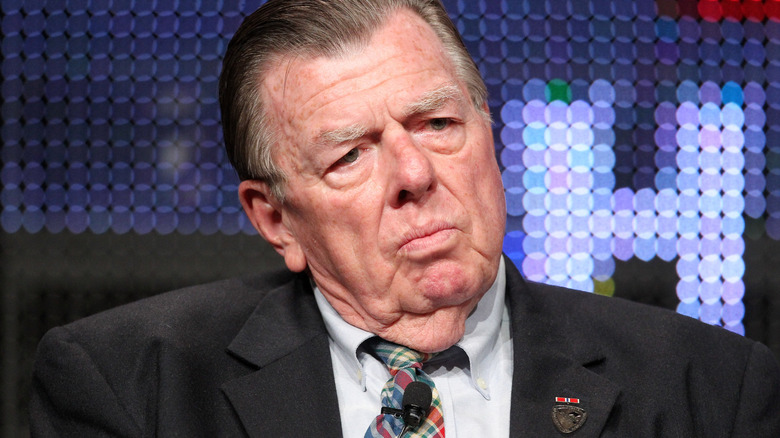 Frederick M. Brown/Getty Images
Although the BSM is a military award, Veteran.com states that civilians are eligible for this honor. One such civilian that received a BSM was Joe Galloway (via LiveAbout). According to The United States of America Vietnam War Commemoration, Galloway (above, in 2011) was a journalist who worked for United Press International (UPI). In November 1965, the Texas native, who was then 24 years old, traveled to Vietnam to report on the Vietnam War. There, he met with the 1st Battalion, 7th Cavalry. However, Galloway got more than he bargained for, as WBTV writes; he subsequently became involved in the battle of Ia Drang.
During this four-day assault, NPR reports, Galloway armed himself with an M16 rifle and became a soldier instead of a journalist. When a napalm canister set a soldier on fire, Galloway risked his life to save him and get him medical help. Although the soldier died from his injuries, Galloway was eventually awarded the BSM with a "V" in 1998, years after the Vietnam War had ended, for this heroic act (per The United States Army). This marked the first time a civilian was given the medal. Per WBTV, Joe Galloway died in 2021. He wrote of his experiences in Vietnam in the 1992 book "We Were Soldiers Once ... And Young," which later inspired the 2002 film "We Were Soldiers."