Spike: The Record-Holding Dog From Camden, Ohio
There are an estimated 70 million homeless cats and dogs in the United States alone and between 200 and 600 million worldwide, with only 6.5 million American homeless animals ever making it into a shelter, let alone a forever home, Roice-Hurst Humane Society reports. Chihuahua mix Spike (above) was one of the lucky ones — per the Guinness Book of World Records, his owner Rita Kimball found him abandoned in a Camden, Ohio grocery store parking lot way back in 2009. "He had been shaved up his back, had blood stains around his neck from a chain or rope, and looked pretty rough," remembered Kimball. "The clerk in the grocery told us he had been there for three days, and they were feeding him scraps." 
Kimball and her family lived on a farm with several other dogs, and when the pup followed her through the parking lot as she exited the store, she decided to take him with her and incorporate him into the pack. As for his name — a seemingly ironic one for a small guy who stands just 9 inches tall and weighs 12.9 pounds — Kimball explained, "My dog seemed to be the opposite; he was small and friendly, so I thought it just seemed to fit him. Spike was a name for a large dog. My guy was small, but he had the attitude of a big dog." Spike was estimated to be about 10 years old at the time of his adoption.
A daily routine keeps an old dog young
As of December 7, 2022, Spike was registered as being 23 years and 7 days old, earning him entry into the Guinness Book of World Records as the oldest living dog on Earth. Owner Rita Kimball became aware of Spike's special situation while watching an episode of "The Tonight Show Starring Jimmy Fallon" on which Fallon reported that Pebbles, a toy fox terrier of Taylors, South Carolina, and the former holder of the world's oldest dog record, had died on October 3, 2022, just five months before her upcoming 23rd birthday. Kimball realized Spike was older than Pebbles and contacted the proper authorities to get him certified. Per CNN, Spike actually seized the title from a Los Angeles dog named Gino Wolf, who was thought to have the record at 22 years and 52 days old. 
The secrets to Spike's longevity include a daily routine of breakfast between 7:00 and 7:30 a.m., followed by a walk with Rita around the farm to visit other animals, including cows, chickens, and barn cats. A nap on the porch is next on the agenda, and he then accompanies Rita on her farm chores — "Spike has ridden on tractors, been a passenger inside the combine, and tags along when we cut wood," she told the Guinness Book of World Records. He takes a bath every Saturday and occasionally indulges in his favorite snacks, including braunschweiger with cheese and Doritos. Spike's other hobbies are playing with house cat Foxxy and hiding his toy fox around the Kimball home.
World's oldest living dog is pretty mellow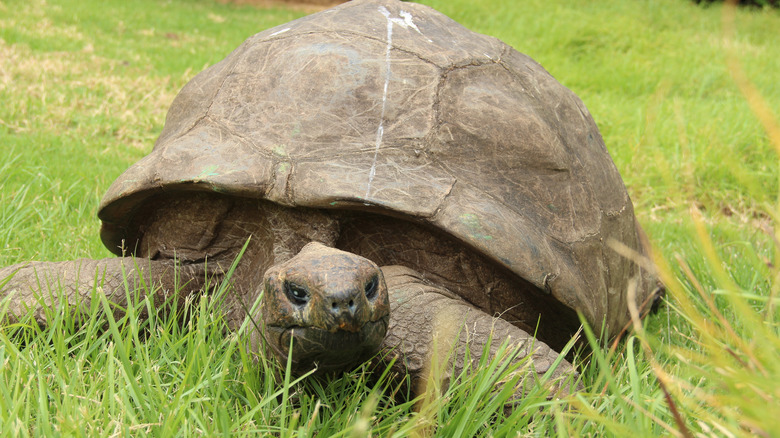 Snapper Nick/Shutterstock
Spike is usually a pretty mellow guy, only getting a bit cranky when a stranger tries to pet him. As Rita Kimball told the Guinness Book of World Records, Spike's irritable side only comes out on occasion, noting, "He is friendly but since he's almost blind and hard of hearing, he gets testy at times and just wants to be left alone." He's never bit a stranger, and Kimball says he was always great with her grandchildren and still wags his tail when someone speaks to him. As for his impressively elderly status, Kimball notes, "I believe Spike is still here because after having such a terrible life at first, he makes the best of each day." 
Spike has also displayed a fighting attitude when necessary; per CNN, in his younger days, he "survived multiple attacks "[to] come back stronger each time." He does have several years to go before he takes the record for the all-time oldest dog, a distinction that has been held since 1939 by an Australian cattle dog named Bluey, who lived to be 29 years and five days old. Spike is also several years younger than Flossie, the world's living oldest cat, who according to Fox News lives in Kent, England at a Cats Protection shelter. Meanwhile, the oldest living land animal is Jonathan (above), a tortoise who lives on the Seychelles island of Saint Helena and — at 190 years old — is older than postage stamps, telephones, and photography (via Euronews).