Who Is Matthew Perry's Famous Father?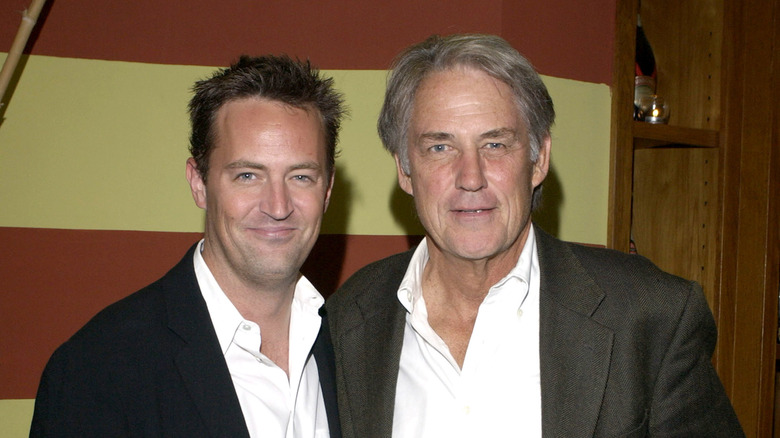 L. Cohen/Getty Images
Fans of "Friends" may know that the actor Matthew Perry wasn't the only member of his family to appear on the long-running show. Perry, who died in October 2023, is survived by his father, John Bennett Perry, an actor of some repute in his own right.
Born in 1941 in Williamstown, Massachusetts, John Bennett Perry was attracted to the bright lights of the stage and screen at an early age. Having first attempted to make a name for himself as a musician in a band with his brother, the handsome and charming John Bennett then decided to pursue a career as a model. He became famous for portraying a sailor in various iterations of ads for Old Spice aftershave starting in 1972 and bagged his first TV movie role the same year.
A long career on stage and screen
While Matthew Perry's extended time playing Chandler Bing quickly eclipsed his father's fame, John Bennett Perry had notable successes on television, in film, and on stage. He got his break as a stage actor in the 1967 musical "Now Is the Time for All Good Men," which ran for less than a year. John Bennett's first credited television appearance was on the TV movie "Bobby Jo and the Good Time Band" in 1972. The following year, he secured a recurring role across five episodes of NBC's "Police Story," and in 1976 he made his big-screen debut in "Lipstick." Appearances in "The West Wing," "Independence Day," and "Murder, She Wrote" are also among his credits. John Bennett also received a Daytime Emmy Award nomination for his work on the daytime talk show "Everyday" in the late 1970s. For many, though, he is still best known as the sailor in the "Old Spice" commercials that aired during the 1970s and 1980s.
Despite a long-running career, John Bennett Perry has been absent from TV and film since 2011. He was last seen in the 2011 movie "Bob's New Suit" and on the single-camera comedy show "Mr. Sunshine," which was co-created by Matthew Perry (who stars as Ben Donovan) and ran for just three months in 2011.
John Bennett and Matthew Perry's troubled relationship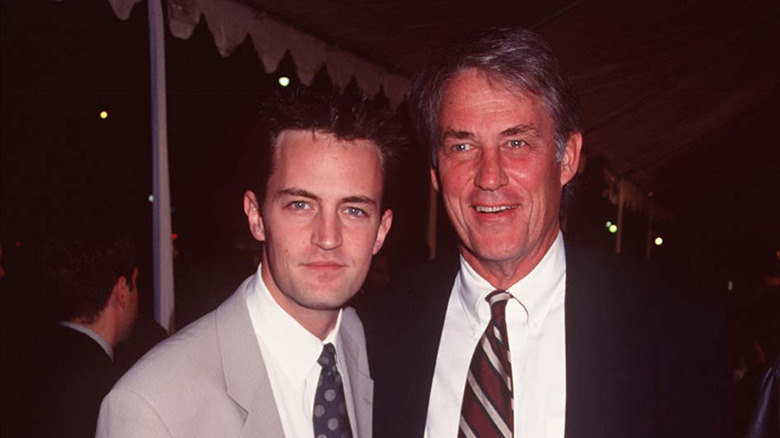 Magma Agency/Getty Images
At first, little was known of Matthew Perry's early life, when his fame was at its height during the 1990s and early 2000s. But as the years went on the "Friends" actor began to open up about it — most notably his early years and experiences with addiction. And his fraught relationship with his father was central to his problems.
John Bennett Perry married Suzanne Langford in 1968; their son, Matthew Perry, was born in August 1969. The couple divorced less than a year after his birth. John Bennett left Massachusetts for California to become an actor, while Suzanne took her son and raised him in her native Canada. Matthew Perry recalls in his memoir "Friends, Lovers, and the Big Terrible Thing" that the split left him with abandonment issues that he experienced throughout his childhood and early adult life. But when he was 15, he moved to California to reestablish contact with his father, beginning his own journey toward becoming an actor. Though Matthew was hurt by his father's abandonment, he claimed in his memoir that John Bennett later "became a wonderful father."
Perrys reunited
Despite the deep feeling of abandonment that Matthew Perry had to endure after his father left the family to pursue an acting career in California, the "Friends" star and "Old Spice Guy" John Bennett Perry seemingly got their relationship sorted out in later life. By this time, father and son had both fulfilled their dreams and made it as Hollywood actors. The acting duo even appeared on-screen at the same time on several occasions, such as in the "My Unicorn" episode of "Scrubs," in which Perry Sr. plays Gregory Marks, the father of Perry Jr.'s character Murray Marks.
But the biggest Perry crossover took place on Matthew Perry's career-making show, "Friends." In the episode "The One with Rachel's New Dress," John Bennett Perry plays the father of one of Rachel Green's boyfriends from Season 4, Joshua Burgin, alongside Pat Crowley, who plays Joshua's mother. Memorably, Joshua's parents unexpectedly walk in on Rachel while she is attempting to seduce their son by wearing a revealing outfit. Fans have noted that in the clip above, John Bennett's mannerisms are almost identical to his son's.
The relationship between father and son seemed to have fully healed by the time of Matthew Perry's tragic death in October 2023 at the age of 54. Just days before news of his death broke, the "Friends" star posted a photo on Instagram of him and his dad happily drinking a Coke together.
If you or anyone you know needs help with addiction issues, help is available. Visit the Substance Abuse and Mental Health Services Administration website or contact SAMHSA's National Helpline at 1-800-662-HELP (4357).
If you or someone you know needs help with mental health, please contact the Crisis Text Line by texting HOME to 741741, call the National Alliance on Mental Illness helpline at 1-800-950-NAMI (6264), or visit the National Institute of Mental Health website.