The Real Reason AC/DC Brought Back Phil Rudd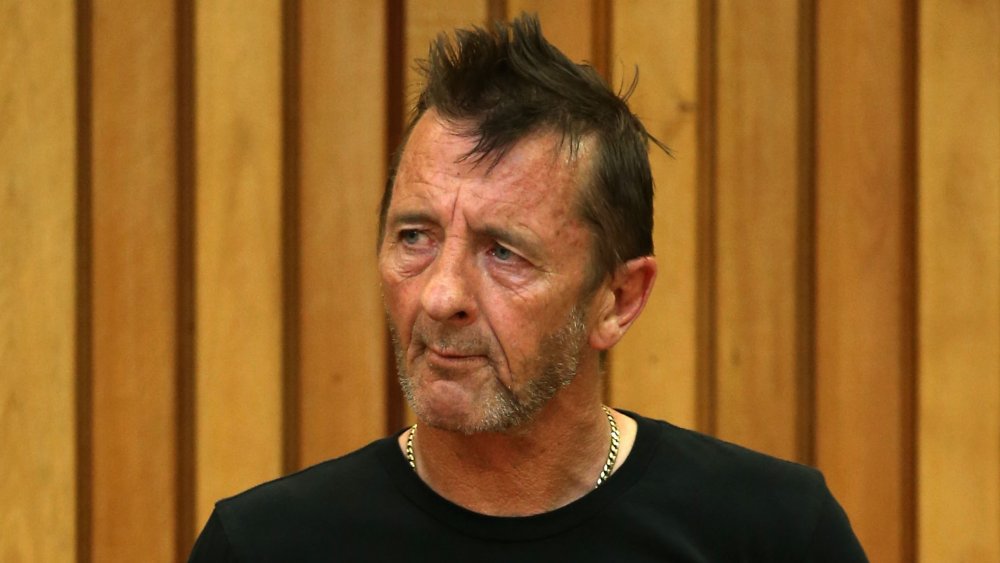 Joel Ford/Getty Images
For longtime hard rockers AC/DC, 2014 was a terrible year. First, per Ultimate Classic Rock, their founding rhythm guitarist Malcolm Young was diagnosed with dementia and had to retire permanently from his band after over 40 years of classics like "For Those About To Rock," "Back In Black," and "You Shook Me All Night Long." Then, relates another Ultimate Classic Rock post, their off-and-on drummer since 1975, Phil Rudd, was charged with a string of shocking crimes, including attempting to hire a hitman. This was especially ironic (and darkly humorous), since one of AC/DC's more popular songs is "Dirty Deeds (Done Dirt Cheap)," sung from the point of view of a hitman. Rudd's arrest sent sales of the 1976 song soaring, with Ultimate Classic Rock reporting almost 2,000 downloads of the song in a week, and providing headline writers with some almost too-perfect material. 
Fortunately, Rudd's "procuring murder" charges, as they are called in New Zealand, were dropped within days of his arrest, but he remained charged with "possession of methamphetamine, possession of cannabis, and threatening to kill." AC/DC released a short statement in which they noted they had "only become aware of Phil's arrest as the news was breaking" and that his absence would affect neither "the release of our new album Rock or Bust" nor their upcoming tour. Indeed, the band had posted a group photo without Rudd almost a month before his arrest, implying that things with their drummer were already rocky before his legal troubles.
'What happened up there, that's not the Phil we know'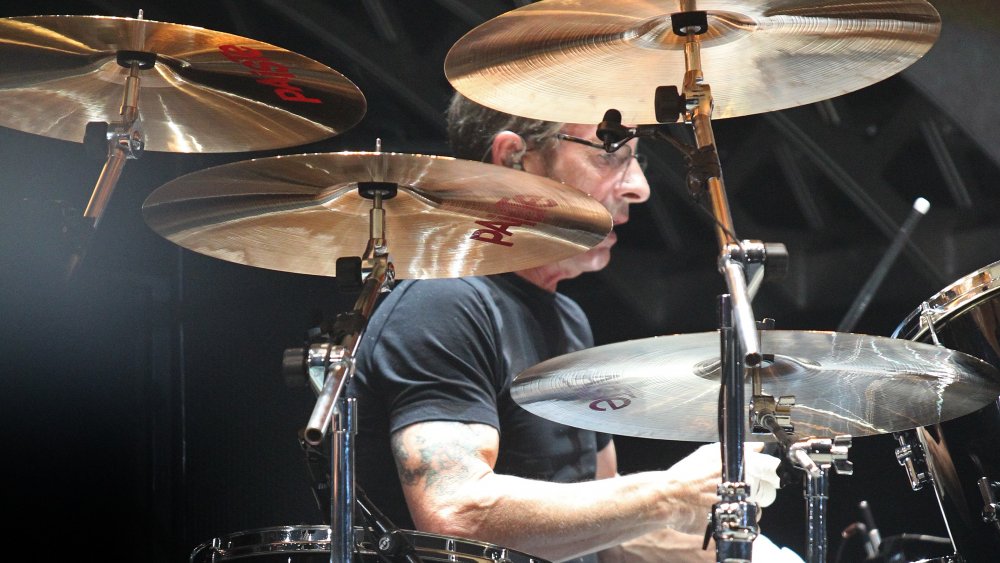 Bradley Kanaris/Getty Images
The next year was also rough for Rudd, according to Ultimate Classic Rock's timeline. After pleading guilty — drugs, threatening to kill — he was sentenced to eight months of home detention with a warning that any violations would result in prison time. He was arrested again nine days later for possessing or consuming alcohol, but does not appear to have had any jail time added to his sentence. In a May 2016 interview with the New Zealand Herald, Rudd proclaimed that he had "stopped all the crazy stuff" in favor of regular therapy, gardening, and hanging out at home. When asked about a possible AC/DC reunion, he shared that he hadn't heard from the band since his conviction. "It is up to Angus [Young], what he wants to do." 
Rudd reunited with his band at Malcolm Young's 2017 funeral; Angus Young told Rolling Stone that Rudd "was there and in good shape ... He was getting therapy and sorting himself out. It was really good." Young went on to speak for the rest of the band in terms of supporting their drummer again: "We defend Phil to the hilt. What happened up there, that's not the Phil we know." Rudd was back on his drum stool for AC/DC's upcoming 17th studio album, Power Up, and things have come full circle with the release of a new band photo in which Phil Rudd is present and accounted for.